Well, dear readers, Kritzerland at Sterling's 81 is done and it instantly became one of my favorite Kritzerland shows EVER. We had a slightly smaller than usual crowd but you know what – they were one of the best audiences we've ever had. I knew it instantly – in the opening patter I improvised and they just were there every step of the way. I knew I was going to have a great time from the very first line. Little Hayley Shukiar pretty much amazed everyone by doing a great version of The Worst Pies in London to open the show. Letter perfect, filled with personality, and she even did the English accent. What a talented girl she is.
But all the performers really delivered the goods – we had exactly one lyric flub and funnily it was made in a song the singer has done so many times – it was covered well, though. For me the highlights were Lauren Rubin recreating her number Here on Earth from The Brain from Planet X (and her other two solos were great, too), Sami socking home Pulled from The Addams Family – and her duet from The Last Starfighter with Daniel Bellusci was wonderful. I gave it to her because she's never done anything like it – she fought me on it, didn't think it was good for her, but we worked really hard on it, right up until show time, and she just went to the good place, was honest, and the whole thing played beautifully. Daniel did a great job with Grow for Me and his other solo from Dracula, Robert did beautifully with the put-together from Maury Yeston's Phantom, and Sharon McNight killed with her two numbers. And then there was David Burnham. This guy is something else – unbelievably handsome with a voice to rattle the heavens with its beauty and power. He got two tremendous ovations.
I strayed from my patter several times, which I love doing, usually when something happens I can play off. And that happened in spades when Richard got up to hand over the piano to Alby Potts for the one number he was playing. They couldn't figure out how to exchange places – it was like The Three Stooges – I saw what was happening and went to town – biggest laughs of the evening – I love when stuff like that happens. And I have to say I Want to Eat Your Face went over great – surprised me a little. I rarely go to belting land, but I get to in that song and I loved doing it.
We had lovely folks in attendance, including Grant Geissman and his mom, neighbors Tony Slide and Bob Gitt, Howard Green from Disney, with a large party, our very own Amy and Mark, and many others. After the show just four of us went over to Little Toni's. We just shared a pizza – I had two slices, so not enough food, since I'd only had about a third of a salad before the show, so on the way home I stopped at Gelson's and got a tiny bit of lobster salad and some nuts, which I ate when I got home.  Here are some actual photographs.  First up, our merry troupe – left to right: Richard Allen, Sami Staitman, Hayley Shukiar, David Burnham, Sharon McNight, Robert Yacko, Lauren Rubin, li'l ol' me, Daniel Bellusci, and Alby Potts.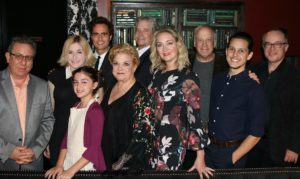 Here's the ubiquitous Sami and me photograph.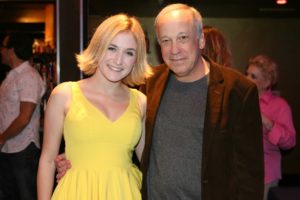 Here's Sami and Hayley, who just turned twelve on Friday.  We all sang happy birthday to her at the end of the show.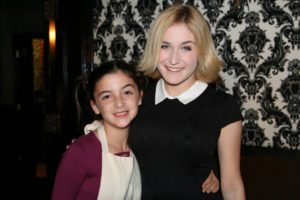 Finally, here I am with Mrs. Lovett, Hayley Shukiar.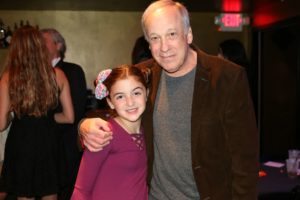 Prior to all that, I'd gotten nine hours of sleep, and basically did one little errand, and then relaxed. For whatever reason we actually had a very good Indiegogo day and went up to 73% and over 9K. This gives me hope that with our new perks going up now and in the morning will help us reach our goal this week, so that for the remaining two weeks we can try our stretch goal to fund a cast album. Then we had our sound check, and then show. The rest you know, except for the news that I got the new and amazingly improved master for the important project I really want to do. Send excellent vibes and xylophones that that secret and most worthy and wonderful project, which is VERY personal for me, will happen and that we'll know about it early in the week.
Today, I will be spending much of the day putting up the new perks and starting a big puuuuuuush to reach our first goal. I can tell you that one of the new perks is an original sheet music chart from Levi – the reprise of the title song – all written in Richard Sherman's hand back in 1986. This is a piece of history and I'm not giving it away – it's pricey, but one-of-a-kind and there will be no more put up. There's also a first day cover envelope from 1964, celebrating what was then ASCAP's fiftieth anniversary – this envelope is boldly signed by Leonard Bernstein – I only found one other like it on the Internet that's going for $1,100 – ours is way less than that and a real bargain. Plus another Harvey Schmidt doodle and long note in his unique Fantasticks handwriting. So do check them out. And more perks throughout the day. They're all pulled, I just have to scan them – they include some very rare film music published sheet music, and some more original art. Other than that, I'll finish casting the November show, I'll eat, I'll hopefully pick up the envelope that should have been here on Saturday, and then at some point I'll relax.
Tomorrow I have a meeting with the person that I hope will be the sound designer for Levi – just have to work out the details and the exact deal. The rest of the week is meetings and meals and going and doing and doing and going – a very busy week. And I'm seeing Hamilton on Thursday night.
Well, dear readers, I must take the day, I must do the things I do, I must, for example, do our Indiegogo puuuuush, I must cast the November Kritzerland and choose songs, I'll eat, hopefully pick up some packages and the important mail, and then at some point relax. Today's topic of discussion: When you were growing up, what Halloween candies did you most wish for when trick or treating? Let's have loads of lovely postings, shall we, whilst I hit the road to dreamland, so happy with Kritzerland at Sterling's 81.