Well, dear readers, let's just cut to the proverbial chase, shall we, and discuss our new CD release of this very minute. I'm not going to recount the entire history for you (it's all in the liner notes, plus I already wrote it as a post on our handy-dandy discussion board, AND I've told the story on no less than four occasions in the notes, always getting one detail wrong – I didn't write about it in Kritzer Time – I'm a little surprised I didn't, but I think I was at that very instant where it would have fit introducing the real story of the book and the character in that real story. So, let's just say that in everyone's life there are life-changers – you see a movie, you see a play or musical, you hear a song or piece of music, and it opens a whole new world to you that you many not have known existed. I've had many in my life and I treasure to this day every one of them. Many of my musical life-changers I've written about in the Kritzer books – discovering Brubeck's Take Five, Bill Evans' Conversations with Myself, The Moldau, the film music of Bernard Herrmann, especially my first Herrmann, The Man Who Knew Too Much, and my favorite Herrmann, North by Northwest. But there were many others throughout the years: Burt Bacharach (talk about a life-changer – all the Dionne recordings), our recently released Rachmaninov second symphony, Elton John's Goodbye Yellow Brick Road, Randy Newman's Sail Away, the score to West Side Story, The Fantasticks, Anyone Can Whistle – all opened my eyes to things in music I hadn't heard before (I could spend days on the play and film life-changers but that's a whole different ball of potatoes). Which brings me to one of my biggest life-changers, Robert Ward's amazing opera of Arthur Miller's The Crucible. I discovered it by accident in Phil Harris Records just as I was about to open in my first high school show – tenth grade, fourteen years old – and I happened to see the box set behind the counter and thought it was a recording of the play. But it wasn't, it was an opera, something I knew nothing about other than having seen occasional opera singers on Ed Sullivan or the Bell Telephone Hour – I found those performances odd and even off-putting, simply because it was so foreign to my ear. But my curiosity got the better of me and I bought The Crucible and fell in love with it and the music of Robert Ward.
When I started Bay Cities in 1988, we knew going in that we had access to licensing the entire CRI Records catalog – that's one of the reasons we began the company. And the first thing I asked for was The Crucible, only to be told that it had been licensed the year before by another label. I was crushed. But I did license every other piece by Ward that had appeared on CRI and our first release was an all Ward program. The inability to get The Crucible annoyed me for YEARS. Especially after I heard the CD release on the other label – terrible mastering, muddy sound, low level – I could barely listen to it, frankly and didn't after my first time through. The opera itself I was still in love with.
And so, the other label has somehow continued to sell The Crucible for almost thirty years – I cannot imagine they had a license to do so, but they're still selling it to this day. But about a week-and-a-half ago I thought about The Crucible again, because I have it in iTunes and was playing some other Ward and it came on and I had to shut it off. And got irritated all over again. So, just for grins I Googled "Who owns CRI Records now?" – and I got an immediate top hit and link to the New World Records site. And they did indeed purchase the CRI catalog of 800 or so titles about five or six years ago. So, I found a contact form and wrote a heartfelt e-mail, asking why this other label has been able to sell it for so long, mentioning the bad sound, and asking if there was any way to do a limited edition of 500 with much improved sound.
The next day I had a response and the response was that they'd be happy to license it to me. I couldn't believe it. So we began to discuss. She had no answer about the other label but was very interested in getting a better sounding master for their digital sales. But she said I had to contact the publisher because apparently the paperwork was so vague it was hard to know who actually owned the master, although I told her since they had the tapes it was probably them. So, I wrote the publisher and didn't even mention the master, just that we wanted to do it, New World wanted us to do it, and could we work out a reasonable deal for the mechanical royalty. I had a response from him the next day and it couldn't have been a better one – he gave it to me free and just asked to make sure that we had the correct copyright line. I couldn't believe it. And then New World also gave me the license for free because we'd be providing her with an improved master that they could sell digitally. A win/win for everyone, and a dream come true for me.
But – could we really make it sound better. My memory of the LP was that it sounded very good. So, I got our wonderful mastering engineer James Nelson five sample tracks. He sent back one with his new EQ and mastering magic and it was like night and day – it sounded pretty fantastic. So he got the rest of it and went to work and two days later I had the brand new and much improved master. Because this was a thirty-year journey for me, I wasn't going to let any time go by – I wrote the long liner notes, got the packaging information, Doug Haverty fast-tracked it and did a beautiful package, it's now at the printer and we'll have the CDs in a little over a week. So, from start to finish, a week-and-a-half to get it to the printers. And so, without further ado, our new release is Robert Ward's masterpiece of an American opera, The Crucible, in its original recording by the New York City Opera, who commissioned it – the following year it won the Pulitzer Prize for music and well deserved it was. I became very friendly with Robert Ward when we issued our first Bay Cities CD and I know how pleased he would be with how this now sounds and especially having such nice packaging. Here is the cover.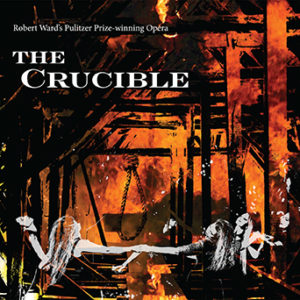 I cannot recommend this highly enough. There are glorious melodies here, lush orchestrations, very film music-like at times, and while I know there are many musical theater people who will say "It's an opera not a musical, I don't want it" those same people most likely have in their collections Porgy and Bess (an opera), Street Scene (an opera), Regina (an opera) – this is no different – it's VERY musical. I encourage those who are on the fence to have the same curiosity and open mind that I did – having that curiosity and open mind introduced me to so much I would never have known.
Yesterday was a day – I got just under eight hours of sleep, was amused by some of day two of the Debbie Reynolds/Carrie Fisher auction, did a bit of work on the computer, listened to some music, and made a batch of Wacky Noodles. I have to say they were mediocre thanks to Campbell's endlessly misleading labeling of their many variations of cream of mushroom soup. At Von's I didn't see the can I usually but – they had the low-sodium, the no-fat, and something called Healthy Choice, which I just assumed was new packaging for what I buy. But alas, it wasn't – I don't know what it is but it has a completely different consistency and the taste, while similar, is kind of gross. But I'd already put it on the pasta so there was no turning back. I ate it, but it just wasn't what it should be. Then I sat on my couch like so much fish.
Last night, I watched a motion picture on the Flix of Net entitled Hush, directed by the guy who did Gerald's Game. It's a thriller about a woman in an isolated house, a writer, deaf and dumb, who is tormented by a killer, first masked, then not. It's one of those cat and mouse things and not very original, but I kind of enjoyed it nonetheless. The tension is high, and while it does get silly occasionally, it's under eighty minutes sans end titles and moves right along. I may check out his two other movies.
After that, I went to Gelson's and got proper cream of mushroom soup for today's Wacky Noodles. Then I just relaxed.
Today, I'll hopefully print out a LOT of orders, and we'll be doing a big new push for the Indiegogo campaign – time for the relentless me to take charge as I did the first three days. I'll finish casting the Kritzerland show, get the script and songs and mp3s for Levi on Dropbox and get that link to our cast and creatives. I'll hopefully pick up some packages and hopefully important mail, and then at some point I'll relax.
The rest of the week is meetings and meals, Wednesday is the Richard Sherman event in Orange County, and lots of Levi prep work.
Well, dear readers, I must take the day, I must do the things I do, I must, for example, hopefully print out a LOT of orders, do a big push for the Indiegogo campaign, finish casting, get stuff on Dropbox for the cast, hopefully pick up packages and important mail, eat, and relax. Today's topic of discussion: Easy – what were huge life-changers for you – in music, theater, and film? Let's have loads of lovely postings, shall we, whilst I hit the road to dreamland, so happy that this thirty-year journey to release The Crucible in a great-sounding transfer is finally here and I hope that someone hearing it for the first time may just find it a life changer for them.