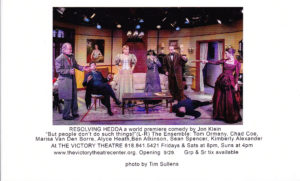 Norwegian playwright Henrik Ibsen's Hedda Gabler is recognized as a classic of realism, nineteenth century theatre and world drama. The title character is considered one of the great dramatic roles in theatre. Locally it was just revived in a strong production by the Antaeus Theatre Company last year. But the character of Hedda Gabler that appears in playwright Jon Klein's World Premiere Resolving Hedda at the Victory Theatre Center has a different point of view. That Hedda bursts on the stage during the ubiquitous opening spiel about locating emergency exits and turning off cell phones. Hedda encourages keeping your cell phone on so you can dial 911 to report a murder that will soon take place. She is of course referring to her own demise at the end of the play, a murder that she says has claimed over 10,000 victims since 1891 and that probably occurs somewhere in the world nightly. She is tired of being ruled by a certain old Norwegian and determines to really take her fate into her own hands, changing the course of the play and hopefully surviving to see another day.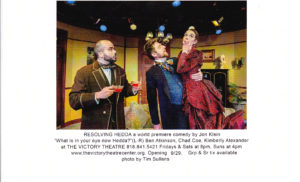 This truly headstrong Hedda (a most delightful and manic Kimberly Alexander) is very knowing of the modern world. She knows all about cell phones, paper shredders, Facebook, Kellyanne Conway and a whole lot more and spouts a lot of this to the play's other characters, completely throwing them off their game. She refuses to leave the stage, taking part in scenes she's never appeared in before, leaving the other characters befuddled. It helps if you are familiar with the ins and out of Ibsen's play, but Klein's wit and Alexander's hysterically funny take on the character will have you roaring with laughter even if you've never heard of Hedda before. This Hedda tries to subvert Ibsen's drama at every plot point; trying to convince the characters not to do what they normally do. But fate and Ibsen always seem to be a step ahead of her. Director Maria Gobetti skillfully directs her cast as if they were playing the most serious drama and most outrageous farce at the same time.
Tom Ormeny seems to be having the time of his life as the very randy Judge Brack who really enjoys this sexy and uppity version of Hedda. Chad Cox generates laughs as the pompous Eilert, trying to subvert his perverse desire for every woman in the room. Marisa Van Den Borre's Thea is more a deer in the headlights than usual in this scenario, adding to the hilarity. Adding strong support are Ben Atkinson as Hedda's even more muddled husband George and Alyce Heath as the very confused Aunt Julia, although their roles cast them mostly as straight men for Hedda's machinations. Alexander is sublime and commands the stage at every moment. You are soon cheering her on to a happy ending, even as her future begins to look grimmer by the moment. Evan Bartoletti has designed a beautiful setting for the action and A. Jeffrey Schoenberg has designed some lovely costumes. If you really want to have a laugh-out-loud evening in the theatre, Resolving Hedda is the show for you. I am sure even Ibsen would be chuckling.

The Victory Theatre Center, 3324 W. Victory Blvd. in Burbank. Ends Dec 3. www.thevictorytheatrecenter.org