Well, dear readers, thus begins our final Indiegogo campaign week and the big puuuuush to the finish line. Yes, this is the home stretch and in honor of it being the home stretch I just stretched in my home. We went up again yesterday and we are currently at 94%, so a mere 6% to our goal, which we can hopefully achieve in the next day or two so that we can then try to cover the Indiegogo and Paypal fees and go into our stretch goal to fund a cast album. Think big, I always say. Dream big, I always say. I always say, I always say. I'm putting up a couple of new perks this morning so check 'em out. And there are still wonderful left-over perks – only one more Richard Sherman signed musical quote left – grab it while the grabbing's good. Here is the direct, handy-dandy link.
https://www.indiegogo.com/projects/levi-a-new-musical-by-the-sherman-brothers/x/9165600#/
As I write these here notes I am listening to a CD of one of my favorite childhood stereophonic albums – Harry Lubin's music for One Step Beyond, a show I rather loved back then, hosted by the dapper John Newland. Of course a mere eleven years later, Mr. Newland cast me in my first TV show – The Young Lawyers. He was very kind and supportive and I think he really liked me. And between takes he loved to play movie trivia and he found out instantly that I was an expert at movie trivia. One of my favorite memories of that seven days was when we'd finish a take and I'd go sit down to relax and hang out with dialogue coach Bobby Hoffman and Gary Lockwood, we'd suddenly hear John bellow in that instantly recognizable voice – "Triva! Where's Bruce?" This album brings back a lot of memories. I played it many times on my Columbia House Stereophonic Record Player with detachable speakers. It's not really much beyond Mr. Lubin's wonderful main theme – it's more easy listening than soundtrack, but I really did love it back then. This CD is a Japanese import and sounds okay – probably from a copy of the album master rather than first generation, but with that VERY wide stereo field that was so prevalent in those early stereo days. And here is an ad for that very record player – it cost me $7.95 (although it may have been free when I ordered it), plus joining the club and committing to however many titles.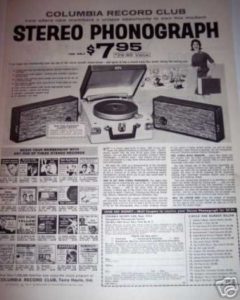 Yesterday was a weird little day. I'd intended to sleep in, but the helper came by at nine-thirty – I knew she was coming, but not that early. She got what she needed to get, and then I couldn't go back to sleep so I did some work on the computer, answered e-mails, and then rustled up the remaining penne pasta with a little butter and sautéed chicken bits on it, and parmesan cheese, too. It was very good and I ate it over the course of a couple of hours whilst doing stuff on the computer. I spent a good deal of the day listening to tracks for a compilation album I think we're going to put out soon. I had to listen, decide which would work, make a list (it will be two CDs) and then figure out how much cleanup it's going to take. Then I went to the local Rite-Aid and got a few things, then came back home.
I continued to work on that project throughout the evening. I think we cast our female replacement singer and I even assigned her songs, so that's good. Now we just need the damn guy. Then I got an e-mail from one of our guest Levi actresses, saying she was sorry for the late notice but she was dropping out of our show because she booked another show closer to where she lives. I find behavior like that to simply be amateur. What was she even doing auditioning for another show when she'd committed to us? It's all part of actor entitlement and it sucks, frankly. I think she hadn't a clew as to what this show actually is and what it's potential is and, more importantly, who would be seeing her. So, I had to frantically put the word out for a replacement and hopefully we'll settle on one today, sooner than later. I responded to her e-mail nicely but pointedly, saying I didn't appreciate getting this news three days before we start rehearsal. And I didn't.
I had some low-calorie ice cream for my evening snack, listened to more music, and then finally relaxed.
Today, of course, I will be doing a big Indiegogo puuuuuush, I'll be doing Levi prep work, working on the Kritzerland song choices and getting everyone their music ASAP. I'll eat, hopefully pick up packages, and at some point relax.
Tomorrow is more of the same, and then on Wednesday we begin our Levi rehearsals and I am so excited to begin that journey. I'll go in early to have my set designer meeting and a meeting with my costume designer. Then we rehearse on Thursday and Friday, but not the weekend. I may be seeing a show on the weekend, but will need to really be around for the home stretch of our campaign, during which I give fair warning that I will be RELENTLESS.
Well, dear readers, I must take the day, I must do the things I do, I must, for example, do a big Indiegogo puuuuuush, hopefully recast the Levi role by end of day, do prep work, finalize song choices and get singers music, eat, hopefully pick up packages, and relax. Today's topic of discussion: What are your favorite British films from the Golden Age – the 1940s, 50s, and even into the 60s? Let's have loads of lovely postings, shall we, whilst I hit the road to dreamland, as we go into our home stretch to the finish line.