Well, dear readers, as I write these here notes we are currently at 123% of our goal, the highest of any Indiegogo campaign I've done. We still have forty-five minutes to go and I'm praying we have some last-minute miracles, but I'll have the tally by the end of these here notes.
Yesterday was a good day, I suppose. I got eight hours of sleep, so that was good. Once up, I did the usual morning things, attended to the final Indiegogo puuuuuuush, and got everything ready for our CD announcement for this evening. So I may as well tell you about that. It's a project that I've been wanting to do for several years, but it wasn't viable until our ace audio restoration guy Chris Malone came by. His way with old, problematic tracks is astonishing, as you've heard in many of our releases. The majority of what's on this new two-CD set is taken from 78s – I had better sources of some of these than other releases have had, and Chris cleaned them up and did his usual amazing job – the before and after on some of these is jaw-dropping. And it was worth all the time and effort because this is simply some of the finest film music ever written – we call it The Red Shoes – Music from the Golden Age of British Cinema. These performances are contemporaneous to the films' releases and so are very accurate to the original presentations. I can only say that for me this music is completely addicting – I literally have been listening to it over and over again, and it is great to have it sounding better than it probably ever has. So, check out the great films and music represented here, including The Red Shoes, A Matter of Life and Death, A Kid for Two Farthings, Things to Come, Scott of the Antarctic, Oliver Twist, and many, many others, by such composers as Ralph Vaughan Williams, William Walton, Oliver Bax, Richard Addinsell, Malcolm Arnold, Brian Easdale, Allan Gray, John Addison – a virtual who's who of Golden Age British composers. Doug Haverty really delivered the goods with the cover. Here it is.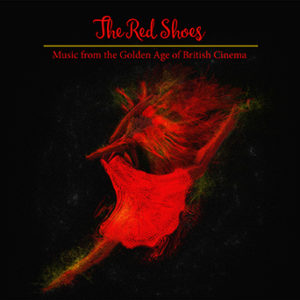 Where was I? Oh, yes, yesterday. I went and got an omelet and a bagel for my meal o' the day, then came right back home for the Robert Yacko rehearsal. The act ran smoothly and we just talked through a few things, and I changed the set-up to one number to make it cleaner and clearer – otherwise it was just tiny nitpicks. The act happens this Sunday at The Federal. After that, I only had a little while before being on my way to LACC for our Levi rehearsal. I stopped and thankfully picked up the important mail and then moseyed on over to LACC. Kay Cole wasn't with us today, so I just had everyone sing through the opening as a warm-up, then we picked right up where we left off. I finished the scene where Levi meets his relatives, then moved on to the scene that follows, a street scene with a lot of elements. I blocked the short song in the beginning of the scene, then blocked the longer song that follows it, which came out super cute. Then we did the scene that follows that, then another scene and song. All in all we did close to twenty pages, which means we have another twenty-five pages to go in act one, which on paper runs 55 pages. But a few of the upcoming scenes are just two people so we'll really be able to move along at a steady clip.
After rehearsal, I came directly home and attended to Indiegogo and checked out the Kritzerland page for our release and made sure that everything was ready to go for our announcement and then was and am on pins and needles, needles and pins watching the countdown to the finish of the Indiegogo campaign, whose final results will be revealed at the end of these here notes.
Today, I have a lot of stuff to do for the move – change of address stuff with all my unions – that sort of thing. I'll try to grab a bite to eat at eleven-thirty, then I have a work session at one for the Kritzerland show, and then we have another Yacko rehearsal and I have to leave right after that to get to LACC on time. Then we'll have our rehearsal and I'm hoping to get close to the end of the act.
Tomorrow, I'm hoping to finish act one and get deep into act two – there are some big ol' scenes to do, but then there are also simple two and three person scenes as well and it's a slightly shorter act as well. Of course I'm just getting it all roughed out, then when I assemble the show next Tuesday, I'll be finessing and fixing stuff as we go, and I think we'll have two of our set pieces by then and that will be really helpful. So, we're six hours and should be able to get a lot done. We have a six-hour rehearsal on Saturday, too, so the blocking will definitely be finished by then. Then on Sunday some LACC kids are coming over to box up as much of the books, CDs, and videos that we can. Then next week is completely insane – Kritzerland rehearsals, Levi rehearsals, meetings and meals, and getting stuff moved over to the new house.
Well, dear readers, I must take the day, I must do the things I do, I must, for example, do stuff for the move, eat, have a Yacko rehearsal, have a Levi rehearsal, and then attempt to actually relax for a couple of hours. Today's topic of discussion: What is the longest you've ever lived in any one residence? For me, my childhood house – around sixteen years. After that, this current house at fourteen years. After that, I don't think I lived in ANY residence longer than a few years. Your turn. Let's have loads of lovely postings, shall we, whilst I hit the road to dreamland, as I'm happy to report that the Indiegogo campaign closed at 125%!  So many thanks to everyone who helped out – I'm so thrilled to be doing this show and the authors are really appreciative of all the help.