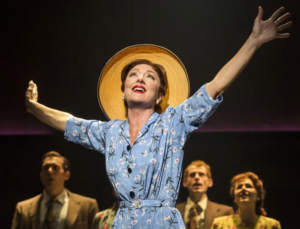 Carmen Cusack (all photos by Craig Schwartz)
The opening lyrics of the opening song of Steve Martin and Edie Brickell's bluegrass/country western infused musical Bright Star, currently starting its National Tour at the Ahmanson Theatre, tell you what to expect. "If you knew my story you'd have a hard time Believing me, you'd think I was lying." What follows is a backwoods story, a sort of Appalachian fairy tale, not exactly one peopled by witch boys like The Dark of the Moon or body-less robbers like The Robber Bridegroom's Big Harp, but you do have to possess an eagerness to entertain fanciful storytelling. The story switches back and forth between 1923 and 1945 around Asheville, North Carolina. Even though you soon realize the stories are connected and can see the ending coming down the train track before it leaves the station, it is confusing at times to follow the trials and tribulations of young Alice in rural 1923 and military hero/budding writer Billy after WWII. That is the main problem with Martin's book; perhaps a more linear approach to the storytelling would work better.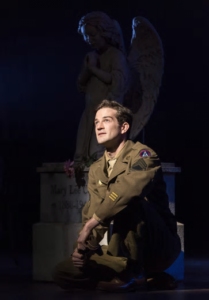 A.J. Shively
That is the show's only failing; all the other elements fit together smoothly to make for an entertaining, heart-warming and melodious evening in the theatre. The Martin/Brickell score contains some fine ballads like the opening number "If You Knew My Story" as well as "Way Back in the Day" and "Heartbreaker". There are some uptempo numbers like the title song and "Whoa , Mama" and the score is heavy with the sounds of the banjo and violin/fiddle played to the max by George Guthrie and Martha McDonnell. The score sounds great as played by the 10-piece band (on stage and in the pit) under the direction of conductor/pianist/music director Anthony DeAngelis. Josh Rhodes has contributed some lively foot-stomping choreography reminiscent at times of Seven Brides for Seven Brothers. Walter Bobbie's fluid cinema-like direction keeps the show moving briskly. Edward Pierce's scenic design features a seemingly constant moving cabin (housing some of the band), a tiny elevated train and it easily converts to the various locales. Japhy Weideman's soft, burnished golden hued lighting design gives the scenes that fairy tale essence. The chorus provides a Story Theatre element as they move set pieces and at times comment musically on the plot.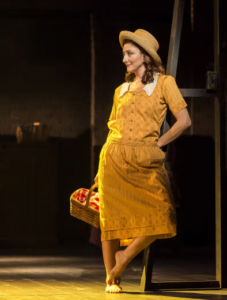 Carmen Cusack
Carmen Cusack is pure joy personified from the opening notes of the show. Her voice contains the heartbreaking catch of Patsy Cline's as well as the pure C&W twang of Loretta Lynn and Dolly Parton. She effortlessly transforms herself from the 1945 sophisticated magazine editor Miss Murphy to Alice, her much younger self, a girl too smart to stay in her hometown but not smart enough to avoid becoming an unwed mother. The heartbreak of having her baby taken from her is palpable in "Please Don't Take Him," especially coming after her beautiful lullaby "I Can't Wait".

Carmen Cusack and Patrick Cummings
Cusack is given strong support by the men in her life. Patrick Cummings exudes charm and sensuality as her girlhood crush Jimmy Ray. He has his own demons to fight in the person of his father who expects him to follow in his business and political footsteps. Cummings's rendition of "Heartbreaker," when he learns the fate of his and Alice's child, is truly heartbreaking. Jeff Austin turns in a strong performance as Mayor Dobbs, the villain of the story, a father aiming to keep his son on the path he has chosen for him. He justifies his actions in "A Man's Gotta Do".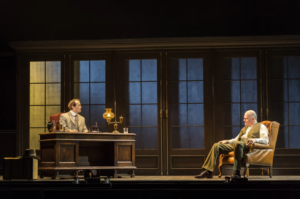 Patrick Cummings and Jeff Austin
There is a modern love story being told also between the clueless Billy (a very personable A.J. Shively) and his childhood sweetheart Margo (Maddie Shea Baldwin). Robust support is given by Kaitlyn Davidson and Jeff Blumenkrantz as Lucy and Daryl, magazine staffers who cut lose on the weekends with "Another Round." What's needed is another round with Bright Star.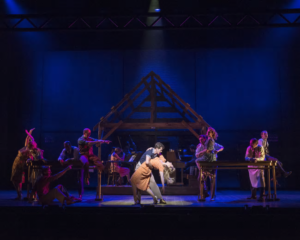 "Another Round"

Ahmanson Theatre, 135 N. Grand Ave. in Los Angeles. Ends Nov. 19. www.centertheatregroup.org