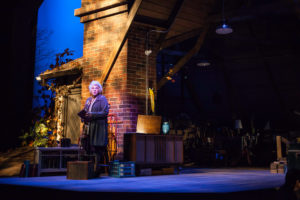 Tyne Daly (all photos by Chris Whitaker)
Josh Ravetch's Chasing Mem'ries, receiving its World Premiere at The Geffen Playhouse, is subtitled "A different kind of musical". It definitely is different in that none of the three cast members actually sings a song—instead they talk sing their way through like Rex Harrison did in My Fair Lady. There are barely eight songs heard during the 100 minutes and most are not talk/sung in their entirety. Paraphrasing one of the song lyrics by Alan & Marilyn Bergman ("The Way We Were", "Pieces of Dreams") it is pieces of songs. Yet the lyrics heard are usually more affecting than the trite script Ravetch has cobbled together.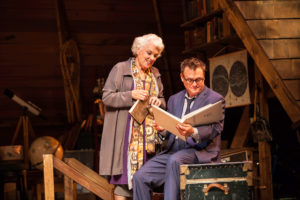 Tyne Daly and Scott Kradolfer
Victoria (Tyne Daly) is hiding out in the memory filled attic of her Connecticut home while 259 guests mingle on the lawn below, waiting for her to attend her husband's memorial service. Franklin (Robert Forster) was a respected college professor whose sudden illness and death Victoria is still mourning. She's not ready for closure, so don't ask her how she is feeling. Her son Mason (Scott Kradolfer) tries to entice Victoria out of the attic but she stalls him by sharing memories. It takes him over 90 minutes to get her out of the attic and for the play to finally come to an end. At times Ravetch creates a Topper/Blithe Spirit like scenario where Victoria alternately berates and reminisces with Franklin's ghost whom Mason of course can't see or hear. For a woman who is bitter and angry at the recent events in her life, Victoria is a quick wit with a joke or a one-liner always on the tip of her sharp tongue. Ravetch's script needs a lot of work, there is a hoary subplot about Mason's busted engagement to a female astronaut, but it is not likely to get the much needed rewrite since Ravetch also directed the show.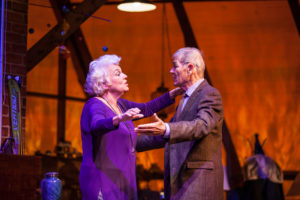 Tyne Daly and Robert Forster
Daly is a force of nature and her character coasts by on the innate graciousness of the audience. Her singing is acceptable but she isn't given a chance to really sing out. Forster seems uncomfortable throughout, most especially when he is called upon to take up a tune. Kradolfer fares a bit better but his character is a cipher. Musical director/conductor/pianist Thomas Griep leads the three-piece pit band and the melodies sound lovely, you just wish the songs were sung. Chasing Mem'ries is definitely a show where you come out humming the set (a big spacious cluttered attic) by Tony Fanning.

The Geffen Playhouse, 10886 Le Conte Ave. in Los Angeles. Ends Dec. 17. www.geffenplayhouse.org