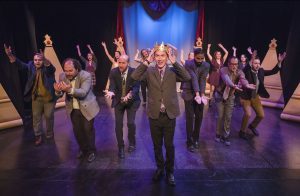 Chase Studinski and ensemble (all photos by Darrett Sanders)
I must admit I was getting a bit delirious watching deLEARious, "a madcap musical" (their words not mine), at Open Fist Theatre Company because I thought it would never end. This interminable attempt to outdo Mel Brooks and Spamalot fell on its own sword, repeatedly. I found very little humor in the ponderous book and lyrics by Phil Swann and Ron West. I give them props for their ambition but they over-reached tremendously and the result is a dismal failure on all fronts. The plucky cast of 18 soldiered on bravely in the face of near silence from the very small audience, except for the two plants from the theatre box office who laughed non-stop, I'm sure even through the intermission. Also, it is not a good idea to play excerpts from Broadway scores by the likes of Lerner & Loewe and even Andrew Lloyd Webber during intermission. It only points out how dismal sounding your original score is in comparison.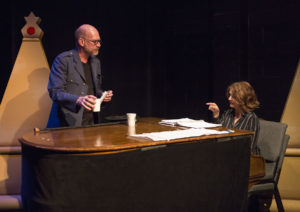 Ron West and Jan Roper
deLEARious is so complicated that they had to publish a chart in the program listing the various characters in the three different historical periods portrayed. There is the 2017 Los Angeles office of Phyllis (Jan Roper) and Ron (Ron West) who are writing a musical spoof of Shakespeare's King Lear while auditioning an endless supply of Ron's ex-wives and girlfriends. There is London/Oxford 1603 where the newly enthroned King James I (Chase Studinski) sends Shakespeare (Scott Mosenson) off to help write the King James' version of the Bible. Shakespeare would rather work on his latest play, King Lear, but the King decides to help juice up that tale with some heavy rewriting. Finally there is 60 A.D. England where Lear (Ron West) and the usual cast of characters have to endure major rewrites as their story plays out.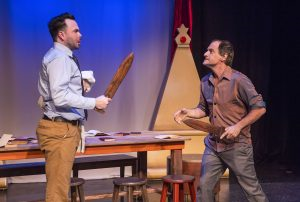 Micah Watterson and Jason Paige
The cast, in modern dress, gamely take on playing multiple characters but without much differentiation in their demeanor or appearance. There are some good voices in the cast; you just wish they had something good to sing. Instead what they are given must be 30 plus songs that pretty much all sound the same. West also directed and mostly was able to get his cast on and off the stage without serious harm. The writers should throw out the 1603 scenes and write a totally different work that deals with the intriguing tale of how the King James Bible came into existence. They definitely need to cut all the modern scenes because they add nothing to the proceedings except length. Oh to be Gloucester and have mine eyes plucked out. But only if they would also seal my ears. See deLEARious at your own risk.

Atwater Village Theatre, 3269 Casitas Ave. in Los Angeles. Ends Jan 27. www.openfist.org