Well, dear readers, it is Thanksgiving aka Turkey Day aka stuffing yourselves silly with stuffing day aka a day of giving thanks. It is the latter that mostly interests me, actually. The universe is in a very peculiar state right now, I truly believe that. There is bad stuff in the world, really bad stuff – healthy people suddenly sick with horrid diseases, people dying much too young, and, at times, a world gone amuck with craziness. It is therefore, I think, important to give thanks for the positive things in one's life, whatever they may be – whether large or small, the tiny little positives that keep us going. So I give thanks for those little positives and hope and pray they turn into larger and larger positives. We need them. I need them. Thus: Thanksgiving.
But let's face it – it's also a time to stuff yourselves full of filling foods so that you feel completely uncomfortable. Many helpings of turkey, stuffing, yams, rolls and butter, cranberries, and whatever other goodies are around the holiday table. I don't think I did anything for last year, as the partay I'm normally invited to wasn't happening. But it is this year and so I can stuff myself silly and no one can say boo about it.
Yesterday was a day in which I mostly relaxed except for when I didn't. I had a rough night again and didn't sleep all that much, was up around seven, then went back to bed and slept until around ten. I did make what I hope was an important discovery – at least it worked last night: I have been sleeping on the left side of my bed for at least thirty years now – don't know why really, but it's just the way it's been. But in this house as you stand at the foot of the bed the right is the side that's closest to the bedroom door – in all my other residences it's been the left. So, at seven when I went back to bed, I moved to the right side of the bed, fell asleep immediately, and it was really comfy. So, perhaps sleeping and getting up on the right side of the bed is the ticket for this house and I shall try it this very evening when I go to sleep.
Once up, I did the usual things in the usual ways. The about to be ex-helper stopped by for a minute – she'll be talking to the fellow who I think will be her replacement, but if that doesn't work out we have two other strong candidates, one of whom is the helper's predecessor. So, we shall see but one way or the other the decision will be made on the 'morrow.
Then I had two tuna sandwiches for my main meal o' the day, then went and picked up some packages, including the chairs for my kitchen workstation. I came home just as the helper's husband arrived to secure the garage shelving so I can unbox stuff. He also put one more bookcase in the bedroom. Then Grant came by and assembled the chairs, which was actually pretty easy and they're so much better than sitting on the stool I was using. This is padded, has a nice back and is comfortable, although I'm still getting used to it and finding the position I like best. They all left and I put some stuff away, went to Gelson's briefly to get some cleaning supplies I'd forgotten to get (Swiffer pads, and gloves), then came home, ate some snacks and sat on my couch like so much fish.
Last night, I watched two more episodes of Stranger Things 2 – I must say it's now reached the tiresome phase and that phase got there faster than the previous season. There is so much repetition and padding, and I'm not an 80s nostalgia person so that aspect of it interests me not a whit. I only have three episodes left, so I'll tough it out. I also watched a bit of the Barbra Streisand concert thing on the Flix of Net before returning to the computer to do the event page for the Kritzerland show, which I did. And I wrote the blurb for our new release – not exactly sure when I'll announce – perhaps tomorrow or perhaps Monday. When Grant was here, he took a nice photo of the living room, which, save for one small round end table, is finished. The yellow cast is from his phone – the walls in this house are VERY white. But you'll get the idea of how good the room looks.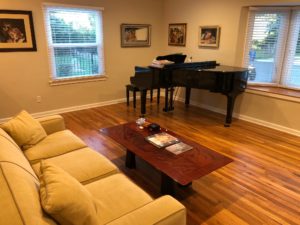 And a slightly different head on view that shows the eating area leading into the kitchen.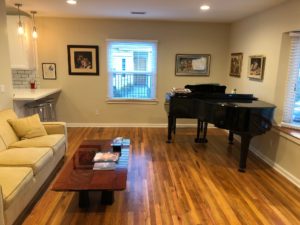 Today, I'll hopefully arise after a good night's beauty sleep. I'll then go into the garage and unbox some stuff and try to get a little organized out there. And then I go to the Thanksgiving partay at Barry Pearl's house, where I am quite certain that I will eat a lot of foodstuffs.
Friday I have a short work session with the musical director of the Kritzerland show, otherwise I'm just attending to a few things that I need to attend to. Saturday I'm seeing friends in a show at the Group Rep, and Sunday I'm relaxing, as we head into the big Kritzerland week and the final five performances for Levi.
Well, dear readers, I must take the day, I must do the things I do, I must, for example, sleep in, unbox and organize the garage, and then attend a Thanksgiving dinner. Today's topic of discussion: What are you giving thanks for this day? Let's have loads of lovely postings, shall we, whilst I hit the road to dreamland, giving thanks for all the little positives that will hopefully get back to being big positives.