Henri Lubatti and Reiko Aylesworth (all photos by Geoffrey Wade Photography)
Les Liaisons Dangereuses, a scandalous novel by Choderlos de Laclos, was first published in 1782 and is still titillating modern readers. Playwright Christopher Hampton adapted it for the stage in 1985 where it won London's Olivier Award. The Broadway production in 1987 received 8 Tony Award nominations and has received two Broadway revivals. The 1988 Ahmanson Theatre production was a star studded affair with Lynn Redgrave, Frank Langella and Kathleen Quinlan. Donna Mills headlined a 1991 production in La Mirada. The material generated competing films in 1988/89 with Dangerous Liaisons and Valmont and later was the inspiration for the Gen X Cruel Intentions which is now being turned into a Broadway musical. Currently Antaeus Theatre Company has a double cast production running in Glendale.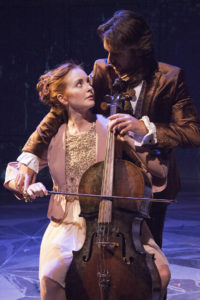 Elizabeth Rian and Josh Breslow
La Marquise De Merteuil (Reiko Aylesworth/Elyse Mirto) and Le Vicomte De Valmont (Henri Lubatti/Scott Ferrara) love to compete in sexual conquests, ruining the lives of others in the French society of the 1780s. La Marquise asks Valmont to seduce the virginal Cecile (Elizabeth Rian/Chelsea Kurtz) as revenge on a former lover. The man intends to only marry a convent bred virgin and La Marquise is determined to give him a deflowered bride. Valmont demurs because he has his own quest—to seduce the married La Presidente de Tourvel (Lindsay La Vanchy/Liza Seneca), said to be the most virtuous woman in Paris.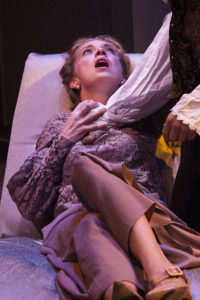 Lindsay LaVanchy and Henri Lubatti
La Marquise does not like to be denied her pleasures or her revenge. She is especially vindictive when she realizes Valmont has fallen in love with Tourvel. Even though Valmont does eventually introduce Cecile to the pleasures of sex and La Marquise takes on an enthusiastic younger lover (Josh Breslow/Paul Culos), she still exacts her cruel revenge on everyone. She's a kinda scorched earth Marquise.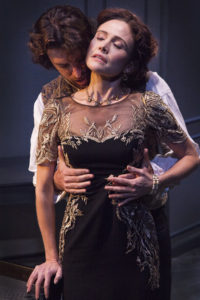 Josh Breslow and Reiko Aylesworth
For all the passion in the words and deeds of Hampton's characters, director Robin Larsen's production is very sterile, frigid and barren. The modern dress approach of Jocelyn Hublau Parker's costumes and Yee Eun Nam's scenic & projection design may be part of the problem or it may be that Larsen feels these characters joyous and vicious approach to sex is inappropriate in the age of Trump and Weinstein. If that is so, it's a shame because it robs these characters of their raison d'etre. The cast contains fine actors but the spark that should ignite the audience into gasps is missing. Aylesworth nails La Marquise perfectly but she seems to be playing in a vacuum or just playing without exciting playmates.

Kiki & David Gindler Performing Arts Center, 110 E. Broadway in Glendale. Ends Dec. 10.