Well, dear readers, I must write these here notes in a hurry for it is late and I must get them posted and get some semblance of beauty sleep. Plus yesterday was a really long day of doing and going and lugging and lifting, not necessarily in that order.
I was up by nine and we got our new release announced. It's a wonderful Brit musical called Expresso Bongo starring Paul Scofield and Millicent Martin, sounding better than any previous CD releases and including some wonderful bonus material (four of the songs from the film version, sung by Cliff Richard and The Shadows) and two cover versions of songs. It's a delight and you know where you can read about it and purchase, as well as hear audio samples or, as I like to put it, samples of audio. Here's the cover.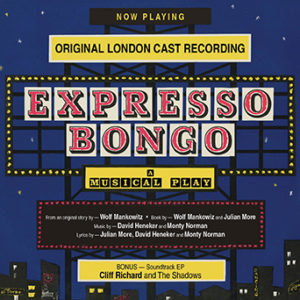 After announcing, I lugged three boxes of books over to the new house all by my lonesome (these suckers are heavy). But before arriving at the house, I stopped at the Apple Store because the charger plug that goes into the phone wasn't going in all the way and wouldn't charge. It turned out to be a big ol' piece of lint, so the nice gal at the door cleaned it out with a paper clip and voila, all was well and well was all. Then I went to the house and unpacked the three boxes and got those books shelved. Then I had my haircut by the lovely Lydia next door. Then I came home and lugged and lifted three more heavy boxes of books, plus some of the art books, which were too heavy to box. I went back after stopping at the mail place, unboxed the books and got them on the shelves and put the art books on one of the bigger bottom shelves. Here's what it looked like with six boxes of books – lots to go, though.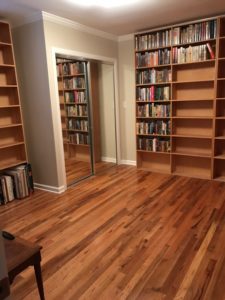 Then I moseyed on over to the House of Pies for a long meal – eggs benedict, and did stuff on the iPhone and saw that we'd gotten a decent number of orders for Expresso Bongo. Then in one of those quirky things that sometimes just happen, Hadley Miller and her dad showed up at the House of Pies having no idea I was there. So, they joined me and they had, at my suggestion, the broasted chicken, which they loved. I had me a piece of coconut custard pie that was quite yummilicious – I thought I deserved a little treat for all that heavy lugging and lifting and carrying and shelving.
Then it was time for our later than usual rehearsal. We spent the first ninety minutes running scene changes (we never got beyond act one, unfortunately), and various staging things, but I personally worked most of that time with two actors – our leading lady and then the fellow who plays her eventual husband. The leading lady and I went over every line, discussing the intention and the best way to play the scenes – it was a good session, and we had a good session with the fellow, too. Then our leading man arrived and we began our run-through.
Act one was actually very smooth, had good energy (a little too unreal in one scene, so we'll fix that and make sure that it never goes away from truth), and the set changes that worked were wonderful and finally had the fluidity they needed – I want the whole show to be fluid at every moment, one thing leading into another smoothly and effortlessly, and last night we finally saw how that can work. Act two kind of fell apart a bit, especially in the set changes, but that's because one of our actors left early and he's involved in almost all of the set changes. The leading lady was 100% better in act one, and she'll get there for act two, too, as soon as she has some alone time to digest her notes. But her act one scenes really came to life and were fun. Because it was late, I didn't give anything but a couple of general notes. Then I came right home, printed out orders, answered e-mails, and got no relaxing in.
Today I'll probably be up by nine-thirty at the latest. I think the rest of the book boxes will go over via the helper's husband's truck, and I'm not sure I'll have much time to do any unboxing today, but I'll try. I have to be at the Shermans at three – that will be a very brief visit, and they I'll hope for the best with the surface streets – they're all going to be terrible, frankly, so I'm not sure what the answer is going to be. And I'm definitely not taking Coldwater Canyon over the hill because that's been absolutely disgusting and I don't trust it anymore. It's out of the way to go any other way, but I'm not enduring Coldwater again. If I get across town in a reasonable amount of time, I'll eat a little something before rehearsal. We'll spend thirty minutes addressing things I have notes on, and then we'll do our run-through with all cast members present and accounted for. No one is leaving rehearsals anymore for any reason.
Tomorrow I'll do house stuff – taking more over there and putting things away, then we have a paper tech at three until rehearsal begins. Friday we're one to five, although I'm not sure we'll really be there that long. Saturday is my longest day – I arrive at nine with just my stage manager and lighting guy to show me everything he's done. We'll adjust things as we go. The cast arrives at eleven and we begin our cue-to-cue – they all know I have no intention of letting that become a debilitating thing for the cast – we'll slog our way through but won't be sitting there waiting for stuff. Then after a break, we'll finish up and then do a complete, non-stop run of the show. Sunday is not my day of rest – we're going to do a lot of the move that day, just not the bed or computer or any of that stuff. Couches, coffee tables, end tables, cadenza – that kind of stuff is all going over there as is all the TV and stereo stuff, which will all be hooked up and working that day. Then Monday we begin our march to the opening night.
Well, dear readers, I must take the day, I must do the things I do, I must, for example, get the rest of the book boxes to the new house via truck, maybe get a few of the books unboxed and on the shelves, then I go to the Shermans for a brief visit, then I go across town to LACC, park, eat, and then rehearse. Today's topic of discussion: It's Ask BK Day, the day in which you get to ask me or any dear reader any old question you like and we get to give any old answer we like. So, let's have loads of lovely questions and loads of lovely answers and loads of lovely postings, shall we, whilst I hit the road to dreamland, a little sore from all the lugging and lifting.