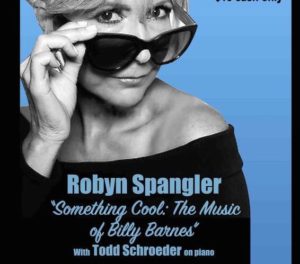 Billy Barnes was born and raised in Los Angeles and spent most of his life in his hometown composing songs. Billy was affectionately known as The Revue Master of Hollywood. He started writing songs in high school and continued at UCLA. His first cabaret show was staged in 1956 and he became famous for a string of Billy Barnes' Revues at the Las Palmas Theatre in Hollywood. Then he branched into writing special material for stars and for television variety shows in the 1960s. He wrote material for the Academy Awards shows. I had the audacity to ask him to write a theme song for my annual Robby Awards Show. He did, he even performed it on two different occasions. It was priceless. Billy left us in 2012, a great loss that will never be filled. Singer Robyn Spangler never got to meet Billy but she did meet and work with his partner who gave her keys to Billy's storage unit when she expressed a desire to record an album of Billy's songs. She found a treasure trove of material–not only did she record the CD, she is working on a documentary of Billy's life and work and now celebrates his legacy in her new cabaret act, Something Cool The Music of Billy Barnes which she performed November 18 at The Gardenia in Hollywood.
The intimate room was filled with some of Billy's divas—Carole Cook, Jane A. Johnston, BJ Ward and Jackie Joseph (who got her own time in the spotlight during the evening)—as well as other cabaret artists such as Andrea Marcovicci, Karen Morrow, Nancy Linari and Gary Brumbaugh. There was so much warmth and joy in the room it was positively toasty. Spangler regaled the audience with stories about Billy's life and the songs he created. Billy often performed at The Gardenia himself and Spangler started off the evening with his witty "Back at The Gardenia Again" which questioned the color of the room's walls. It was a trip down memory lane for most in the audience as Spangler (in great voice and full of heart) sang some familiar tunes—"(Have I Stayed) Too Long at the Fair," "Something Cool." Spangler did a heartrending version of "Does Anybody Here Love Me," the 11 o'clock number sung by the Marilyn Monroe character in Billy Barnes' Movie Star. There were some unfamiliar tunes like "Rome," a song written for but never recorded by Peggy Lee and "Just Up Ahead" from the film Old Timers which turned out to be Billy's final composition.
But Billy was really know for his special material and Spangler and her amazing musical director/accompanist Todd Schroeder put together an eleven-minute medley that featured numbers written and performed on such TV shows as The Danny Kaye Show, The Carol Burnett Show, The Sonny and Cher Comedy Hour, The Judy Garland Show and of course Laugh-In. Such memories! Thank you Robyn for keeping the music of Billy Barnes alive and thriving. And thank you Billy for being Billy.