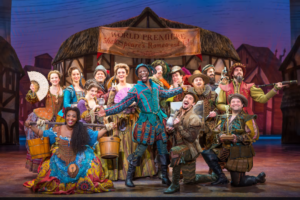 "Welcome to the Renaissance" (all photos by Jeremy Daniel)
There is nothing rotten to be found in Something Rotten!, a joyously over-the-top musical at the Ahmanson Theatre that spoofs and celebrates anything and everything about musical theatre. How can you not love a musical that celebrates The Black Death in song?
"It's the Black Death, It's gonna hit ya with those blisters, Oozing like syrup, That pesty little pestilence is killing half of Europe?
This is after a merry Minstrel informs us at the top of the show that the War of the Roses, the feudal system, the Crusades and more are gone.
"Can't say that we've really missed 'em, So dark and barbaric, So dull and mundane, That was so Middle Ages, That was so – Charlemagne, Welcome to the Renaissance"
These inspired and madcap lyrics, along with the catchy melodies, were written by the brother duo of Wayne Kirkpatrick and Karey Kirkpatrick. They make for one of the best scores in recent Broadway history.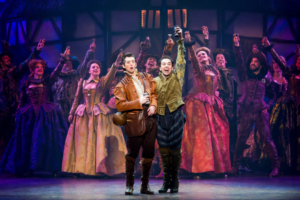 Josh Grisetti and Rob McClure
Karey Kirkpatrick also wrote the show's book along with John O'Farrel and it will have you laughing until it hurts. They have set the action not in the Renaissance of Italy or France, but the one in England. The scene is 1595 London and Shakespeare has just opened Romeo and Juliet and is at the peak of his fame. Competing playwrights Nick (Rob McClure) and Nigel Bottom (Josh Grisetti) can't seem to catch a break. Nigel is the poet and Nick is the idea man but his ideas always seem to be co-opted. Like their current play about King Richard II which Shakespeare just announced as his next work. The Bottoms are losing their financial backers and Nick's wife Bea (Maggie Lakis) feels compelled to go to public punishments to collect the old cabbage thrown at people in stocks for their nightly soup. Desperate, Nick takes their savings and visits Soothayer Alley where he meets Nostradamus (Blake Hammond), not the famous one, his lesser known brother. Nick pays a fee to find out what is going to be the next big thing in theatre and Nostradamus tells him it's "A Musical," in a show-stopping eleven o'clock number delivered at 8:30 in the evening. The song riffs on everything from dance breaks to key changes and on shows from A Chorus Line and Annie to Les Miserables and The Music Man. This production number definitely merited its standing ovation and extended applause.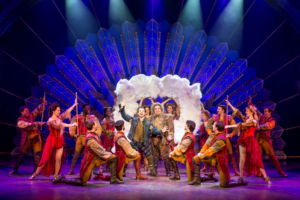 "A Musical"
When his backers nix the idea of a musical about The Black Death, Nick returns to Nostradamus to find out what Shakespeare's greatest play will be, hoping to use the idea first. But the soothsater's future connection is not quite clear and the answer comes in as Omlette about a Danish and soon the Bottom brothers are writing a breakfast themed musical. The hilarity continues with young star crossed lovers—Nigel and Portia (Autumn Hurlbert), the daughter of a god-fearing Puritan clergyman (Scott Cote) as well as a lot of broken eggs. McClure has energy to spare as Nick and Grisetti and Hurlbert make a cute couple while Hammond delivers the laughs as Nostradamus.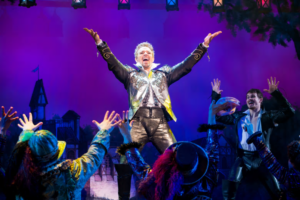 Adam Pascal
One of the most ingenious aspects of the book is having the Shakespeare character appear like a modern rock star. He recites lines from his plays at open air events that have the crowds cheering as if he were The King himself. Adam Pascal struts and rocks the stage in his two numbers—"Will Power" and "Hard to Be the Bard".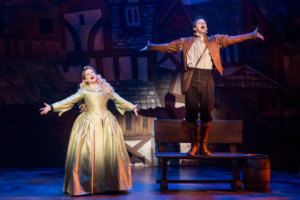 Autumn Hurlbert and Josh Grisetti
Casey Nicholaw has deftly directed this zany extravaganza and his lively choreography has real pop. Scott Pask's scenic design sets the various locales but it is Gregg Barnes's costumes that really give the show color as well as Jeff Croiter's pastel hued lighting design. Something Rotten! is a sheer delight from start to finish and a really good time was had by all.
Ahmanson Theatre, 135 N. Grand Ave. in Los Angeles. Ends Dec. 31. www.centertheatregroup.org.