Sheridan Whiteside's long awaited first appearance (all photos by John Dlugolecki)
The noted playwriting team of Moss Hart and George S. Kaufman wrote their comedy The Man Who Came to Dinner in 1939 and the Broadway production starring Monty Wooley ran for 739 performances. There has been a revival starring Nathan Lane and Jean Smart, a movie version with Wooley and Bette Davis, and an updated TV version with Orson Welles, Lee Remick and Joan Collins. It was even turned into a musical, Sherry! The main character was based on noted critic, radio personality and Algonquin Round Table charter member Alexander Woollcott. Woollcott had a coterie of famous friends and personalities and several of them—Noel Coward, Gertrude Lawrence and Harpo Marx—found their way into the plot through the use of similar fictitious characters. The action is set in the residence of the Stanleys, a well-to-do family in small town Mesalia, Ohio during the Christmas holidays. Actors Co-Op in Hollywood is presenting their stylish production during the current holiday season. It may not be the perfect incarnation, but it is fun hearing an intelligent, witty and well-constructed play that is almost 80 years old. Nearly every performer has seemingly appeared in a production of this trusty warhorse either in high school, college or community theatre, including this former thespian twice.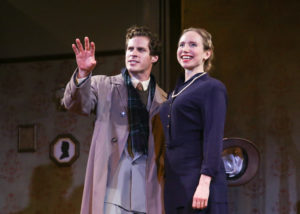 Connor Sullivan and Natalie Hope MacMillan
Whiteside (Greg Martin) is on a lecture tour when he slips on a patch of ice leaving the Stanley home. With his fractured hip, he is forced to take up residence in their library for two weeks, looked after by the town doctor (Irwin Moskowitz) and officious but easily cowed Nurse Preen (Jean Kauffman). After two weeks he finally makes his long awaited public grand entrance in a wheelchair and begins belittling and bullying everyone around him. He soon has the staff and the family's children in his thrall as he entertains everyone from convicted murderers to Broadway and Hollywood royalty. His long suffering but very efficient secretary Maggie (Natalie Hope MacMillan) knows how to meet his needs and stroke his ego. When she falls in love with local newspaperman, Bert Jefferson (Connor Sullivan), and threatens to resign, Whiteside panics and calls in his big guns in the body of Broadway seductress and famed mattress tester Lorraine Sheldon (Catherine Urbanek). Maggie smells a plot and launches one of her own asking British playwright and friend Beverly Carlton (Wenzel Jones) to come to her aid. Whiteside catches on quickly and blocks that ploy and soon Lorraine is back seducing budding playwright Bert. It takes the comic antics of Hollywood star Banjo (John Allee) and an Egyptian sarcophagus (Christmas gift from the Khedive of Egyptian) to get Lorraine out of the picture and set up a happy ending for Maggie and Bert.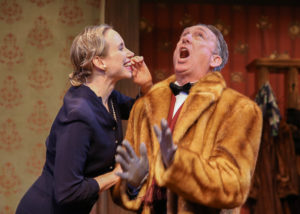 Natalie Hope MacMillan and Wenzel Jones
The play seems dated with a litany of famous names circa 1939 (that are the butt of jokes) that go mostly unrecognized by today's audiences and written for a comic sensibility most modern actors don't seem to know how to enact. Director Linda Kerns attempts to inject a period comic vibe to the often slapstick moments, but she is mostly defeated by her leading man. Martin doesn't seem to have the panache to really make his barbs zing. Instead he just yells most of his lines, never seeming like a master manipulator, a smooth tongued puppet master. MacMillan and especially Sullivan make an engaging pair of besotten lovers. As spinster sister Harriet Stanley, Brenda Ballard comes across as a ditzy aged flapper rather than the mysteriously ethereal presence she is supposed to be.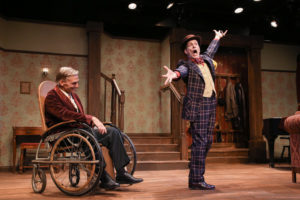 Greg Martin and John Allee
The majority of the cast just fades into Nicholas Acciani's scenic design. A trio of performers, playing larger than life theatrical characters, steal their every moment. Jones displays flair, style and an innate sense of comic timing as the British playwright and egomaniac Carlton. Allee brings a much needed energy boost to the third act as the hyperactive Banjo. Urbanek easily swans around in Shon LeBlanc's to-die-for period costumes and furs. It's a joy to watch her swiftly and effortlessly switch from high class International theatrical legend to common Kansas City native when she doesn't get her way. Her Lorraine Sheldon deserves a playground of her own. The Man may have come to dinner, but it was his guests that provided the dessert.

Actors Co-Op, 1760 N. Gower Ave. in Hollywood. Ends Dec. 17. www.actorsco-op.org.