Well, dear readers, I think everyone in our company of players is beginning to see the shape of our show and understand its pacing needs. The set moves are still too slow and still confusing at certain times, but they're getting better and smoother with each time through the show. Doing the run-throughs makes everyone stay on their toes – things move along very quickly with Levi. But even in its still rough shape the first act is a little under an hour and the second act is about fifty minutes. So now I'm becoming more detailed with the acting stuff and that will be the focus of this week's run-throughs. I have time built into each rehearsal to work through things and to do detail work. There has been way too much confusion in our schedule with e-mails giving wrong times and it's so frustrating to me because it's all lack of communication – but even with that I'm just baffled how it's still happening and I kind of blew up tonight in an e-mail because today's schedule wasn't correct. And I found the e-mail from two weeks ago where I told our stage manager about the change so it makes no sense that it's wrong. So we keep plugging away at our show.
Prior to that, I was up at nine after only about five hours of sleep. I spent some time on the phone with Adobe Acrobat Reader tech people because I was being asked to do a trial subscription for the pro version and I had to agree to it to even open a PDF – that had never happened before. I'd done the pro version so I could edit PDFs and I hated it so I cancelled the same day. But apparently it kept the stuff on my computer so something got screwed up and the lady had me trash everything and then reinstall the free version and that's all working well now. Then I did some work on the computer whilst waiting for the piano movers to come between noon o'clock and one. I also got the good news for another Kritzerland classical release that I'm really happy about – three glorious piano concertos in newly remastered and much improved sound. Then in a bit of a surprise, the piano movers arrived an hour ahead of schedule. It only took them about ten minutes to get the piano out of here – really professional people and very careful about everything.
I then drove to the new house and met them there. We decided coming through the back door was easiest. Grant was there and we placed the piano and it was in and ready in fifteen minutes. And their moving price was about five hundred bucks LESS than I thought it was going to be – in fact, it was really inexpensive. The living room sans furniture is very reverberant and the piano sounds really great in there. And the furniture won't really change the reverberant quality of the room. I also brought over all the remaining key art pieces from the living and dining room of the old house. Grant took one look at them and chose the paining that goes in the entryway into the house opposite another painting he'd already chosen. Here's a photo of that now-complete entryway.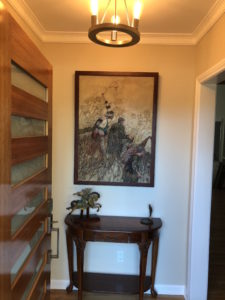 Isn't that lovelier than lovely. As we finish things I'll have more photographs to share. We also got the bookcases secured in the book room. It's starting to look like a home. After that, it was already three o'clock, so I moseyed on over to LACC, parked, then went across the street to Café 50s and had that yummilicious turkey, swiss, cole slaw and Russian dressing on grilled rye, and a few sweet potato fries – didn't really eat too many of those, but they were very good. Then I walked back and it was time to begin our rehearsal. Kay spent thirty minutes cleaning up stuff, and then we began the run-through and the rest you know. After rehearsal I came right home, answered e-mails, had my little hissy fit about the wrong schedule for today but corrected it myself.
Today, I'll be up by ten and pack up the car with whatever I can get in there, then at noon-thirty Grant's wife will be giving me a haircut. I'll empty the car, and then make another run or two. Our rehearsal this evening is later, at six-thirty, so I don't really have to leave until about four-thirty. The traffic will be miserable, but I'll get off at Vine and take surface streets from there, have a meal, perhaps at House of Pies, and then we'll have our rehearsal. We'll do ninety minutes of cleaning up stuff or less if our leading man arrives earlier than eight, which is the latest he'll arrive. Then we'll immediately do a run-through and be done by ten and I'll give notes tomorrow rather than after.
Tomorrow I'll do more house runs, then I'm going to see the Shermans at three for a brief visit, then I'll head over to LACC – I'm not sure what the best way to do that will be – all streets will be horrible. I'm thinking maybe Beverly Blvd. for most of it, maybe even all the way down to Vermont or the main street before, Normandie. We shall see. Then we have our rehearsal and run-through. Thursday is more house runs and the run-through, and Friday I can't do any house runs as our rehearsal is one to five – if we end up finishing early, which we may, then I'll come right home and do more house runs. The phone is being activated that day, too. Not sure which day, but the helper will take over all the book and CD boxes so I can start unpacking the books and the den will be free of those boxes so the TV/audio guy can get to the TV come Sunday. Saturday we begin tech – not sure when the cast is called but I'll probably be there by nine, maybe even earlier, so we can do some work ahead of the cast arriving. Then we'll do a cue-to-cue, which I'm hoping will last four hours and not more, then we'll do a full run-through and not stop for mistakes, just take notes and fix without the actors. Doing a tech that lasts more than eight hours is a lesson in futility. Sunday is the first of the two big move days, so that will be interesting. The second of the two move days they were thinking would be Monday, but I have a band rehearsal, a sitzprobe, and a dress rehearsal that day, so that's not good. So, I thought maybe Sunday and then the second day would be Tuesday for whatever else needs to come over. I'm hoping that works for everyone.
Well, dear readers, I must take the day, I must do the things I do, I must, for example, do house runs, get a haircut, pick up the last few days of mail and whatever packages may have arrived, and then I'll eat, then we have our rehearsal and run-through. Today's topic of discussion: What are your favorite piano concertos? Let's have loads of lovely postings, shall we, whilst I hit the road to dreamland, happy the piano move was so simple and effortless.