Well, dear readers, I had every good intention of sleeping in but at nine o'clock I heard big heavy boots walking around on the roof. Yes, you heard it here, dear readers, at nine o'clock on a Sunday morning I heard big heavy boots walking around on the roof. Turns out that the person who was supposed to install rain gutters on Friday decided Sunday at nine in the morning was a much better idea. I was miffed, oh, yes, I was miffed, but at ten I just got back into bed and fell back asleep and slept another two hours, so I think I got eight hours of sleep in total.
Other than that, it was a very relaxing day in which I did not much of anything. Grant came over and he hung quite a few more pictures for a couple of hours. We're finished with the living room and hallway now, and also most of the bedroom and book room, which leaves the entertainment room – lots of wall space there so many items going up there. We're keeping it very elegant though and not just crowding a bunch of art wherever we can. It looks very good.
I talked to a pianist and he can do the Kritzerland show, so that's set. I'm always nervous about a first-time musical director but the holiday show consists of material we've done a lot so it shouldn't be too difficult. Now I have to do the final song choices and assign the songs. Thankfully we still have two weeks until the show. I think we have one more gal to cast, but I have an idea for that.
While it was nice to finally have a day off from everything, I did miss our little show. But there are still lots of nice comments coming our way, so that's nice. Here are some more photographs from the show.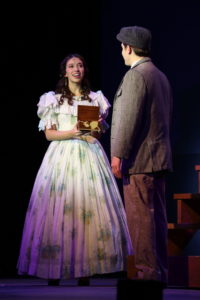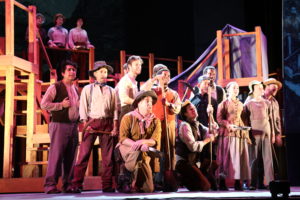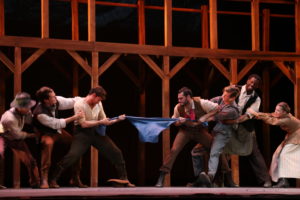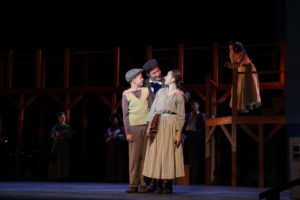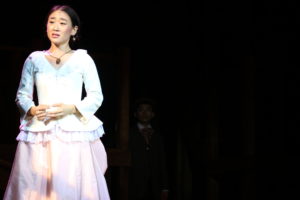 At around five-thirty I went to Jerry's Deli for the first time in over a week, and there I was met by Leslie Young and her two daughters. I had the Philly cheesesteak sandwich and a side Caesar salad and we shared some carrot cake. It was fun, and then they came to the new house and really liked it. Then I did something I haven't done in three weeks: I sat on my couch like so much fish and turned on the Flix of Net.
Last night I watched a rather dreary documentary about The Doors – I lasted about an hour and realized I have no interest in The Doors, other than I enjoyed some of their music. I did doze off for a few minutes, too. Then I watched the first episode of the new season of Stranger Things. I enjoyed but didn't love season one, and it's no different than season two. Since I am not a child of the eighties I just don't feel the nostalgia for this show that others do. The kids are a little less annoying than the first season. I'm sure I'll watch the remaining episodes.
After that, I did a little bookshelf rearranging in the book room, took a hot shower, listened to music, and relaxed.
Today I'm supposed to be unboxing stuff from the garage but I have heard not a peep or peeplet from the person who's supposed to help – hopefully I'll hear in the morning, but I've kind of structured my day around doing this and so hopefully it will happen. I'll eat, I'll hopefully pick up packages and/or mail, and then in the evening I'll relax.
The rest of the week is more of the same – more unboxing, getting the shelving in the garage bolted to the wall so I can unbox the Blu-rays and some of the CDs. We have to make a dent in all these piled up boxes, and there are things I absolutely need ASAP, most especially the Indiegogo stuff, which we really need to start shipping. I have a Thanksgiving invitation so I'll probably do that, and on Friday I have a work session with this new pianist. The weekend has little plans, other than seeing a show at the Group Rep.
Well, dear readers, I must take the day, I must do the things I do, I must, for example, hopefully unbox stuff, eat, hopefully pick up packages and mail, and relax. Today's topic of discussion: What do you think of all these accusations that are happening on a daily basis? Let's have loads of lovely postings, shall we, whilst I hit the road to dreamland, happy to have had a semi-relaxing day to myself.