Well, dear readers, we had our matinee and evening performances of Levi and both went very well and both had a couple of stupid technical issues (STI, in Internet lingo). The matinee was actually our best show so far – it ran very tightly. The technical mishap, which caused a ten-minute delay in starting the show, was that the moving lights and projectors went down. We finally had to start and made do without them. It was unfortunate, but the cast played the show so well that it wasn't unbearable or anything. Thankfully they got them all back up for act two and that went really well. With the curtain call, the show now runs about 116 minutes. I'm seeing places where I could take out a few things here and there and tighten it by about five or six minutes, but I'm not sure I'll do that for this production. We were only expecting about thirty-five for the matinee but ended up with a bit over fifty and they were a great audience.
Several of us went to a local pizza jernt for a little food between shows. Our very own Brennley Brown and her family came and they joined us.
Then came the evening show. There were twenty-six on the books but we ended up with about ninety people, which was very good. The show went well and there weren't any technical difficulties until about ten minutes into act two, at which point the moving lights wouldn't work. They've already ascertained that all these things are because too many things were programmed into one circuit and it's continually tripping a breaker – so I kind of put my foot down and said that it had to be redone in a way that will cause no further problems – they have a week-and-a-half to fix it and for everyone's sake, it simply better be. Both shows got the ubiquitous standing ovations, lots of laughs, and a few tears (some of the show really is affecting). We got our first review from our very own Rob Stevens – very complimentary for the cast and creatives, but not for the show itself, but not everyone is going to love everything. And in the end, while it's nice to have love letters and some good quotes, I care most about the audience and the audience is clearly really enjoying it. So, now we have our down week and we'll have a needed pick-up rehearsal on November 28 and then we resume for our final five performances.
Prior to the matinee, I'd gotten five hours of sleep, she of the Evil Eye arrived and cleaned for the first time – since we moved everything in, the house needed a going over and now it's sparkling clean. I got rid of all the boxes except one, and a couple in the book room that are actually going out to the garage. She used the new washer/dryer and liked the way they worked. Then Grant came by and hung the rest of the blinds, so all those are up now and look great. And he also hung the Follies three-sheet – he found the perfect place for it.
Today I'm sleeping in, then relaxing the livelong day and night. We're still without a musical director for Kritzerland and if we don't have one by Monday I will seriously consider canceling the show – I'm quite bored of how much trouble this is occasionally. We're pretty much cast, but obviously we need a pianist. Grant will be over to assemble two kitchen chairs for my workstation when they arrive, and I'm hoping we can hang five or six more pictures. And speaking of pictures, here are a few photographs from a show called Levi.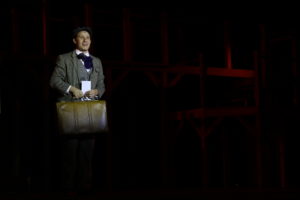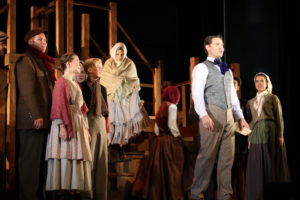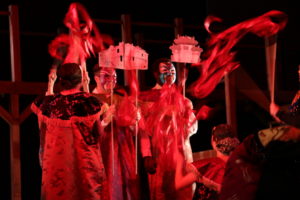 I'll have more tomorrow. Speaking of tomorrow, tomorrow I have someone coming over to help me unbox about ten boxes in the garage, which will clear some necessary room in there – mostly the bigger books and the Indiegogo stuff, so we can begin shipping that out. I'm sure we'll spend three hours or so doing that, then it is my intention to have a nice, relaxing meal. The rest of the week is just that – relaxing, clearing my noggin', and relaxing – maybe even watching a motion picture or some such thing.
Well, dear readers, I must take the day, I must do the things I do, I must, for example, sleep in, relax, find a musical director, assemble kitchen chairs, hang paintings, eat, and relax. Today's topic of discussion: It's free-for-all day, the day in which you dear readers get to make with the topics and we all get to post about them. So, let's have loads of lovely postings, shall we, whilst I hit the road to dreamland, happy to have had excellent matinee and evening performances of Levi.