Well, dear readers, we had us an opening night and it was a doozy. A pretty full house (over 200), an audience filled with warmth and love for the Sherman Brothers, getting to see the musical that got away. The getting the tickets got pretty unwieldy, due to no fault of our wonderful box-office person who had everything organized beautifully – but people were not listening about where to pick up their seats, especially the Indiegogo folks whose tickets were all at a will call table. So, much confusion ran rampant and caused a late start – but everyone got in and we'll never have this problem again because it was the only performance that had assigned seating. There were so many wonderful fans of the brothers Sherman – lots of Disney folks, Leonard Maltin, Larry Cohen fans, and some folks I knew, like dear reader Jeanne. Several nice folks had come from out of town to see it. We finally got started at 8:15 and the opening of the show could not have gone more smoothly or better. And the exchange between Levi and a young boy got huge laughs, just as I always knew it would. There were several times when the actors were, I think, taken aback by how big the laughs were or by how huge the applause was for certain numbers. And yes, by the end of the show everyone was humming the show's anthem, Opportunity. The act played very smoothly and I don't really recall anything untoward happening. Several numbers got really sustained cheering. The end of the act played beautifully.
Act two began with a stupid lighting gaffe – a spotlight had been left on during the entire intermission and so had no juice and didn't spot our actor properly – it was unfortunate but they got a light on him about a minute in. The only other real flub was a mustache gaffe at the end – it just wouldn't stay on the actor – so I've now devised a line he can say if it happens again so that it will make the moment play rather than be awkward. The cast did a great job, and the chatter at intermission was really great. When I got up at intermission, the show's book writer, Larry Cohen (seated in back of me) was standing their crying – he was so moved by seeing his baby onstage and he loved the production and my work, which was so lovely to hear. And the same with Richard Sherman – crying, grabbing my hand – they really never thought they'd live to see a fully produced production of this. The finale and curtain call was a love-fest and we got the ubiquitous standing ovation, although this was very heartfelt. And I had Marc Ginsburg, our leading man, stop after the final bow, bring up the houselights, and we acknowledged Larry and Richard.
There was lots of food after and there was virtually none of it left after about thirty minutes. I got so many lovely compliments about my work and the production and the cast came out and were greeted warmly by everyone. After, a few of the Disney folks, me and two friends went to Canter's where I had a truly mediocre pastrami sandwich. But what an evening it was, truly one I'll cherish for a very long time.
Prior to all that, I'd gotten seven hours of sleep, did a little more unpacking, then did a Costco run. Grant came by, hung another picture, we figured out how the washer and dryer worked (easy), and then I moseyed on over to the House of Pies where I had some chicken strips and a salad. I was there for two hours writing my thank you cards. Then I went to LACC and the rest you know. I will have some photos at some point. Well, here's a blown-out photo taken just before Marc called out Richard and Larry.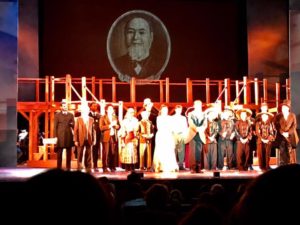 Today, she of the Evil Eye will be here at nine, so I really must get to bed, since it's closing in on three in the morning as I write these here notes. I'll go do stuff, then I'll relax until two, at which point I'll go see our matinee, grab a bite to eat, and then see our evening show.
Tomorrow I relax – not doing anything at all. Next week I'll be unpacking boxes, getting things put away, and setting up the garage so we can get blu-rays and CDs unpacked. Also I'll attend to the Kritzerland show.
Well, dear readers, I must take the day, I must do the things I do, I must, for example, do stuff, see a matinee, eat, see an evening show, and then relax. Today's topic of discussion: What was your introduction to the wonderful songs of the Sherman Brothers? Let's have loads of lovely postings, shall we, whilst I hit the road to dreamland, happy to have had a wonderful and memorable opening night for Levi.