Well, dear readers, it's time to announce our new Kritzerland release – there may or may not be two more releases before the end of the year, but that is our goal. Our new release is another classical release and a great one – it's called Three Piano Concertos and features three piano concertos, which is why I like the title Three Piano Concertos. In fact, they are three American piano concertos and not only that they are three incredibly beautiful piano concertos and I'm really thrilled to get this out into the world. I released two of them on Bay Cities on two different CDs – both have come out since on a different label with a brickwalled mastering that takes all the beauty of the original tapes and just makes them loud and wearying. The third concerto is one I discovered only recently but fell in love with – and its original 1986 mastering did the recording no favors. All that's been taken care of now by our ace mastering guy James Nelson. They all sound better than ever – warm, lustrous, airy, and gorgeous. Two of the concertos are loaded with stunningly beautiful melodies – those are by my favorite, Robert Ward, and a wonderful composer named Lee Hoiby, who has also written several good operas – his concerto is like a second cousin to Rachmaninov but with an American flavor. Interestingly, the most modern-sounding of the three concertos is the oldest – the Ward was written in 1968, and the Hoiby around 1957. The remaining concerto is by the marvelous composer Marc Blitzstein, who gave the musical theater The Cradle Will Rock, his translation of The Threepenny Opera, Juno, and the great opera, Regina. His concerto was written in 1932 but is very forward thinking in its style and sound, but still completely accessible. This is a CD I've had on constant repeat since the master arrived – it's completely addictive and brilliant. Here is the lovely cover Doug Haverty came up with.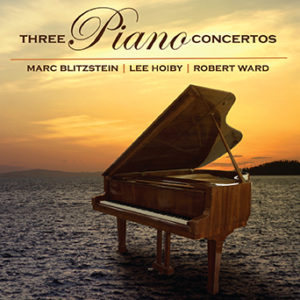 I cannot recommend this CD highly enough. Yesterday was a Sunday kind of Sunday. I slept a bit over nine hours, then proceeded to do not much of anything, which is the kind of day I needed and wanted. I did a close to three-mile jog, taking the second route I'd mapped out – I didn't like it nearly as much as the first route, so it's route number one that I'll mostly use. Once back from the jog I rustled up a batch of Wacky Noodles, about six ounces of 'em. They were excellent. Then I finished the commentary for the Kritzerland show, so that's out of the way now. Then Leslie Young and her kid Alexa made a pumpkin pie delivery to me, with fresh whipped cream. We all had a piece and it was yummilicious. Once they left, I sat on my couch like so much fish.
Last night I watched an interesting documentary on the great sax player, John Coltrane. I knew very little about him, and while I have a couple of his CDs I never really gave them much of a listen. But after seeing this, I think I'll have to explore more carefully because he was completely unique and his tone was completely original and has now been much copied in the ensuing years. He played with Miles Davis early on, then had his own group and he was always pushing his boundaries – sometimes at the expense of losing his audience. He conquered his drug addiction, going cold turkey, and he still died very young at forty. There a few interesting musicians interviewed, and Denzel Washington reads from Coltrane's writings. And of course there's the obnoxious know-it-all ubiquitous biographer, which almost made me turn the thing off. It does play more like a Blu-ray extra than a real documentary, but I enjoyed it and it is filled with wall-to-wall Coltrane music. It's on the Flix of Net.
After that, I listened to music and relaxed, and did a few little things on the computer.
Today, I'll do a little unboxing, I'll eat, hopefully Grant will come over and do a little picture hanging, hopefully I'll pick up some packages, and I have many telephonic calls to make, and hopefully I'll print out a LOT of orders. Then we have our first Kritzerland rehearsal, and after that the helper is coming by with a couple of replacement candidates. I'm letting her make the choice, as she'll know who's best suited and who will not flake.
Tomorrow we have our pick-up rehearsal. I'll probably go down early and grab a bite before that, but it will only last about ninety minutes – we'll run all the group numbers, set changes, and a couple of scenes – we don't have our leading man, but there's plenty to do to get everyone back into show mode. Then on Wednesday we resume performances – ticket sales took a jump over this past weekend, and it does look like our closing night could be as full as our opening night, which would be great. The other performances are now at least decent and I suspect they'll all go up. The only really problematic performance, audience-wise, is the Thursday matinee, which is very low, and I've put that one on the Academy, because they really need to get the school to cooperate – there should be classes coming – certainly we had one class for L.A. Now and Then as well as Li'l Abner. Thursday we play a matinee only and then there's something happening after that – oh, yes, one small catch-up rehearsal for Kritzerland. Friday we have our second Kritzerland rehearsal, then play our show, and Saturday we have our stumble-through at twelve-thirty, which will hopefully end right at one-thirty so I can then mosey on over to LACC for our three o'clock matinee. Then I'm sure we'll grab a quick bite between shows, and then we play our final performance that night. The next day we have our sound check and show.
Well, dear readers, I must take the day, I must do the things I do, I must, for example, unbox, jog, eat, hopefully pick up packages, make telephonic calls, hopefully print out a LOT of orders, have a Kritzerland rehearsal, and meet some replacement candidates for the helper job. Today's topic of discussion: Who are your favorite jazz artists? Let's have loads of lovely postings, shall we, whilst I hit the road to dreamland, happy to be releasing Three Piano Concertos for everyone's aural delectation.