Well, dear readers, before I go any further, let me just tell you that our new release, perhaps our final release of the year is the one everyone has been praying we'd do – the original cast recording of Levi! We recorded it live during our final week, and while we're still finessing the mix and stuff, it sounds really good and therefore I was comfortable releasing it as a limited edition of 1000 copies. The price is a little bit higher than normal because the production budget went higher than it should and this is one way of helping cover all those overages, which were unavoidable. Plus it's a lot of work making a live recording sound great, but those who've bought our other live recordings know just how good we make them sound. So, don't wait on this one – they will go fast, I'm pretty sure of that. Here's the cover.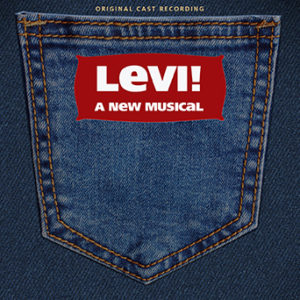 Yesterday was a quiet day of quietude in which quiet was the order of the day, along with Wacky Noodles. I slept until 12:30 due to not going to sleep until after three due to writing liner notes that I wanted to finish. Once up, I was mostly just lazy. I answered e-mails, then I rustled up my Wacky Noodles meal o' the day and ate it all up – about six ounces of it. Prior to sleep, I'd finished watching the DGA screener of Molly's Game, a film written and directed by Aaron Sorkin, from the book of the same name, starring Jessica Chastain. Being an Aaron Sorkin script, it is wall-to-wall dialogue – no one ever stops talking and when they do there is wall-to-wall narration. I can't say it's a great film – Sorkin's first directorial effort is very derivative of other directors, and his pace occasionally feels off – the film is over two hours. The story is interesting, and you can tell that Sorkin loves his own work a lot. Ms. Chastain is fine – I'm sure her performance will be highly lauded and up for an Oscar, but I didn't find it Oscar-worthy. I enjoyed it, though, especially because I enjoy poker.
Then after eating my meal o' the day, I watched the new Blu and Ray of Attack of the Puppet People, a favorite childhood film of mine, which I saw at the Wiltern Theater. It is, of course, a Bert I. Gordon film, a man who I got to be very friendly with and who I like a lot. And of course, this is the film that introduced his daughter Susan to the world, and as most here know, Susan was a regular here for many years, right from the beginning. Susan and I were extremely close for those years, and sadly she's now gone from us. I'm happy to report that this brand new transfer looks great and it's great to finally have the film in its original 1.85 ratio. I always enjoy the movie – it's only seventy-eight minutes long and moves quickly, the cast is fun, and John Hoyt is wonderful as Mr. Franz. Highly recommended by the likes of me. Then I watched about thirty minutes of a documentary called Voyeur, about some wacko motel owner who spied on his guests for decades – it's really also about author Gay Talese, but I find the whole thing not every interesting and I'm not sure I need to finish it.
Then I got everything prepared for our Levi CD announcement, ate a few snacks, and relaxed.
Today, I shall hopefully print out a LOT of orders – we're really hoping the sales in the early days are substantial – dealers won't take that many of the cast albums, so it's all Kritzerland sales mainly, until I actually have the CDs in hand – depending on how many are left will determine whether I put it on Amazon. Normally I would offer the first 100 copies signed, but Richard is not in any condition to do that right now. Otherwise, I'll hopefully pick up some packages, I'll eat something light but amusing, do some banking, and I'll continue making notes for the new book and choosing songs for the Kritzerland show. I think I only need one more cast member to have our ten young people. Then I'll probably watch a DGA screener, should anything interesting arrive.
The rest of the week is more of the same and includes at least two belated birthday meals – one with dear reader Jeanne and one with David Wechter. And then there'll be one with the Staitmans. Not sure what all else is happening.
Let's all put on our pointy party hats and our colored tights and pantaloons, let's all break out the cheese slices and the ham chunks, let's all dance the Hora and the Monkey, for today is the birthday of dear reader Ginny.  So, let's give a big haineshisway.com birthday cheer to dear reader Ginny.  On the count of three: One, two, three – A BIG HAINESHISWAY.COM BIRTHDAY CHEER TO DEAR READER GINNY!!!
Well, dear readers, I must take the day, I must do the things I do, I must, for example, hopefully print out a LOT of orders, hopefully pick up some packages, eat, do some banking, choose songs, and lock in our final young cast member, and relax. Today's topic of discussion: What were your favorite musical discoveries this year? Let's have loads of lovely postings, shall we, whilst I hit the road to dreamland, happy to have announced what will probably be this year's last Kritzerland release, unless something else fun shows up at the last minute.