The newest Lythgoe Family Panto, Beauty and the Beast A Christmas Rose, is currently playing the Pasadena Civic Auditorium. Kris Lythgoe's adaptation treats the treasured fairy tale with respect while also honoring the traditions of the classic English panto. The audience gets to scream and boo the handsome villain, cheer for the plucky heroine, swoon over her prince, laugh at the comic antics of the supporting characters and sing along to the pop songs. Director Sheldon Epps has guided his talented cast through all the twists and turns of the basic plot as well as their comic shenanigans. Musical director Michael Orland leads the three member pit band through the 16 song score that ranges from the Bee Gees' "Staying Alive" to the holiday classic "Let It Snow! Let It Snow! Let It Snow!" Mandy Moore has provided some lively choreography for the chorus as well as leading Beauty and her Beast through their enchanted "falling in love" waltz. Ian Wilson designed the various set pieces ranging from village square to castle ballroom while Ablemarle designed the colorful, whimsical costumes.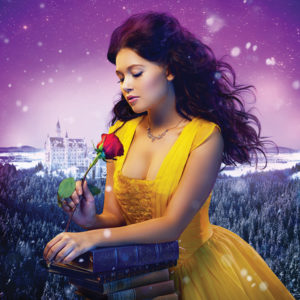 Kelli Berglund (photo by F. Scott Schafer)
Kelli Berglund easily carries the show on her slender shoulders as the optimistic Belle. She has a lovely stage presence and a beautiful singing voice she displays in "The Climb" and "Something Just Like This". As The Beast, Jonah Platt's prince worthy features are hidden behind Swazzle Inc.'s beast head design but his strong voice makes it through in "Say You Won't Let Go" and joins with Berglund's soaring voice in the lively finale "I'm a Believer." Jared Gertner, as sidekick Pierre, gets to display his improv prowess as he interviews the dozen plus tiny tots with Golden Tickets. Gedde Watanabe plays Belle's flustered father while John Tartaglia, best known for his original role in Avenue Q, gets a chance to put on a mini puppet show as Louis Vuitton, the Beast's confidant. Harrison White plays the double roles of Dame Derriere and Coco Chanel but seems to lack the over the top quality these patented panto drag roles require. He does possess a sweet singing voice and joins Tartaglia in a lovely version of Edith Piaf's "La Vie En Rose," which accompanies Beauty and the Beast's iconic waltz. The one actor who really seems born to the panto style is James Snyder who absolutely revels in playing the show's villain, Gus AKA the sexiest man in Pasadena. He milks every opportunity to elicit more screams and/or boos from the audience. Songs such as "Moves Like Jagger," "I'm Sexy and I Know It" and "The Final Countdown/We're Not Gonna Take It" are a perfect match for his big rock and roll voice.

Pasadena Civic Auditorium, 300 E. Green St. in Pasadena. Ends. Dec 24. Ticketmaster.com/PantoPasadena