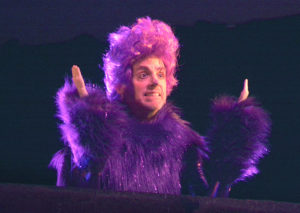 Matt Walker as The Princh (all photos by Ed Krieger)
Prince, the innovative musician/songwriter from Minnesota may be gone but he is not forgotten. The Troubadour Theater Company pays the Purple One tribute in their newest show How The Princh Stole Christmas! which premiered at North Hollywood's El Portal Theatre during the current Holiday Season. Such Prince classics as "Raspberry Beret," "Little Red Corvette," "Let's Go Crazy!" and many more got the Troubadour make over to their lyrics. The songs were rocked out to perfection by the four-piece on stage band led by musical director/drummer Eric Heinly. The baker's dozen members of the cast were in fine voice and the Purple One would have been pleased to hear his music tell the classic tale of how a dastardly grump with tiny hands and heart found love and joy in the holidays.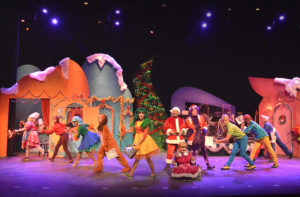 The Hows of Howville
As The Princh (Matt Walker) says early on, the story was changed enough to prevent a lawsuit from the Dr. Seuss estate but the basics were all there and the audience had no problem following the plot and enjoying the topical political humor. No 2017 newsmaker from Trump to Weinstein to Spacey was left unscathed by The Troubies (as their rabid fans have anointed them).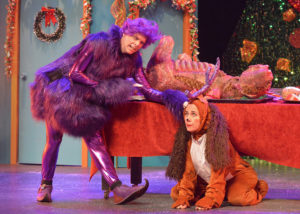 The Princh, faithful dog Max and the Roast Beast of Soy
As the director, Walker kept the show moving along and in his leading role acted as ringmaster for the merry circus of adept clowns, farceurs and improvisers that kept the laughs coming nonstop. Beth Kennedy provided able support as faithful dog Max, even getting a backstory, "When Dogs Cry." New company member Maegen McConnell as Applephonia provided the tender lover interest for The Princh. Nadine Ellis devised the lively choreography that was skillfully executed by the company. Christopher Scott Murillo provided the colorful scenic design including a purple tree while Halei Parker designed the even more colorful costumes. If you still need to get into the holiday spirit, catch The Princh before he rides out of town on that casters free sleigh.

El Portal Theatre, 5269 Lankershim Blvd. in North Hollywood. Ends Dec. 31. www.elportaltheatre.com