Well, dear readers, we had us a really fun Kritzerland at Sterling's 83 holiday show. We ended up with quite a nice-sized audience, including some of our Levi kids from LACC. While they were a wonderful audience it did take a few minutes to warm them up – I think I underestimated that people know the phenomenon known as Hamilton like the back of their hands – I'd come up with a pretty funny line in the opening patter, but only about a third of the audience "got" it and laughed – of course, that made me just repeat it about eight times more. I was talking about my big upcoming birthday and said, "At my age, in my house the bedroom is the room where it doesn't happen." So, perhaps Hamilton is simply known as the show everyone can't afford to see, but no one really has a clew as to what the song titles are. Lesson learned. But most of the other humor got big laughs. The cast did a great job – just amazing performances. Our pianist got through it mostly unscathed save for an unforgivable music chart fiasco during our opening number. When we were rehearsing here, he had the eight-page chart (maybe it's even longer) taped out and laid across the piano and a separate music stand. I told him twice that that would not work at The Federal and to put it into his notebook. But rather than listen to the person who's actually been doing shows there for five years he left it taped. But The Federal has air conditioning and it happened to be on its on cycle during the opening number. And it kept blowing over the last few pages onto the keyboard. I saw him struggling and I probably should have just gone up there and held it but I was so bloody irritated that I couldn't. He kept trying to keep rhythm with his left hand while keeping the music straight with his right, which was just silly, and just before the big finish and final chorus the music just fell off the piano onto the floor. Luckily he was able to fake his way through the end and the girls were such troupers and never let any of it flummox them. I made a joke about it after, but I think he knew it may have been a joke but that I was pretty annoyed. He also happened to play it at a tempo that he'd never played it at before – and that sucked the life out of the first verse completely. He's a nice fellow and a good player, but when that kind of thing happens because they don't listen, then there's no coming back for another show, not that he'd want to.
At the end of the show after our sing-a-long, a big ol' birthday cake was brought out (courtesy of Doug Haverty and Adryan Russ) and everyone sang me happy birthday, which was so sweet. Interestingly, one of our singers, Adrienne Stiefel, has a birthday the same day as mine. Go know. All in all, it was a splendidly splendid evening. Here's our merry troupe.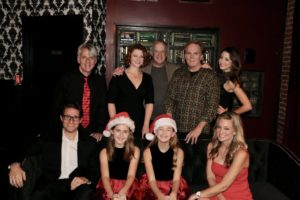 Prior to our show, I'd slept until eleven-thirty, which was eight hours, maybe a teeny bit more. I got up, answered e-mails, the helper came by briefly, and then I walked over to the local bank (about two blocks away) to get some dough out of the ATM, since I'd had no chance to do so for an entire week. But I got a screen that said there was suspicious activity and that the card had been frozen, so I called the number, told them I'd made the purchases that had been flagged, and all was well. Had I actually checked my gmail Kritzerland account I would have seen they'd sent me a notice and I could have unflagged the card right from that e-mail. Then I got ready, stopped at the mail place to pick up mail and a couple of packages – they couldn't find the second package (probably a screener) so I'll go back today and won't leave until they do find it. My pension check finally arrived – it was mailed on November 27 and arrived on the second – literally from three miles away. Thank you USPS for continuing the amazing ineptitude. Then we had our sound check, then did our show.
Since there weren't many of us going out after the show, we decided to go downstairs and eat right there at The Federal. I had some of their mac-and-cheese – it wasn't a lot of food but it was very good. Then I came home, had a piece of the birthday cake I hadn't been able to sample at the club, and caught up on e-mails.
Today, I'll get up between ten and eleven, I'll go to my usual branch of the bank and do some banking, I'll eat, I'll hopefully pick up some packages (including the one they couldn't find), and then I'm relaxing and I don't care who knows it. I'll watch a screener and that's all I'm doing – not a lick of anything that smacks of work. Oh, and I'll make my DMV appointment and study my tests.
Tomorrow I'll start planning the January Kritzerland, I may have a helper come to continue the unboxing of stuff and the putting away of stuff, and that's what the rest of the week will be. I will take the DMV test at some point before Friday, and then I think I'm being taken out to dinner on my birthday.
Well, dear readers, I must take the day, I must do the things I do, I must, for example, do some banking, eat, hopefully pick up packages, and relax. Today's topic of discussion: What were your favorite movies of this year? Let's have loads of lovely postings, shall we, whilst I hit the road to dreamland, happy to have had such a fun Kritzerland at Sterling's 83.