Well, dear readers, we've solved the mystery of who took the David Cassidy and me photo, although if I'd actually thought it out I should have known – the great photographer Henry Diltz took it – he regularly shot David back then, along with every great rock star and he was on board with us the entire shoot. And I just happen to have in my possession a Polaroid that was taken when he came onboard – Henry and me. Here is the photographic proof.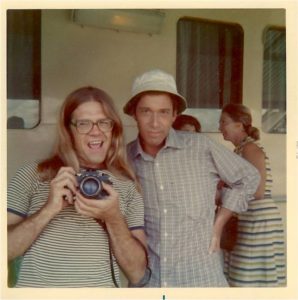 And that's why I save everything. Yesterday was a kind of day, I suppose. I only got about six hours of sleep, if that, got up, did some banking, then came home, answered e-mails and got ready for my noon o'clock lunch. I moseyed on over to the Eclectic Café, a place I have lunched at many, many times. It was dead as a doornail, lights were off, and a sign on the door had their new hours – lunch is done there, apparently. I gotta tell you. So, I called my lunch companion and told him to meet me a block north at The Federal and that's where we lunched. It was a very fun lunch with a fellow director, and we dished and had lots of tales to tell. I had their yummilicious mac-and-cheese and we were there for a whopping three hours, but three fun hours they were.
Then I stopped at the mail place, where I picked up the first of the SAG screeners, another copy of I, Tonya, plus some regular mail, none of any importance whatsoever. Then I came home. Once here, the new helper came by and picked up the Kritzerland sale invoices and got all those shipped out. Then Alby Potts arrived and we spent an hour going over the Kritzerland show. This show is lots less work than others because I had many of the charts and arrangements already and in the proper keys. So, we just created a put-together for one medley, and another for a two-song thing. It all went smoothly and then he left for his evening performance of Something Rotten – he plays one of the keyboards for the show.
After that I did some work on the computer, had a couple of telephonic calls, worked at the piano, and then sat on my couch like so much fish.
Last night, I finished watching Wonder Woman. When last we spoke about it I wasn't loving it – things did improve once they got off the island, and there were some fun things for about thirty minutes, then it just devolved into one action scene after another, completely derivative in both style and execution, filled with CGI crap I can't stand, and a final showdown between a ludicrous villain and Wonder Woman that was just a lot of sound and fury taking us to the real theme of the movie – love will save us all. So, yes, it's nice a woman directed a superhero movie – it would have been nicer if she'd actually done something original with it, rather than just ape every other one of these silly movies. But the one thing that absolutely works is the leading lady, who is fresh and fun in the role, and a very good actor. And the repeated use of the word "intel" drove me batty – it was bad enough the first three times the screenwriter erroneously used it, and then it just becomes completely irritating when it's used again later in the film.
I had a few little snacks – some cheese, some of the Darling Daughter's cherry loaf, which I love, and some crackers. I then watched the first two episodes of a Flix of Net thing called Wormwood, a documentary of sorts by Errol Morris, but with well-known actors doing recreations, along with real life people's interviews. I'm not sure how long a period this goes on for, but boy could the first two episodes be tighter – it's almost like they're stretching it to fit a certain decided-on number of episodes. It's a very interesting tale though and I'm enjoying it on that level. Yet more dubious doings by our government, lies, deceit, and it's just disgusting that this stuff went on and then continued to be covered up, even when the real story broke and the CIA and the President were forced (literally) to apologize to the family involved. I'm not sure how this story ends, so perhaps I'll even watch another episode before bed.
Today, I have a few things to do, some new book notes to make, some work at the piano, hopefully I'll pick up packages, and then I have a little early dinner to do. Then I'll relax and probably finish the documentary.
Tomorrow I think we're going to continue the garage unboxing unless that gets pushed to Friday – if it does, I may join our very own Rob Stevens for a little belated birthday lunch at Langer's. I think I haven't been there in two years now, so it's time. Then it's more of the same, and then we have our Annual New Year's Rockin' Eve Bash and then it's a New Year.
Well, dear readers, I must take the day, I must do the things I do, I must, for example, do a few things, make book notes, work at the piano, hopefully pick up packages, have a dinner, and relax. Today's topic of discussion: It's Ask BK Day, the day in which you get to ask me or any dear reader any old question you like and we get to give any old answer we like. So, let's have loads of lovely questions and loads of lovely answers and loads of lovely postings, shall we, whilst I hit the road to dreamland, as we begin the countdown to New Year's Rockin' Eve.