Well, dear readers, not one person I know showed up for the Barnes & Noble signing, which was kind of irritating, but we ended up selling more books than I would have thought (I thought we'd sell zero to one copy) and I met some nice people. We got there at two-thirty. They'd set up a space in their event room, but it was already clear to me that no one would be there, or at least not enough to do a reading and/or discussion. But we also knew that some lady named Colleen had called the store several times to make sure I was going to be there. We met her right away – and her daughter Meagan. It turns out that Meagan is in college taking a creative writing course and wanted to interview an author, and I guess I was the author who happened to be signing. She was very tall and very smart and we spent about thirty minutes chatting – she recording it and taking notes and asking very good questions. I love doing that sort of thing, and I know that she thought at least a few things I do as a writer that are fairly unique to me were interesting and worth a try. She told me that next year she'll be doing a one-on-one course on Shakespeare at Oxford. It's always refreshing to meet young people who are focused, goal-oriented, and who aren't distracted by silly stuff. We all laughed a lot, too. Here is the poster for the event.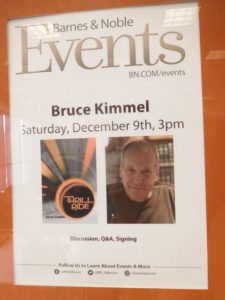 And here is Meagan and myself. When I said tall, well, you can see for yourself – six-foot-two.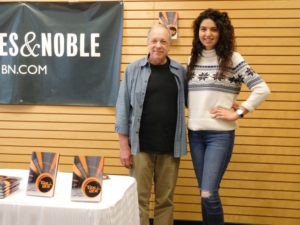 Note my arm around her waist and her arm around mine. We were joking that she could go on Facebook and say it was inappropriate groping – of course it wasn't but with everything that's going on today, especially the witch-hunt aspects, anything is possible. Save for the fact we all thought it was hilarious. After that, we moved to the front of the store, right at the entrance. I sat, and pretty quickly a nice man and woman came right over and decided the book seemed perfect for their young niece and nephew – they bought two copies and I signed them. More people came by and I signed those copies – we were there until five and the nice lady, Diane, who booked us, seemed very pleased. In fact, she bought two books and had me sign them, and I signed one for the store, as well. Lisa Freedman, who arranged all this, was with me the entire time and took the photos above. I think that Meagan and her mom may even come to the next Kritzerland show. I'm interested to know what she thinks of the book.
After that, Lisa and I stopped for a bite to eat at the Hamburger Hamlet – I had the bacon cheeseburger and a small salad and, of course, the Egg Custard Lulu. Then I came home.
Prior to all that, I'd have a rough night – woke up at five with an upset tummy, so I just did some stuff on the computer and sipped ginger ale until I felt better. I went back to bed at seven and slept until ten-twenty, so maybe not quite six hours of sleep. Then I picked up a couple of packages and some mail, then came home and relaxed and got ready.
Once home after the meal, I had many e-mails to answer, and had a telephonic call. When I was pulling in, Grant was getting ready to leave the house next door, so he came over and showed me the work the gardener had done – nice little bushes all over the front and back of the house. It looks great. Then at around ten-thirty I began watching a DGA screener called Molly's Game, written and directed by Aaron Sorkin and starring Jessica Chastain. So far it's rather like the work of David Fincher in The Social Network (which Mr. Sorkin wrote) – nothing terribly original, direction-wise. And as you might expect, no one EVER stops talking. I'm about thirty minutes in and I'll finish it before going to bed, even though it's really long at 140-minutes.
Today, I'll hopefully arise after a good night's beauty sleep. I must immediately write the blurb and get everything ready for our new release, which we'll announce at midnight. A couple of people are coming by to get their Levi checks, otherwise I'm just staying put. I'll eat here, and watch stuff.
This week is just planning the Kritzerland show and hopefully printing out LOTS of orders – we really need this title to do well and I'm hoping it will, especially in pre-orders. Otherwise, I have a couple of belated birthday meals to have (three, I think), and I'll continue making notes and thinking about the new book.
Well, dear readers, I must take the day, I must do the things I do, I must, for example, write a blurb and prep our new release announcement, I must have a couple of visits, I must eat, and I must relax. Today's topic of discussion: It's free-for-all day, the day in which you dear readers get to make with the topics and we all get to post about them. So, let's have loads of lovely topics and loads of lovely postings, shall we, whilst I hit the road to dreamland, happy to have had a fun book signing.