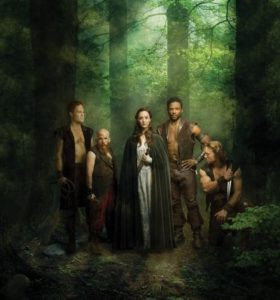 photo by Luke Fontana
The Wallis in Beverly Hills has a tradition of bringing International Theatre companies to local audiences. Currently they are presenting Vesturport's The Heart of Robin Hood direct from Iceland. There is no ice on stage but there is a lot of green in Borkur Jonsson's scenic design for Sherwood Forest, including a seemingly carpeted 40 foot raked wall. Directors Gisli Orn Gardarsson & Selma Bjornsdottir constantly have their cast using the wall as a giant sliding board to bring the actors from up on high to center stage or to have them run ramp like to some drawbridge extensions or climb the sides of the wall like mountain climbers ascending to the heavens. It's strikingly different and exciting the first few times but after the 55th slide, it begins to wear very thin. There is also a small pond on stage left from which one character makes a very dramatic, unexpected and thoroughly wet entrance but when a second and then a third character make the same entrance it again dilutes the novelty. A trap door stage right where various dead bodies are disposed of is also a fun effect the first few times, but after a dozen or so, it's not so effective. Repetition is not the sincerest form of flattery or dramaturgy. It shows a lack of initiative.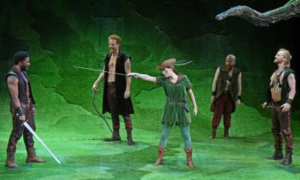 photo by Kevin Parry for The Wallis
The show is billed as "a wildly inventive and raucous retelling of the great English myth" but playwright David Farr's inventions are more raunchy than inventive and his take on Robin Hood is bleak and mostly un-heroic. His Hood (Luke Forbes) is a thug and he and his Merrie Men are just a band of thieves, robbing the rich who venture through Sherwood Forest and keeping the money for themselves. It is Maid Marion (Christina Bennett Lind) in the homoerotic and thinly disguised role of Martin of Sherwood who begins to steal from the rich to give to the poor. Robin has no sense of social justice. He has banned women from the forest and enjoys the company of his muscled, bare-chested and leather clad comrades in arms. It's Marion's gay clown Pierre (Daniel Franzese), a not very closeted haberdasher, that creates the iconic green costumes for the Sherwood Forest clothing line. Farr also pounds the gay theme into the ground for what seems to be a show aiming for the family audience. The gay innuendos might be over the heads of some children but could also be inflaming parental concern among their elders. The hipsters in the opening night audience laughed and cackled like they had never seen anything quite as funny before; they lapped it up like felines inhaling catnip.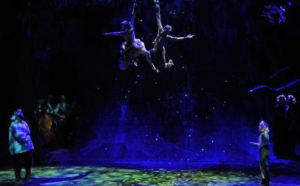 photo by Kevin Parry for The Wallis
Then there are the problematic musical numbers, written and performed by Icelandic rock star Salka Sol and a five-piece on stage band. Sol proves to possess a strong voice, when you can understand her lyrics, and she is a virtuoso on several musical instruments, but the songs have no relation to the tale of Robin Hood. At a nearly two hour running time they are just unnecessary detriments as you contemplate "is this ever going to end?" The villains are so villainous they should come with moustaches they can twirl as they make their threats. Ken Billington & Ed McCarthy's lighting design was top notch. Joe Bostic contributed some lively fight choreography and the happy ending wedding in the forest ends with a shout out to Cirque du Soleil. Logic, true heroic adventure and mostly heart is what is sorely missing from The Heart of Robin Hood.

The Wallis, 9390 N. Santa Monica Blvd. in Beverly Hills. Ends Dec. 17. Thewallis.org/robinhood.