Well, dear readers, the Do is Done and was a Delightful Do, in fact one of the MOST Delightful Dos we've ever had. The plan was to downsize this year, just because it's the new house and I didn't want to deal with a ton of folks, but in the end we had a ton of folks, twenty-six and change, and it was fine. The first to arrive was Alby Potts, followed by Adryan Russ and her ever-lovin' Dale. We all ate right away, and then others began arriving – our very own Amy and Mark, Ilona and Steve Muller, Grant and his ever-lovin' Lydia, his mom, and Greer, his daughter, Sami and her mom, artist Jimmy Mulligan, Leslie Young and her children Mia and Alexa, Doug Haverty and his ever-lovin' Dorathy, daughter Hartley and her hubby Bill, Marshall Harvey, Levi cast member Prisca Kim, Joanna Erdos, and, of course, our beloved Shermans, Richard and Elizabeth.
Prior to them arriving I got nine hours of sleep – didn't fall asleep until almost three-thirty and didn't get up until a quarter to one. Once up, I began the sauce. This new stove is amazing and it was the best sauce ever because the simmer function works perfectly and actually simmers, unlike my old stove, which didn't know a simmer from a boil. I'd already made the tuna pasta salad so that was done, and then I set out all the plates, napkins, cups, and cutlery. Because the simmer function worked so well I didn't have to attend to the sauce much at all – I just let it slow cook all the livelong day. I did some work on the computer, answered e-mails, and then watched the first twenty minutes of Wonder Woman – I'll wait till I'm through before commenting. Then I got ready and then people began arriving.
The Do itself was really fun. I kept going up to everyone and saying, "No spillage," and everyone was pretty good about that, save for a couple of amusing hiccups. We had lots o' laughs, and while the partay began in the living room, which surprised me since this house's flow is completely open, but eventually it spread to the den area and the kitchen. I showed Richard the Levi packaging and he absolutely loved it, as did Elizabeth. I made five pounds of spaghetti and a huge amount of sauce, but there was something so good about the sauce this time that shockingly by the end of the evening there was only about six ounces of pasta left and not much sauce. Very unusual. What was left barely filled a small Tupperware container. The tuna pasta salad was also a huge hit – thankfully I'd made a second portion of it, because the first portion went pretty quickly and much of the second portion did, too. Joanna, as always, brought her chicken wings thing, Leslie brought some very tasty latkes, and we had many, many desserts – lemon cake made by Adryan Russ, chocolate cake, peanut butter pie, a bundt cake with coconut frosting made by Doug Haverty, assorted cookies, and Prisca brought these unbelievably huge pears from Korea – they were a very big hit. And as has become an annual tradition, the evening concluded with Richard Sherman playing a few songs, which is always completely magical. Here are some actual photographs from the actual partay. Left to right are Marshall Harvey, Steve Muller, Jimmy Mulligan, Dale Cooke, and Richard Sherman.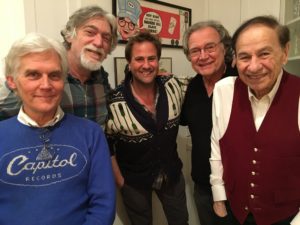 Next we have from left to right, Lydia, Greer, and Grant Geissman, li'l ol' me, and Alby Potts.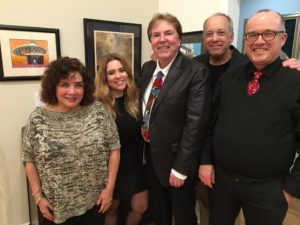 Left to right, here are Sami and Karen Staitman and Doug Haverty.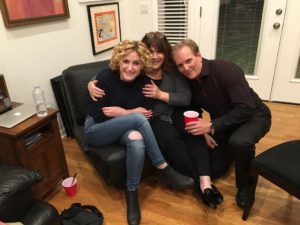 Finally, left to right, here are Alexa (Leslie's daughter), Bill and Hartley, Mia (Leslie's other daughter), and Dorathy Haverty.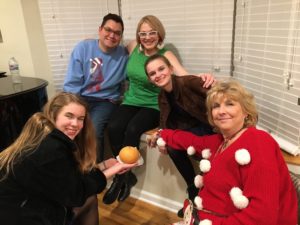 After everyone left I spent an hour getting everything cleaned up, which was much easier in this house than the old house. Everything is now just as it was before the partay – sparkling and clean, not necessarily in that order. And of course I had more tuna pasta salad and spaghetti because I hadn't been enough of a pig.
Today, I have to be up by nine-thirty, as the Darling Daughter will be her sometime between ten and eleven, I think. We'll yammer and open presents, then they'll be on their merry way and I'll finish watching Wonder Woman, get ready, and then attend a little Christmas dinner at a local Eyetalian restaurant with Barry Pearl and his ever-lovin' Cindy – don't know how many of us there'll be, but it is my intention not to eat like a pig. After the dinner, I'll come directly home.
The rest of the week is mostly relaxing, plus a Kritzerland work session to do. I'm sure I'll watch more screeners and then we have our Annual New Year's Rockin' Eve Bash right here at haineshisway.com, and then we welcome in a brand New Year.
Well, dear readers, I must take the day, I must do the things I do, I must, for example, have a visit with the Darling Daughter and her hubby, I must relax, have a Christmas dinner out, and then relax. Today's topic of discussion: Tell us all about your Christmas Eve and Christmas Day. Let's have loads of lovely postings, shall we, whilst I hit the road to dreamland, wishing each and every dear reader and lurker the Merriest of Merry Christmases.