Well, dear readers, 70 is flying by, like a gazelle looking for the lost chord. But I had quite a nice, quiet, fun day of doing nothing but enjoying birthday wishes. I got almost nine hours of sleep, did a two-and-a-half mile birthday jog, and then just relaxed, finalized some casting for the January Kritzerland show, then relaxed some more until about 2:45, at which point I began my journey to the Monica of Santa. I knew I wasn't going anywhere near any freeway, so I took Beverly Glen over the hill and all the way down to Olympic. I must say it was a nice drive with little traffic, so that was very nice. I took Olympic through West LA and then went down to Pico and took that most of the way to the beach, then went down Main Street. I found street parking a half a block from the restaurant – three hour parking, so that was great. I was about twenty-five minutes early so after putting money in the meter I was going to walk around Main Street and see what was new, but there was Nick and Julie walking towards me, because like me they are always early. So we just went to the restaurant, the Enterprise Fish Company, where I used to eat very often when I lived just down the street.
The décor was very different, and so was the menu, very much reflective of today – it was a lot more old-fashioned back in 1988. We spoke of many things but as irony would have it, never of cabbages and kings. For me, there is nothing better than a dinner with not only friends, but witty, smart friends who know how to converse. Nick seems in great spirits and while he's using a cane, he's walking very well and his hair has grown back pretty quickly. I ordered a cup of clam chowder, and after sampling their two kinds of tartar sauce (the one with dill was vomit-inducing, but the other one was perfect), I ordered the fish and chips. Nick had some swordfish and rice and Julie had an appetizer thing with tomatoes (of various colors), cucumbers and I know not what else, and lobster rolls. The fish and chips were great and not a huge portion, which was nice, and the clam chowder was excellent, too.
For dessert they gave us a birthday mud pie for the table, and we all pretty well demolished it handily. Here is an actual photo of both the mud pie and my very own self – I do not think I look like a seventy-year-old in this photograph.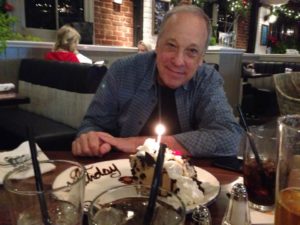 So, we were there a little over two hours. They gave me a wonderful piece of original art – I have to do some research on the artist, but I really liked it a lot and will find a nice place for it. There was no way I was going near the freeway, but in retrospect I probably should have just done it. But I thought I'd take Washington through Venice and Culver City, then Venice Blvd. all the way to my secret way to get across town, which I describe in Thrill Ride. Well, either fifty people have read the book and now are mucking up what has always been an amazingly fast and uncrowded way to get all the way from Venice Blvd. all the way up to Santa Monica Blvd. with lights at every major intersection. So, that was folly and very crowded and I think if I'd taken the freeway it would have been a very long forty-five minute drive home, but this route took almost ninety minutes. I didn't mind it so much, though – I was feeling good and just enjoying the evening.
Once home, I answered a few e-mails, listened to some music, and that was my lovely and quiet seventieth birthday.
Today, I'll hopefully pick up some packages (I believe a couple were delivered yesterday), and then I'll go up to Valencia and do my book signing. When that's done, I'm sure I'll grab a bite to eat and then I'll watch some motion pictures when I get home.
Tomorrow, I have no plans, so I'll just stay around the house, probably make some food here, and watch stuff. Next week is mostly planning and choosing the songs for the January Kritzerland, to get all that done as early as possible. And of course we're announcing a big title tomorrow midnight, so I have to get that all prepped today.
Well, dear readers, I must take the day, I must do the things I do, I must, for example, hopefully pick up some packages, do a book signing, eat, and relax. Today's topic of discussion: What have been your favorite performances this year – from stage, TV, and movies? Let's have loads of lovely postings, shall we, whilst I hit the road to dreamland, happy to have had such a quietly lovely birthday.