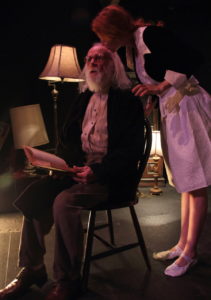 Leon Russom and Margaret Katch (all photos by John Klopping)
When the Brothers Grimm first published their first two volumes of Children's and Household Tales in 1812 and 1815 they were criticized because the stories were considered not suitable for children because of the subject matter. Many changes were made in subsequent editions, removing sexual references such as Rapunzel's pregnancy although they did ramp up the violence, especially when punishing the villains. Over the course of subsequent editions through the years the tales became Disneyfied. Stephen Sondheim and James Lapine put a darker edge on some of the more classic tales in their musical Into The Woods, basically cautioning its audience about being careful what you wish for and showing what occurs in the real world of Happily Ever After. In 1991 writer/director Mary Zimmerman, a Tony award winner for Metamorphoses (her take on Roman poet Ovid's tales), took some of the more obscure and dark tales and created The Secret in the Wings. Coeurage Theatre Company has created a fascinating and disturbing production of the play at the Lankershim Arts Center in North Hollywood.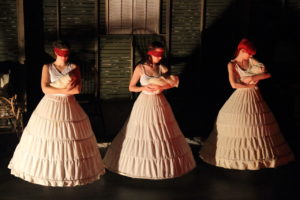 Audrey Flegel, Leslie Murphy and Katie Pelensky
A modern couple leaves their young daughter (Audrey Fiegel) with their elderly neighbor (Leon Russom) as they rush off to a party. The girl is afraid because she thinks the old man is an ogre; she can see his tail. He repeatedly asks her to marry him and she repeatedly turns him down. So he reads her some very dark and alarming tales from his book. There are tales of queens forced to gouge out their eyes, give birth on a barren mountainside and cannibalize their infant sons; of a princess who won't smile and the 500 plus men who basically perform stand up comedy to win her hand in marriage only to lose their heads when they fail; of a king who mourns the loss of his wife until he begins to court his own daughter; of a father who curses his seven unruly sons, turning them into swans that can only be saved if their sister maintains her silence for seven years. This is definitely not a children friendly outing. Most of the stories end on a very somber note, some just stop without a real conclusion. In the final ten minutes, Zimmerman returns to each of the tales to give them a final coda, sometimes happier, sometimes grimmer. It's a bit confusing at first but there is a method to her madness.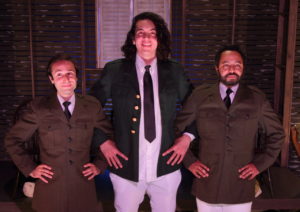 Eddie Vona, Eduardo Fernandez-Bauman and Randy Thompson
Luckily director Joseph V. Calarco and his superb cast of nine (Eduardo Fernandez Baumann, Audrey Flegel, Katch, Leslie Murphy, Katie Pelensky, Russom, Sean Spann, Randolph Thompson and Eddie Vona all playing various roles) are skilled at their craft and the result is sublime story theatre, true theatrical magic. JR Bruce's scenic design presents a dismal attic with plenty of chairs and props that the actors use to tell their stories. Kumie Asai designed the simple yet effective costumes and the at times spooky masks. Brandon Baruch's lighting and Calarco's sound design add to the eerie, tragic tone of these tales. The secret may be in the wings, but the magic is clearly on the stage.

Lankershim Arts Center, 5108 Lankershim Blvd. in North Hollywood. Ends Dec. 16. www.coeurage.org/sitw