Well, dear readers, Christmas 2017 had come and gone as well as gone and come. I personally had a lovelier than lovely Christmas. I only got seven hours of sleep, because I think Santa was a little noisy coming down the chimney, probably because I don't have a chimney. I hate when that happens. I did a quick errand, answered some e-mails, and then the Darling Daughter arrived. She had some tuna pasta salad and then I opened her gift and she opened my gift. She made me two cherry loaves (danger), and then she opened the gifts that nice people had left at the Do. I got more than usual, which was lovely. All gifts were nice, but the Geissmans got me some wonderful housewarming things – tongs, which will make serving pasta much easier, some coasters, and wooden salad servers. I got a movie trivia game, the Shermans gave me a wallet and silver letter opener, Jimmy Mulligan gave me an original watercolor, and others gave me some nice things, too. But the shocker was a photo that dear readers Amy and Mark gave me – an astonishing photo really, because I have no idea who took it, how they came to find it, or that it even existed. It was taken onboard the T.S.S. Fairsea, somewhere between Acapulco and Los Angeles as we were shooting The Partridge Family – what would be my final episode. I'd cruised to Acapulco for a week at which point we were joined by the cast and producers. Now, I'd already entertained the passengers a couple of times, at their request, after a couple of dinners, singing and playing my songs at the piano. So, one night, Shirley Jones was kind enough to agree to sing and I was the only piano player on board so I played for her – I got that photo last year from Amy and Mark and was gobsmacked by it. Well, apparently David Cassidy got up and sang something and apparently I played for him – I can't imagine what he sang as I could not play any of the Partridge songs, but there I am at the piano and there's David with a mic, singing, so it happened. So, I think it's high time dear reader Amy tell us how she came to get these photographs, don't you? And here is the photograph.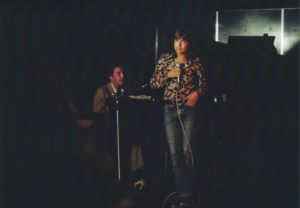 After we finished opening stuff, the Darling Daughter and I did our favorite thing – we went for a drive, something we used to do all the time when she was a kid. We drove to some of her old haunts, we drove past the first house I owned and she was really nauseated by what they did to it, as am I, we drove to a house she used to live in with her boyfriend (it's been torn down and replaced by the usual ugly McMansion), then we drove to the house I had on Fredonia back in 1983 – it's still there but doesn't look as good as it did and they've put a really ugly gate at the entrance. Then we drove by our old house in North Hollywood – it's had the same owners since I sold it and looks great. Then, just for fun, we drove past the old house – when I moved five weeks ago I had the water and electricity shut off and clearly they have not had them turned back on because the lawn is dead, the house looks filthy, and other than the kitchen blinds being down, I'm not sure anyone has done a damn thing to it and there is no for rent sign. The Darling Daughter went to the mail box and reached in and pulled out a large envelope that was addressed to me, so I have that, but heaven knows all the Christmas cards that came there are probably in the trash.
She was dismayed at the Du-Par's news, astonished that the owners of that sorry strip mall had lost McDonald's as a lease holder (that building still sits empty three years later), and was amazed at how much our old North Hollywood neighborhood had changed. It was a fun drive. Then we came back here, she went on her merry way, and I finished writing the Kritzerland commentary, so that's out of the way now. I ate nothing at all during the day. Then I got ready and then moseyed on over to Buca di Beppo or whatever the HELL it's called. It's a chain of Eyetalian restaurants. I'd only eaten at one prior to this and hadn't liked it at all.
Barry and Cindy put together a nice partay of twelve folks, most of whom I knew. Kay and I sat across from each other and had a lot of fun. Barry basically ordered the family style food – the Caesar salad was actually quite good, the appetizer thin-crust (and I mean paper thin) pizza was okay – I had the equivalent of a half a piece, and then there were various entrees – some kind of lemon chicken I didn't have, some chicken thing with prosciutto which I had about an ounce of, and then some chicken carbonara – at that point I was just needing to eat something substantial so I had two small helpings, but I just didn't care for it much, and neither did Kay. But it was nice to be with such a nice group of folks and it was very sweet of Barry and Cindy to do it. And I've got to say that the jernt was jammed with people. I guess no one stays home on Christmas anymore and has people over or makes nice, cozy meals. No one ever used to go out on Christmas. And when the Darling Daughter and I drove by Du-Par's there was a line a block long waiting to get in – on Christmas Day at noon.
We were at the restaurant for about two hours. Some people went back to the Pearl's house but I had some stuff I needed to do here, so I just came home. I did the stuff I had to do, then watched another forty minutes of Wonder Woman. I really didn't like the stuff on the island – just cliché after cliché in the writing and the directing. People were so thrilled that a woman director made a big superhero movie, but seriously that sequence just apes every other movie relentlessly – there's not an original moment in it, and the CGI is horrible. We get people doing impossible things in slow motion, we get a bullet traveling in slow motion toward the camera, we get it all, and so what does it matter if it was a woman, man, or pet – it's awful. Things began to improve a bit once off the island, which is where I am now, and I do like the actress playing the lead. Oh, and typical of how bad the script is and how lazy writers of these things are, when Chris Pine is forced into telling his mission, he keeps using the word "intel" – well, this film takes place during World War 1 and the word "intel" was not used until the 1960s. That took me exactly ten seconds to learn – but apparently today's kiddie screenwriters don't have the ten-second attention span to actually learn something and therefore not be anachronistic. But that's the movies today for you.
I finished the bit of tuna pasta salad that was left, had a little piece of peanut butter pie, and then just listened to music.
Today, I have to be up by ten at the latest, but probably earlier, I have some banking to do, then I have a noon o'clock luncheon with a director who's a Facebook friend who's visiting LA. After that, I'll hopefully pick up some packages, then I have a work session for the Kritzerland show, and then I'll relax and finish Wonder Woman and watch something else.
The rest of the week is more of the same, and making new book notes and preparing for our Annual New Year's Rockin' Eve Bash, and then a brand new year.
Well, dear readers, I must take the day, I must do the things I do, I must, for example, bank, have a lunch, hopefully pick up packages, have a work session, and then relax. Today's topic of discussion: What are your favorite superhero movies? Let's have loads of lovely postings, shall we, whilst I hit the road to dreamland, happy to have had a Very Merry Christmas Day.