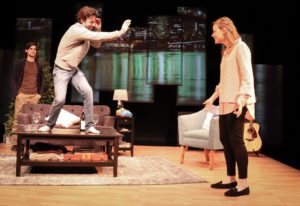 Philip Orazio, Josh Zuckerman and Paris Perrault (all photos by Brian M. Cole)
The Road Theatre Company is currently presenting the West Coast Premiere of playwright Anna Ziegler's A Delicate Ship at their space on Magnolia Blvd. in North Hollywood. It's a delicate memory play with three thirty-something characters who constantly break the fourth wall as they tell the audience of past memories and even some future memories. The bulk of the play takes place on Christmas Eve a few years in the past in Sarah's (Paris Perrault) Brooklyn apartment. She is enjoying some after dinner wine and quality time with her boyfriend Sam (Philip Orazio) when she mistakenly opens the door and admits childhood friend Nate (Josh Zukerman). Nate makes himself right at home, kicking off his shoes, helping himself to the wine. He's surprised by Sam's presence. Although Nate and Sarah talk frequently, she has never mentioned Sam. But then Nate finds out Sarah has never told Sam about him. He soon rectifies that. The three seem to be competent, focused adults with well-ordered lives. Sarah is a social worker who helps senior citizens find things. Sam is a paralegal who sidelines as a singer/songwriter/guitar player in a band. Nate teaches third grade. But as Nate's prolonged presence unearths previously undisclosed feelings and past encounters, Sam and Sarah's delicate relationship flounders on the rocks. Nate seems determined to break them up so he can have Sarah to himself and though she protests at times, she seems content to let Nate do just that. Nate is such a disruptive and unlikable character—Sarah refers to him as a child and self-obsessed and his behavior proves her point—-but she doesn't ask him to leave until he has wreaked devastating havoc on all their lives.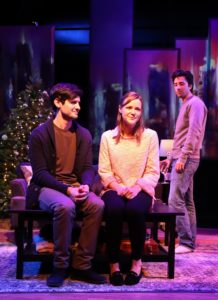 Philip Orazio, Paris Perrault and Josh Zuckerman
Andre Barron has tightly directed his cast and keeps the tension slowly building to the inevitable blowup. The trio of actors do a fine job of bringing their characters to life. Zuckerman is at times charming, even when he is unflaggingly annoying. Orazio grounds Sam in his decency, reaching for his guitar whenever he feels the need for a security blanket. Perrault has the most difficult role as Sarah is torn between two very different men and not sure which one she wants to win her. Ziegler has written an interesting take on the memory play format with all three characters sharing memories, some from the future as well as the past. However there is a big problem in Ziegler's script, which at 80 minutes is nearly twice as long as it needs to be for the situation she has created. Nate is such an unpleasant character you don't want to spend that much time in his company and you don't understand why Sarah, and initially Sam, would want to. The overly melodramatic conclusion to the trio's encounter is quite unbelievable. It's hard to buy into that desperate of an act by a character who showed no hint of such a tendency in their previous behavior. A Delicate Ship comes across more as a colossal cargo ship when it needed to be more of a racing sloop.


The Road on Magnolia, 10747 Magnolia Blvd. in North Hollywood. Ends March 24. www.roadtheatre.org