Well, dear readers, what a completely weird day it was yesterday, mostly due to my wandering around the house thinking "Don't I have to write fifteen pages?" I always have such mixed emotions after finishing a book – elation, accomplishment, and post-partum depression, although that passes quickly. Happily, I am occupied with writing a new musical with our very own Doug Haverty – that will be produced at the end of the year at the Group Rep with me directing. And I'm now planning the March Kritzerland, which I think will be really fun if I go with the idea I think I'm going with. I've already cast one woman, one man, and one child, so just one more guy, two more gals and that's that, unless I coerce a guest star for this one. And actually I did do a bit of writing this morning anyway.
I got almost eight hours of sleep, then as soon as I was coherent I began futzing and finessing. But before I get to that, prior to going to sleep I knew I wasn't completely happy with the final seven pages that end the book. For one, I added something at the very end that was so wrong, and it kind of threw me for a while. Once I got that out of there I at least could write the ending. But back in late December, when I was making all my notes, I knew what this scene, emotionally, had to be and I even wrote a few sample dialogue things – at that point it wasn't going to be the end of the book, though. So, as I thought about what I'd done I knew I missed a certain urgency and emotionalism in my lead character and it was essential it be there. So, I took my second shower of the day and whilst doing so I figured out what it absolutely had to be. I dried off and quickly typed it out – not in book form, just roughly, just so I wouldn't forget.
Then I wrote it for real and it was so much better and so much more right and it finally gave me the little emotional gut-punch that I wanted. I know when I get all emotional then it works and I finally did. Then I went to bed, but thought of a couple more good lines and got up and wrote them down. Then I futzed and finessed and I could see me rushing to get to the end, so I ended up really filling out a few sections and adding close to two pages and then everything felt much better. I did write an alternate to the last paragraph – basically just moving one line later.
Then I printed out those forty-seven pages, got the Xeroxed, but Muse Margaret wasn't home so I came home. And then I had to deal with the continual AT&T ineptitude but I would not let the guy off the phone until they'd gotten my voice mail working again, which they finally did. And then I had to deal with a load of merde, a double dose today, so do keep sending those most excellent vibes and xylophones for two miraculous miracles so I can get these annoyances done and finished with. That would be ever so pleasant.
Doug Haverty came over and we went and dropped off the pages to Muse Margaret, then had a celebratory meal at Casa Vega. Food was great and I told him what the new book was, its title, and its vibe so he can start thinking about the cover art. That was fun. I came home and sat on my couch like so much fish.
Last night, I watched a motion picture entitled Gidget, starring Miss Sandra Dee, Cliff Robertson, and James Darren. I enjoyed it and the transfer is spectacular. Miss Dee was so damn cute in this film.
Then I got a call from Muse Margaret who was pleased with the last forty-seven pages and liked the way everything played out. She only had one small thing and she wasn't even insistent about it – but we looked at it together and I decided she was right about it, even though it was very slight – just a little too much gilding the lily in terms of a description, so I just deleted the four words in that sentence, and the same four words in a subsequent section. And she liked the ending that I used rather than the alternate. So, that was that and I was very happy with the call. Then I watched a bit of Sayonara on Blu and Ray. After that, I just relaxed and listened to music. Here's what 295 manuscript pages looks like as photographed by my iPhone.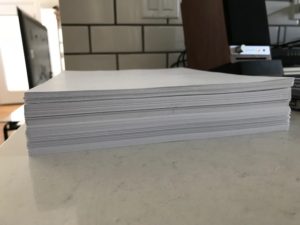 Today, I'll work on the Kritzerland show and finish casting it, then I'm seeing Leslie Young's daughter Alexa in some high school talent show thing. After that I'll eat, I'll hopefully pick up some packages, and relax. Oh, and today I begin eating no more than 1200 calories a day until I lose the weight I gained whilst writing this here book.
Tomorrow I'm attending an opening night at the Group Rep, and I'm not sure what the weekend holds, other than reading through the new book hunting for typos and looking for things that may need adjusting. I always write forward and Muse Margaret reads forward, so I never know if I've repeated a phrase or word too much until I actually read it in one go.
Well, dear readers, I must take the day, I must do the things I do, I must, for example, work on the Kritzerland show, get the book printed out for my first go-through, see a high school talent show, eat, hopefully pick up packages, and relax. Today's topic of discussion: What are you favorite songs of the big band and WWII era? Let's have loads of lovely postings, shall we, whilst I hit the road to dreamland, exhilarated to now be done with the book, and not exhilarated dealing with two merdes that remain – in other words, High and Low. Let's just kick the living daylights out of low so I can actually breathe easier and this bad stuff off my plate.