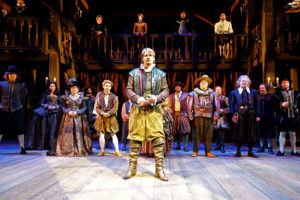 Paul David Story as Will and the company (photo by Tania Thompson
The 1998 period romantic comedy Shakespeare in Love was an upset winner of the Academy Award for Best Picture of the year, leaving Stephen Spielberg's Saving Private Ryan floundering on the beaches of Hollywood. The screenplay by Marc Norman and Tom Stoppard imagined a love affair between Viola de Lesseps (Oscar winner Gwyneth Paltrow) and playwright William Shakespeare while he was writing Romeo and Juliet. Several characters were based on historical figures such as Queen Elizabeth I (Oscar winner Judi Dench) and featured characters, lines and plot devices from other plays by Shakespeare. In 2014 playwright Lee Hall adapted the Oscar-winning film script for the London stage.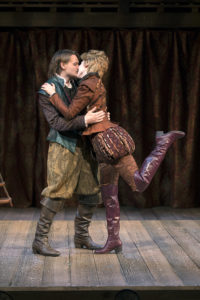 )
Paul David Story and Carmella Corbett (photo by Jordan Kubat)
The resultant play Shakespeare in Love has received several productions since and is currently on the Segerstrom Stage at South Coast Repertory. It has been given a sumptuous production—Ralph Funicello's two story scenic design, Susan Tsu's gorgeous and detailed period costumes, Jaymi Lee Smith's painterly lighting design, a cast of 23 playing 40 different roles, live music and a dog named Spot. It's funny, it's romantic, it contains swordplay and wordplay yet it never truly excites. The script worked better on film than on stage.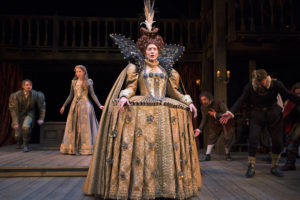 Elyse Mirto as Queen Elizabeth I (photo by Jordan Kubat)
Director Marc Masterson has given the play a cinematic flow and his talented cast is up for their bawdy, thuggish, egotistical or romantic roles but the production never lights the coals like those Rose Theatre owner Henslowe's (Bo Foxworth) feet are held over by the henchmen of moneylender Fennyman (William Francis McGuire). When Henslowe offers Fennyman a producing credit in exchange for his debt, added pressure is put on Will Shakespeare (Paul David Story) to finish his new comedy, Romeo and Ethel, The Pirate's Daughter. But young Will is having writer's block and seeking a new muse when he comes across his number one fan, Viola (Carmela Corbett). Viola is stage struck and since women are forbidden to appear on stage, she disguises herself as a young man, auditions and wins the title role of Romeo. Viola falls for Will, and vice versa, but is pledged in marriage to the impoverished Lord Wessex (Bill Brochtrup). Complications continue to mount until the entire plot is righted by the intervention of Queen Elizabeth (Elyse Mirto) herself. All's well that ends well to borrow another Shakespeare title as the married Viola sails to Virginia, Shakespeare receives a new commission from the Queen and Fennyman makes his stage debut.


South Coast Repertory, 655 Town Center Dr. in Coast Mesa. Ends Feb 10. www.scr.org