Well, dear readers, this year is flying by, like a gazelle having a bad hair day. I, myself, did not have a bad hair day, I had a rather good hair day, if you must know. As you may have heard, yesterday was the first day of 2018 and it was quite a lovely day that I rather enjoyed from start to finish. I got nine hours of blessed sleep, got up at eleven, answered e-mails, printed out a few orders, and then as soon as I was coherent, about thirty minutes later, I began writing what I hope will be my new novel. It just wouldn't be New Year's Day for me if I wasn't starting on a new novel. I'd already written a few pages and I was surprised to find I didn't mind them. I did futz and finesse, of course – removing a few things, adding a few things, and smoothing it all out. Over the next few hours I managed to write seven pages, which was very good for a first day. I also ate most of the remaining tuna pasta salad.
I did one quick errand and came home. Then I checked last year's notes to see how many pages I'd written on Thrill Ride's first day – eight, which was a lot considering I made two full false starts on it. And then I saw that last year I'd had a little get-together that I had no memory of having. I'd rustled up some Wacky Noodles and had about eight people over. So, I began to think I should do it again – it was already three o'clock, so I made some calls and invited a few people – some couldn't come, some could. I told everyone to arrive at six for a couple of hours of desserts and a side of merriment and mirth and laughter and legs. I then went to Ralph's, which always seems to be open, and I got some desserts, mostly cupcakes and a Black Forest Cake – just prior to that I'd been to K's Donuts, which, surprisingly, was also open. I got myself a chocolate peanut butter donut thing and a chocolate whipped cream donut thing. I came home and wrote more pages for and got about a quarter of the way through page eleven, which is really good for a first day of a new book.
Then people arrived – we had Marshall Harvey, we had Leslie Young and her kids Alexa and Mia, we had Grant and Lydia Geissman, we had Alby Potts, and eventually we had Shelly Markham, who had some trouble finding us. We had cupcakes, some kind of Tiramasu thing that Leslie brought, Marshall brought some candies, and everyone sampled pretty much everything. Alexa said she needed some real food so she and her mother ended up finishing what was left of the tuna pasta salad, which was fine. It ended up breaking up around nine. Once everyone was gone I cleaned everything up, then decided to write to the end of page eleven. I may even try to get to page twelve, which would put me close to the most pages ever written on a first day, but whether I do or don't, I had a grand first day of the year and was very proud of how much I'd written. I also listened to music and got everything ready for our new release announcement – the first Kritzerland CD release of 2018. You know I've talked up a storm about my love for the Brazilian composer Villa-Lobos. And now we have him on Kritzerland in historic recordings of two great pieces – Choros No. 6 and Bachianas Brasileiras No. 7, and best of all he's conducting them. These recordings were made in 1953 in Berlin. The one and only CD release of them was way back in 1986 and that release has been out of print since 1987. The sound of it wasn't very good – it was acceptable for 1986 but to my ears there was no low end at all, everything sounded boxy and constricted, and the highs had no real air. I knew we could improve it so I sent it my mastering guy and he sent back two tracks so I could hear the difference – and what a difference – it suddenly sounded open and vibrant, no boxy, beautiful high end and best of all some actual low end. It was like hearing a whole new recording – really terrific mono sound. I cannot recommend this highly enough and hopefully the audio samples will tell you the tale. Here's the cover.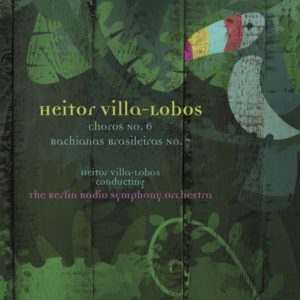 Today, I'll be up by nine-thirty, then I have stuff I must do and I hope to be back by ten-thirty at the latest. Once back I'll write as much as I can, but the Kritzerland rehearsal begins at noon and takes up most of the afternoon due to the number of kids in the show. So, I'll probably do the majority of the writing in the evening – I also really need to jog, but that may not happen until tomorrow. I'm looking forward to the rehearsal, though, and I can just write for several hours in the evening. Even though I enjoy finishing a book in four weeks or sooner, as I have with the last seven or eight books, I'm not in a hurry with this one because Grant can't even begin to design until April as he's on a deadline for a big coffee table book he's doing. Obviously I'm not going to take that long, but if this one takes five or six weeks that's fine, and then we can really take our time proofing and getting all that stuff done.
Tomorrow will be more writing and definitely jogging, Thursday is our second Kritzerland rehearsal, Friday is writing, Saturday is our stumble-through, and Sunday is sound check and show. And there are, of course, meetings and meals, too. Oh, and don't forget, we need some real miraculous miracles ASAP so send those strongest most excellent vibes and xylophones, please.
Well, dear readers, I must take the day, I must do the things I do, I must, for example, do morning errands and whatnot, write, have a long rehearsal, eat, write, and relax. Today's topic of discussion: If you were forced to only eat five foods for the rest of your life – if you had to choose what those five foods out of all foods what would you choose and why? Let's have loads of lovely postings, shall we, whilst I hit the road to dreamland, so happy to have started a new novel and to have had such a lovely first day of 2018.