Well, dear readers, it was happily another day with no annoyances and if I'm lucky I'll get through today without any, but then they'll start up again over the weekend. But it was so pleasant just to be able to think straight and not have to worry and so many thanks for the continued most excellent vibes and xylophones for miraculous miracles – we need two more right away.
I was up at nine-thirty after seven hours of sleep, but I was so groggy and tired that I just stayed in bed, fell back asleep instantly and slept two more hours, which I really needed to do. Once up, I answered a few e-mails, then began futzing and finessing. I added, I subtracted, I smoothed, and then Muse Margaret called and I ran one additional line by her that she thought we needed for one sequence. She liked it and then I wrote one new page of material.
Then I went to Gelson's and got onion bagels and a few other things, came home and made two tuna sandwiches on bagels. They were yummilicious and just what I'd been craving. Then I went back to writing new pages and I wrote about six. Then I took a little break but it was already late afternoon due to the late start of the day. I watched a little of movie on the Flix on Net entitled Okja, with Tilda Swinton. I didn't get more than fifteen minutes in – it seems a little arch at the moment, but we'll see where it goes. Then I did some other stuff, went to Ralph's to get some low-calorie ice cream and came home. I then wrote more pages and by the end of the evening I'd done almost sixteen complete pages, so that was another really good day of writing. Then I took a hot shower, got a good idea, then wrote it down. Also, earlier I'd written a paragraph I really loved, but realized immediately that it had to be the final paragraph of part one, so I moved it and now have that already written.
But the most intriguing thing of the day was being contacted on the Facebook by a nice lady, who told me she had some note I'd written to someone named Babs Klein. I had no idea what she was talking about. She asked if I'd like to have it. So, I wrote her back and said I was intrigued. She gave me her number, but first she texted me a jpg of the note. And there it was – in my teenage handwriting I'd written Babs Klein a cute note and included the lyrics to my song "I'm in Like With You," which is the first song I ever wrote. So, this had to be somewhere around 1963, I should think, because I don't know why I would put that lyric any later than that. I don't think it was earlier than 1963 but I just have no way of knowing. Now, I have a vague memory of a Barbara that I think I either liked or went out with at some point. Why I would call her Babs is anyone's guess. It's a real mystery. I remember most of the gals I liked back then, including my first girlfriend Esther, and dear readers Jane and Jeanne. And I remember well a girl named Karen Belsky, although that may have been earlier, and I remember, of course, Stephanie Gorman, who is the subject of Kritzer Time. But Barbara Klein is a hazy thing and I can't figure out why given the tenor of this note. But I thought all you dear readers out there in the dark might enjoy seeing it, and how brazen a young teen I was in those days.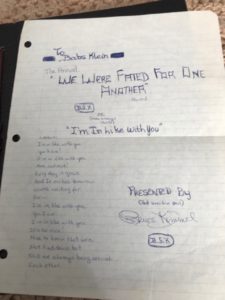 Isn't that weird? Anyway, the nice lady said she'd bought some book of poetry and prayer called Leaves of Gold, and this had been in that book, bookmarked, and had fallen out of the book, and she took a chance and looked me up on Facebook. She's sending me the book and the note. I must also enigmatically tell you that given the nature of the book I'm writing the entire episode is very freaky. But fun.
Today, I'll futz and finesse, then I have a noon o'clock belated birthday luncheon with Kay Cole, so that will be fun. I'll hopefully pick up some packages, hopefully have a miraculous miracle or eight, and then I'll come home and write. I may try to keep up the fifteen pages I've been doing, which means I'd finish part one early on Sunday.
Tomorrow is an all-writing day, with some breaks for errands and whatnot, although she of the Evil Eye will be here, although I'm not ready to leave her alone yet, so will probably be here most of the time. Sunday is also an all-writing day, with time out for a nice meal somewhere, perhaps even with a friend. Then Monday I print out all the pages for Muse Margaret – normally I'd only print the new ones, but I've made all those little changes in the first part of the book so I think it would be helpful for her to start from the beginning, just to make sure I've fixed it all.
Well, dear readers, I must take the day, I must do the things I do, I must, for example, futz and finesse, have a very belated birthday luncheon, hopefully pick up packages, write new pages, relax, write, relax, write, and relax. Today's topic of discussion: It's Friday – what is currently in your CD player and your DVD/Blu and Ray player? I'll start – CD, Levi. Blu and Ray, who knows? Your turn. Let's have loads of lovely postings, shall we, whilst I hit the road to dreamland, completely flabbergasted that this woman found me and that someone had saved this long-ago note.