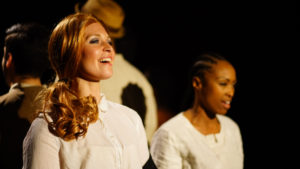 Abby Carlson and Shaunté Tabb (all photos by James Esposito)
The 2005 off-Broadway Dessa Rose, a little gem of a musical by the team of Ahrens & Flaherty (Once on This Island, Ragtime), is getting a strong production by the Chromolume Theatre in its Los Angeles debut. The action is mostly set in 1847 and tells the parallel stories of two young women, a 16-year old black slave, Dessa (Shaunte Tabb), and the black sheep daughter of a plantation family, the 20-year old Ruth (Abby Carlson). They tell each other's stories in flashback to their grandchildren to teach them their history in the opening number "We Are Descended," that perfectly sets the mood.

Shaunté Tabb, Bradley Alan Turner
Dessa is in love with fellow slave Kaine (Bradley Alan Turner) and is soon carrying his child. When Kaine is senselessly killed by the plantation owner over a homemade banjo, Dessa retaliates and attacks the master. For her rebellion, she is whipped, branded and sold to another plantation. When her new owner attempts to rape her, Dessa strangles him with her chains. She ends up in jail, where she awaits the birth of her baby before being led to the gallows. She is known as the "Devil Woman" and is being interviewed by Nehemiah (Matt Mancuso), a white writer who hopes to make her story the centerpiece of his next book. Young Ruth is brought up to be a proper Southern belle and marries the feckless Bertie (Mikhael Roberts), who soon deserts her and their young daughter for gambling and other women. Ruth finds herself managing their remote plantation that soon becomes a haven for runaway slaves, including the escaped Dessa who finds her way there just in time to give birth to a baby girl. The two women form a prickly bond and in league with a few of the other runaways, are soon practicing a con game selling slaves and stealing the money. They soon have enough saved for each live their own dreams.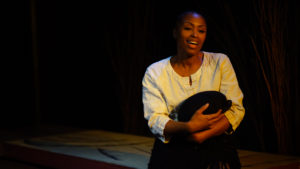 Shaunté Tabb
It's an interesting and different take on slavery and its effects on both slaves and owners and a tale of strong females in the ante-bellum South. The show's major drawback is the "we tell the story" aspect of the script which Ahrens has used before in Island and Ragtime. Here it spoils the mystery when you know the 80-year old Dessa is telling her own story so she escaped the hangman. But director James Esposito and his cast draw you into the tale nonetheless. The songs are mostly gospel tinged and sung full bodied by the strong ensemble. Tabb is a real find and easily carries the show as Dessa and her singing is angelic and forceful, especially in "Twelve Children." Carlson is a good match for Tabb and displays a lovely voice in numbers such as "Ten Petticoats". Christopher T. Wood, an understudy at the performance I reviewed, made a strong impression as Nathan, the new man in Ruth's bed and a runaway with "The Scheme" for making money. If you are an aficionado of rarely seen musicals that are well worth seeing, catch Dessa Rose.

Chromolume Theatre at the Attic, 5429 W. Washington Boulevard in Los Angeles. Ends Feb. 25. www.crtheatre.com