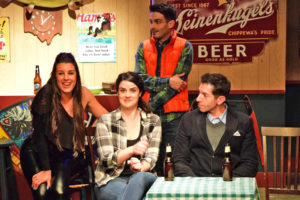 Christina Gardner, Truett Jean Butler, Micky Shiloah and Michael Cortez (photo by Doug Engalla)
Phil Olson has written a series of plays and musicals with Nice Family and Don't Hug Me in their titles that have seen over 400 productions around the country. T.U. Studios in North Hollywood is presenting the World Premiere of his latest, Don't Hug Me, We're Family, a musical for which his brother Paul Olson provided the music. It's a cute little, permanent-smile-on-your-face, titter rather than guffaw comedy about strained marital relations set in the Bunyan Bar in the tiny upper Minnesota town of Bunyan Bay, known for its crappie ice fishing. The songs aren't the least bit memorable but the radio jingles are truly delightful as only double entrendres can be. The bar is a family affair owned and run by Gunner (Andrew Carter) and Clara (Truett Jean Butler), whose marriage is fraying at the seams because of the couple's personal and professional competitiveness. They also operate the local radio station out of the bar where Gunner's Crappie Talk show is losing its advertising because of zero listeners while Clara's book club show is the big hit. New station owner Sal (Michael Cortez), a recent transplant from New Jersey, gives Gunner an ultimatum: get listeners and ads or get gone. To Gunner's rescue comes another New Jersey transplant and Sal's ex, Donna (Christina Gardner), whose hotel and spa starts advertising and propositioning the local clientele. Add in bar maid and jingle singer Bernice (Allison Hawkstone), her ADD husband and newscaster Aarvid (Micky Shiloah) and local entrepreneur and randy bachelor Kanute (David Pluebell) and you have a rollicking cast of characters. A hilariously staged climatic sack race leads to a happy ending for all.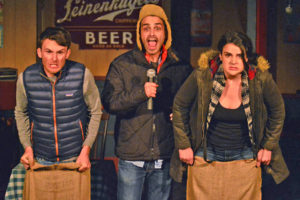 Andrew Carter, Micky Shiloah and Truett Jean Bulter
(photo by Phil Olson)
The jokes are rundown and groan-worthy at times but the cast truly gives their hearts and souls in delivering them that you can't help but laugh. They play off each other very well and seem to be having a lot of fun. Their Minnesota accents are so spot on, you expect Marge Gunderson and other inhabitants of Fargo to show up at any moment. Doug Engalla's crisp direction keeps the action moving smoothly and Chris Winfield's detailed scenic design makes even a non-drinker thirst for a cold beer.

Theatre Unlimited, 10943 Camarillo St. in North Hollywood. Ends March 25. donthugme.brownpapertickets.com