Rafael Goldstein and company (all photos by Craig Schwartz)
The idle, degenerate, boozing and whoring Prince Hal from Shakespeare's Henry IV plays grows up quickly when he ascends the throne and chooses to go to war with France in Henry V. A Noise Within's co-directors Julia Rodriguez-Elliott & Geoff Elliott have trimmed the play to a tight, muscular and energetic two hours and staged it with plenty of pyrotechnics, both aural and visual. Most of the cast storm the stage down the aisles from the back of the house while some rappel down from the rafters. It starts the show off like a Navy Seals Black Ops mission. You can't help but be caught up in the political maneuverings of both the English and French courts as they each seek to come out on top as they test each other's ambitions and battlefield prowess.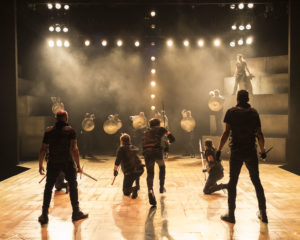 The Battle of Agincourt
Rafael Goldstein commands the stage as King Henry as the character commands his troops. He matures quickly when faced with opposition, both foreign and near-at-hand. Kasey Mahaffy as the Dauphin and Frederick Stuart as his father, French king Charles VI, lend strong support. The tight knit ensemble skillfully and exuberantly executes Kenneth R. Merckx, Jr.'s spirited and extremely physical fight choreography.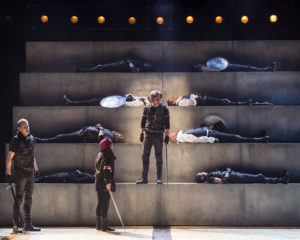 The Aftermath
Frederica Nascimento's scenic design of a series of high steps revolves and transforms into various configurations to provide the different locales. Angela Balogh Calin's stark black and white costumes give the characters a mean and lean look. Ken Booth's lighting is bold and stark. Robert Oriol's sound design and original music are an added plus as is on-stage percussionist Tim Curle. You leave this production thinking the Elliott duo could easily direct an action film with Henry V as their super hero.

A Noise Within, 3352 E. Foothill Blvd. in Pasadena. In repertory through April 6. www.anoisewithin.org