The cast of High Society (all photos by Alan Weston
In 1956 Cole Porter was paid a quarter of a million dollars to write the score for High Society, a film musical version of John Barry's play The Philadelphia Story. Two of Porter's enduring classics—"True Love" and "You're Sensational"—came out of the score which also featured a couple of specialty numbers for Louis Armstrong and his band. Porter borrowed "Well, Did You Evah?" from his earlier musical DuBarry was a Lady for the film's two male stars, Bing Crosby and Frank Sinatra, to have as a duet. The film was updated from the original 1930s period and is also noted for being the final film of Grace Kelly's career. The original 1939 play had revived the career of Katharine Hepburn who had been labeled "box office poison" by film exhibitors. She produced and starred in the play on Broadway and in the subsequent film which also starred Cary Grant and is noted for being the film that won James Stewart his only Academy Award. In 1998 a Broadway musical was cobbled together from the play, the film and the Cole Porter songbook. Playwright Arthur Kopit kept most of Barry's original book and shoehorned in about 20 songs. It was an early jukebox musical but with Porter's music, it's mostly top quality.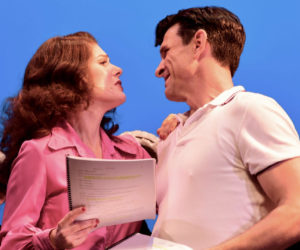 Shannon Warne and Damon Kirsche
Top quality voices are what Musical Theatre Guild is known for; you most always will hear the best sung version of the rarely produced musicals they present. That was true on February 11 at Glendale's Alex Theatre as they presented a staged concert version of High Society, with direction by Lewis Wilkenfeld and musical direction by Cassie Nickols leading the onstage band. With most of the original book intact and all those songs, it was almost too much of a good thing, making for a long evening. The show was not a success on Broadway and has not received many productions, I'm assuming mostly because the book needs to be trimmed down to accommodate all the songs. There are a lot of musical transitions by The Staff that really just slow things down. The songs also haven't been well integrated into the book and at times just seem to be "it's time to sing" spur of the moment outbursts.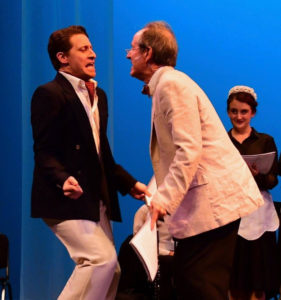 Marc Ginsburg and Thoamas W Ashworth
The cast however was sublime and in strong voice. Shannon Warne was much more Hepburn that Kelly and she really made the show zing along with her energy and verve. Damon Kirsche as George got his laughs as her stick-in-the-mud betrothed as did Marc Ginsburg as her trouble-making ex, Dexter. Roger Befeler was a delight as Mike, the leftist leaning failed novelist and undercover reporter who gets gobsmacked by the flirtatious Tracy. Stephanie Fredericks as Liz channeled her inner Eve Arden as the wise-cracking, acid-tounged photographer. Thomas W. Ashworth seemed to be having a ball playing the womanizing and always lubricated (with alcohol) Uncle Willie. His "Say It With Gin" was a comic highlight. Young Calista Loter as Dinah held the stage with her elders. It was great hearing such Porter standards as "Let's Misbehave," "Just One of Those Things," "It's Alright with Me" and others sung by this talented cast.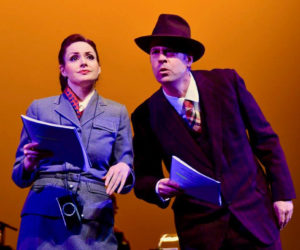 Stephanie Fredericks and Roger Befeler

Next up for MTG is HONEYMOON IN VEGAS at the Alex Theatre on May 11. www.musicaltheatreguild.com or www.alextheatre.org