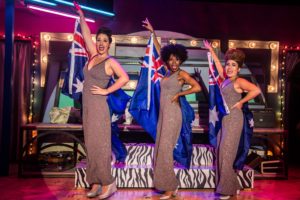 Katie Self, Markesha Chatfield, Andrea Somera as The Divas (all photos by Matthew Brian Denman
Celebration Theatre is currently presenting the Los Angeles Intimate Theatre Premiere of Priscilla Queen of the Desert. If you love musicals, you must see Priscilla. If you love drag queens, you must see Priscilla. If you love disco music, you must see Priscilla. If you admire really creative stage craft, you must see Priscilla. If you like colorful and amazing costumes, you must see Priscilla. If you like ping pong balls shooting out from inappropriate orifices, you must see Priscilla. Bottom line: You must see Priscilla! If you can wrangle a ticket. The initial run was sold out before opening night and a three week extension was announced. Celebration had a big hit with their production of The Boy From Oz in 2016, Priscilla is poised to be an even bigger sensation.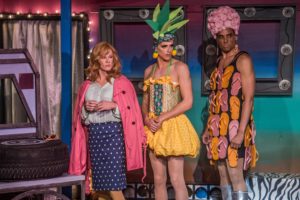 Tad Coughenour, Lyle Colby Mackson and Mario Burrell as Bernadette, Felicia and Mitzi
If you are not familiar with the film and the Broadway musical based on it, the plot is simple. Two drag performers and a transsexual pack up their wigs and sequins and drive a big (eventually pink) bus across the Australian desert from Sydney to Alice Springs. The reason behind the trek: Tick AKA Mitzi (Mario Burrell) has a wife who owns a casino that needs a new show. Tick also has a ten-year old son he has never met and who is in need of a father figure, even one in high heels and eyeliner. Bernadette (Tad Coughenour) needs a change of scenery since she has been in deep mourning for the death of her 25 year old husband. Young, outrageous Adam AKA Felicia (Lyle Colby Mackston) wants to wear a frock on a rock. It's a journey that tests and changes the trio and just about everyone they encounter, especially desert mechanic Bob (George Chavez).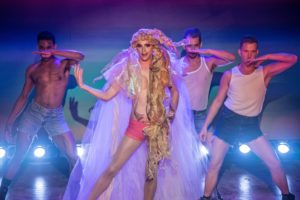 Marqell Edward Clayton, Lyle Colby Mackston, John Paul Batista and Jamie Pierce
The cast of 13 are fabulous and the four-piece band led by music director Jennifer Lin really rock the small space, belting out such disco favorites as "I Will Survive," "It's Raining Men," "Hot Stuff" and many more. The energy just overwhelms you. You will be grinning ear to ear just watching this baker's dozen of performers entertain you and you will beat the palms of your hands raw applauding them. The three leads get a chance to sing, dance and run the emotional gamut and do so with style and flair. They are backed up by a trio of Divas (Markesha Chatfield, Katie Self and Andrea Somera) who can really bring disco back. Choreographer Roman Pantoja had given his dancers (John Paul Batista, Marquell Edward Clayton, Jason De Puy and Jamie Pierce) some great moves and they really shake their booties for him. Director Jessica Hanna has created a miracle in staging this "really big" musical on the tiny confines of the Lex's stage. She gets a great assist from scenic designer Pete Hickok whose set pieces arrange and re-arrange themselves into a variety of locales, yes including the exterior and interior of Priscilla (the bus) herself. Allison Dillard's costumes at times look like shower curtains and draperies because they probably are. There is even a dress festooned with dozens of flip flops. To call her work fabulous doesn't give it enough credit. Byron Batista's wig designs are in a world of their own. Brandon Baruch's lighting design gives everything the perfect shade of happy. If there is anything negative to say about this production of Priscilla Queen of the Desert it's that it was over too soon. I could have disco danced all night.
Celebration Theatre at the Lex, 6760 Lexington Ave. in Hollywood. Ends May 6. www.celebrationtheatre.com