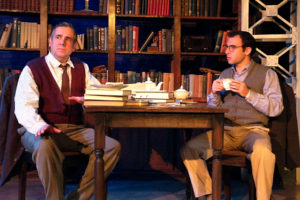 Jonathan Arkin and Sam Mandel (all photos by Ed Krieger)
Besides major differences between religions—Judaism and Muslim in the Middle East, Hindu and Muslim on the Asian sub-continent, Catholic and Protestant in Northern Ireland—there are often conflicts between the liberal and conservative wings of a religion. The differences between modern orthodox and ultra–orthodox traditions in the Jewish faith was the main theme of Chaim Potok's 1967 novel The Chosen, turned into a film in 1981 that starred Robby Benson, Barry Miller and Oscar winners Maximilian Schell and Rod Steiger. The material was turned into a short-lived off-Broadway musical in 1988 before Potok and Aaron Posner adapted it for the non-musical stage in 1999. Posner has revised that script and The Fountain Theatre is currently presenting an emotionally stunning and heartfelt production under the deft direction of Simon Levy.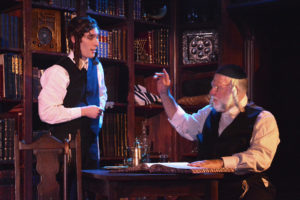 Dor Gvirtsman and Alan Blumenfeld
Reuven (Sam Mandel) is the narrator of the story of two very different families. Fifteen-year old Reuven has been raised by his widowed Talmudic professor father David (Jonathan Arkin) who wants his son to also become a professor. Danny (Dor Gvirtsman), who possesses a photographic memory and an inquisitive mind, is being "raised in silence" by his father Reb Saunders (Alan Blumenfeld) who not only is an ultra-orthodox rabbi but also a tzaddik, a leader of his congregation. He led them out of their pogrom plagued village in Russia before the October Revolution to the relative safety of Brooklyn. He expects Danny to eventually replace him as the group's rabbi and leader. Even though they have only lived five blocks from each other, the two boys have never met until a fateful baseball game between Reuven's modern orthodox school and Danny's ultra-orthodox school. A line drive in the ninth inning off Danny's bat lands pitcher Reuven in the hospital. Despite their inauspicious beginning, the two boys are soon best friends, sharing Sabbath dinners at each other's house, studying the Torah together and learning about their differences and their dreams.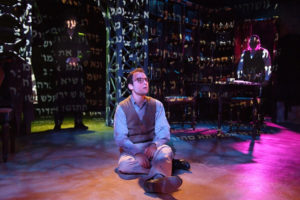 Dor Gvirtsman Sam Mandel and Alan blumenfeld
Danny is turned onto the works of Dostoevsky and Freud and really wants to become a psychologist while Reuven wants to become a rabbi. David's leadership in the Zionist movement to establish the state of Israel after World War II drives a wedge between the families because Reb Saunders does not believe that is the will of God. The boys don't see each other for a few years but eventually, each achieving their own goals with the begrudging approval of their fathers, realize they will always be friends. It's a heartwarming and deeply felt story brought wonderfully and vividly to life by Levy's spot on direction and the superb talents of his quartet of actors. Blumenfeld has the showiest role yet he never hits a false or showboating note in his performance. It is masterful work. Arkin has the quietest role yet his gentle strength and love shine through. Mandel handles the double duty as narrator and main character with aplomb. Gvirtsman is incandescent and he ranges the emotional scale effortlessly. The Chosen is sure to be chosen as one of 2018's best. Don't miss it!
The Fountain Theatre, 5060 Fountain Ave. in Hollywood. Ends May 7. www.fountaintheatre.com