Well, dear readers, I suppose it's time to reveal the title of the new book and show you its cover.   No, I will not explain the title or anything about the book, but I hope you like it. I do.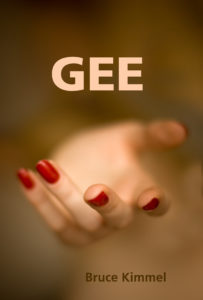 Last night I watched the new Criterion Blu and Ray of The Silence of the Lambs. It's no secret around these here parts that I think this film is a masterpiece. It's just one of those movies where everything clicks – the cast, the script, the photography, the music, the direction, all tops. One can only shudder to think what this film would be like today, shot in high definitions, scored with thumping, monotonous and pointless music, filled with mumbling actors, a script that adds cliché after cliché, and show-off direction with whooshing and swirling cameras and smoke and CGI and pumped up editing. But in 1990 (hard to believe it's almost thirty years ago) Mr. Jonathan Demme just made a movie. No Oscar bait, he just gathered together great folks and did his job – he never before or after made a film this good. His work is simplicity itself – he just puts the camera in the right place and tells the story. The screenplay is subtle, never hits you over the head, isn't filled with unnecessary obtuseness, has no clichés, no love interest – it's really a perfect screenplay. The acting could not be bettered, right down to the tiniest role, and Foster and Hopkins are brilliant AND you can understand every word they say. Howard Shore's score is a real movie score that does what a movie score should do – not just pad, not filler, not bland, not thumping and overblown, and it knows when SILENCE works. Oh, how I wish we still had real movie scores but until some smart director actually allows that to happen, we're going to be stuck with mindless nothingness – not unpleasant, some pretty stuff, but having no purpose, since it's not actually scoring the film. And so to the transfer. It, like the film, is perfect – could not be better. Highly recommended by the likes of me.
Yesterday wasn't unpleasant – it was – there. I got almost eight hours of sleep – that was pleasant. I got up, answered e-mails, had telephonic calls, got assigned my book check-in coordinator and sent her an e-mail laying out how I like things to go for optimal smoothness. I did get their content guidelines and they now seem stricter about quoting song lyrics. I only quote one song in this book, for a total of six lines (although two of the six are quoted three times – but that's not additional actual lines). The fact is, I spent a week trying to get clearance to use the song. And I kept getting bounced from one publisher to the next, with no one seemingly knowing which publisher has the right to make that deal. So, I either have to cut two lines (they're okay with four quoted lines, which I take to mean a total of four lines, but that repeat quoting the same two lines won't be a problem. So, I'm coming up with an alternate way to do the first four lines I quote to see if I can not quote the first two, but include the idea of what they say in prose – I wrote a rough version of that and I think it works okay, so I'll run that by Muse Margaret. And I'll do the same for the second two lines – if that works, then I'll only have the final two lines of the song, quoted twice and they cannot have an issue with that. But if I can get away with the other two, I'll try to use them. We shall see.
Then I went to Corky's and had The Sandwich, which was terrific again – this time no fries or onion rings, just a little dinner salad. After that, I picked up some packages, then came home. I had more telephonic conversations, and also listened to more John Rutter orchestral music, which I'm just loving. I listened to two violin concertos on one of those RCA Living Stereo SACD things – Max Bruch and Henry Vieuxtemps – they're both nice concertos but certainly not amongst my faves. At some point I made about three ounces of spaghetti with a little butter and cheese for my snack. And Grant sent me the designed book, which already looks great. A bit smaller text block than we normally do, a half-inch less. In this form, the book runs 216 pages but I can already see that the layout is wrong a couple of times so I'm sure it will end up being around 220 to 225 and that seems like a good number to me for this book. Then I watched The Silence of the Lambs, took a shower, and that was that.
Today, I must be up early, then I'm meeting dear reader Jeanne for an early lunch. After that, I'll come right home and take the designed book PDF to Staples to get a printout. Then I go to the editing room to see some edited video, then I'll pick up the printout of the book and come home and relax.
Tomorrow, I'll proof the designed book and make all my fix notes, then it's a birthday dinner for eighteen-year-old Sami Staitman. EIGHTEEN! Can't process or believe it, frankly. Sunday I'll continue and finish proofing, then I'm seeing a play. Hopefully on Monday I can spent ninety minutes with Grant inputting the fixes and getting that done. Then I give that a once-over on the computer and off it goes.
Well, dear readers, I must take the day, I must do the things I do, I must, for example, have an early lunch, get the designed book printed, see some edited footage, and come home. Today's topic of discussion: It's Friday – what is currently in your CD player and your DVD/Blu and Ray player? I'll start – CD, John Rutter. Blu-ray, who knows. Your turn. Let's have loads of lovely postings, shall we, whilst I hit the road to dreamland, happy to have revealed the cover and title of the new book.