Well, dear readers, I am quite full of the fish and chips and garlic cheese bread and tartar sauce and small Caesar salad from dinner at The Smoke House. It was my first food of the day and it was awfully good. I was very surprised at six o'clock on a Sunday to see a jammed restaurant – thankfully I'd made a reservation. I inquired of our server why it was so crowded, especially with big parties with lots of kids, and I was told it was completely unexpected and according to those that had been asked, it was due to it being the final day of spring break for Burbank schools. Go know. But, the dinner was deelish, lots of things were discussed and I enjoyed it all very much.
Prior to that, I'd slept nine-and-a-half hours of wonderful sleep. Once up, I answered e-mails, had telephonic calls, did some work at the piano and on the computer, and then the musical director arrived and we had about an hour work session. I'm not doing a huge amount of arranging for this one – not enough time, but we did work through the three put-togethers, so those are done, and anything else that needs figuring out we can do at today's rehearsal. Then I got ready to go and them moseyed on over to The Smoke House.
After dinner, I came right home and watched the interesting Stormy Daniels interview on 60 Minutes. Then I watched episode four and half of episode five of Wild Wild Country, the Netflix documentary about the Bhagwan Rajneesh. I think if you wrote this as fiction and put it in a novel no one would believe a word of it. It's utterly fascinating to watch and the sheer amount of archival footage is astonishing. The three main current interviews are interesting, with two of the people who to this day still seem to be a bit delusional about what went on. And watching the "disciples" of this guy buy him Rolls Royces (ninety) and a million dollar diamond watch, you realize just how insane people are, how needy people are, and how, pardon me, weak people are. The archival footage of sex and nudity and dancing around like goons with looks of sheer ecstasy plastered all over their faces actually turned my stomach. I have never and will never understand this kind of thing, where people just give themselves over to this stuff and believe and do whatever they're told, what color clothing must be worn (until it no longer suits the Bhagwan, at which point everyone just willingly goes along with whatever his new thing is), calling someone The Master, well, people need something to believe in, I guess, but when they leave all critical thinking behind one does wonder, oh, yes, one does wonder. I'm very interested to see if they ever interview anyone who was there now, beyond the three or four who are the main focus. I wonder if anyone who was there understands even now that they were bamboozled.
Then I made what I think is a good show order, and then it was time to write these here notes. Oh, and yesterday I spoke of the miracle that was Tony Walton's original set for Grand Hotel – I found this image of his original set model for the show. Just look at the genius of it, what it evokes with so little. It's just brilliant and Mr. Walton was and is a creative genius.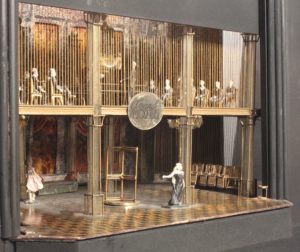 Today, we have our first Kritzerland rehearsal. Prior to it, I'll hopefully pick up packages, have a conversation of some sort with the publisher or at least my gal there, then we have our rehearsal from two to five, after which I'll probably make some food here for my meal o' the day. I may just rustle up some tuna pasta salad that will last two days. I'm praying that some kind of miraculous miracle occurs today or tomorrow so send some of them most excellent vibes and xylophones, if you wouldn't mind. After food, I'll finish watching the documentary.
The rest of the week is meetings and meals, our second Kritzerland rehearsal, our stumble-through, and then sound check and show. Today's topic of discussion: What is the best steak dinner you ever had – what was the occasion, where was it, and what made it the best? Let's have loads of lovely postings, shall we, whilst I hit the road to dreamland, happy to have had an okay day and a lovely meal.