Well, dear readers, first things first: This lovely thing arrived yesterday. Even though it's the softcover, there is nothing quite like holding the finished book in one's hands.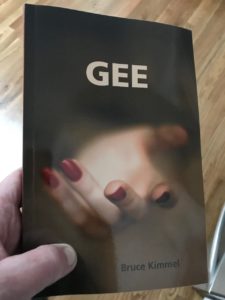 Of course, I'm more looking forward to the hardcover, which is supposed to arrive today but when I check tracking on Amazon it doesn't look like it was actually shipped. The publisher copies are also supposed to be here today, but I never got that final word or tracking, so who knows what in tarnation will show up today. One thing we've realized this week is that the moron who dangled the carrot has no carrot to dangle and for that may said person rot in in a dungeon where said person should be forced to listen to The Babes in Toyland Disco Version. How many of you knew that even existed? It was to be produced by the Weisslers but never seemed to go anywhere. I have a demo of it and never looked at the credits before, but the adaptation is by Shelly Markham, so I'll ask him about it. Where was I? Oh, yes, no carrot, and hoping the hardcover does actually arrive today.
Yesterday never delivered on the dire warnings of a HUGE rainstorm. We had a teeny-tiny bit of rain and that was it. I got seven hours of sleep, not quite enough but there was nothing to be done about it. Once up, I answered e-mails, had a telephonic conversation, continued the search for our final performer, chose almost all the songs for the performers we do have, and then went and picked up the package containing the book, after which I went and had an egg salad and bacon sandwich with a side Caesar salad for my main meal o' the day. Then I came home. I did some work at the piano, then did some work on the computer, after which I finally sat on my couch like so much fish.
Last night, I watched a motion picture on Blu and Ray entitled Beyond a Reasonable Doubt, a film of Fritz Lang starring Dana Andrews, Joan Fontaine, and Sydney Blackmer. I've written about the film before, in fact a bunch of times. It was Mr. Lang's final American film (he went back to Germany, where he made just a few more films) – it was extremely low budget and it shows and hurts the film. But I like the plot and the actors so I forgive it its budget. This new Blu-ray from Warners is pretty good – the opticals for this film are completely rank but once you're out of them it's better. The cast, especially Dana Andrews, is excellent and the story itself is interesting even if the actual writing isn't all that good. It's very short (eighty minutes) and paced very well and the final fifteen minutes is really excellent.
After that, I went to Ralph's to get a few necessaries – ketchup and mustard, a bit of their good potato salad, some vegetable roll from the sushi counter, and a couple of drumettes – that was my evening snack. I listened to some music, wrote one set of liner notes and began another (trying to get five releases prepped so we can announce at least two of them next week), and that was that.
Today, I'm hoping the hardcover arrives as I can't really comfortably place my book order until I make sure that's all fine, which I'm sure it will be. So if it arrives then all I need to do is confirm the order, which I've actually already put in. I'm getting free overnight shipping due to all the foul ups. Other than that, I'll continue choosing songs, hopefully finalize our final performer, eat, and at some point relax.
The weekend is more of the same and a work session on Sunday, after which I have a dinner to go to. Then Monday we have our first Kritzerland rehearsal and it's going to be an insane week because we're so far behind on this show – I have to make a show order, write a What If and write the commentary, all of which should have been done a week ago.
Well, dear readers, I must take the day, I must do the things I do, I must, for example, hopefully pick up a hardcover, place the book order, choose songs, write liner notes, eat, and relax. Today's topic of discussion: It's Friday – what is currently in your CD player, and your DVD/Blu and Ray player? I'll start – CD, various Kritzerland projects. Blu-ray, Lang's While the City Sleeps. Your turn. Let's have loads of lovely postings, shall we, whilst I hit the road to dreamland, happy to have held the new book in the old hands.