Well, dear readers, it is late and therefore I must write these here notes in a hurry because the midnight hour is soon approaching and when the midnight hour is approaching you have to take that seriously because the midnight hour isn't fooling around. After yesterday's very long notes, I'm happy to write some shorter notes.
Yesterday was a day of no importance, some merde that I am completely tired of, picking up no mail or packages, eating some pasta papa and a small Caesar salad at Hugo's – that was the extent of my being out of the house. Mostly I had a two-hour work session for the Kritzerland show – almost every number in the show is a put-together of two songs, so we had to figure all that out. I'm surprised that I didn't get too testy, which I tend to do when things take a long time.
The other major thing I did was go through iTunes and delete stuff and then go through my desktop folder deleting all these ancient Word documents and jpegs that I have no need of – a lot of stuff. I did find a few interesting papers and photos, but mostly it was just accumulated junk. Accumulated Junk – that's the title of my next novel. I also listened to some music whilst doing the vacuuming of the folder. Here's a photograph I found, taken in February of 2011 at The Gardenia, the first time we did a Sherman Brothers show. That would have been our sixth show. Can you name the person in this photo who went on to become a huge star? This was one of the first things this person did, but does this person ever mention our little show? Noooooooo. Well, we're always happy when one of our Kritzerlanders goes on to big things and we hope it will happen to others.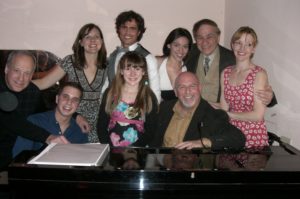 Did you guess correctly? When I finally got too bleary-eyed to continue then I sat on my couch like so much fish.
Last night I watched the first hour of a very long motion picture on Blu and Ray entitled Barry Lyndon, un film de Stanley Kubrick. I did not see it back in the day because that year I was very busy with The First Nudie Musical – it was non-stop work and I missed a lot of movies that I should have seen. I tried to watch it on VHS and never made it very far, then I tried on DVD and never made it very far, then I tried on the first Blu-ray release and never made it very far. This time I'm determined to make it all the way through. I'm enjoying it – yes, glacially paced, but I like the style of it and it's beautifully photographed. Best of all this is a new 4K transfer issued by Criterion and even though you'll hear it's not much of a leap forward, it is, in fact, a very big leap forward. The detail is better, the color is better, everything about it is better, and it has its original Warner Bros. logo, too, which the last release did not. This kind of period film isn't my favorite, but one cannot deny the artistry and some of the performances are simply wonderful, especially in the first hour that of Leonard Rossiter. So, I'll watch hours two and three today.
After that I continued nuking documents and listening to music and I had a little cherry chip ice cream I'd gotten at Rite-Aid. The fact is, they don't seem to be pre-packaging this flavor anymore, a real shame. But I got a little thing of it from the counter.
Today, I have no real plans, nor do I have any fake plans. I may meet up with someone for a meal – we'll see. Otherwise, I'll hopefully pick up packages, and I'll putter around the house and try to stay far away from the merde, which is difficult. Otherwise I'll relax and enjoy my solitude. One thing I've been amused at recently is happening on Amazon – I list our OOP titles that I have copies of, normally for list price. Check. People love that. The gougers hate it and they patiently wait for me to sell out so they can jack their prices up again and they do this within seconds. But unfortunately for them, I just add copies when I can. This has happened five times this past week with Subways are for Sleeping. We did a LOT of copies of that CD back in the day, and I still have at least a box of them left. It's shocking to me that collectors didn't snap all of them up, but they did not and up until about four years ago I had at least 200 of them. So, I've been selling for list price, which frosts the gougers listing it at seventy bucks. Because I'm down to the last box I upped the price a couple of bucks, just to cover the Amazon fees. And the minute I added the copies, people snapped three of them up. I think this all has to do with the York doing their little bare-bones whatever it is they do.
Tomorrow, I have a short work session at eleven or thereabouts, and then we're having our Annual Oscar Bash right here at haineshisway.com. I shall need full reports at every moment because I don't have cable here yet so cannot watch unless it's streaming for free online. I have no idea if they do that or not. But as always we will have both a wild and wooly time as well as a wooly and wild time. Our little Oscar bashes are, after all, legendary. Then next week we have our Kritzerland rehearsals, and if this merde doesn't clear up with a miraculous miracle I may just not make it to sound check, but we shall see how it all plays out.
Well, dear readers, I must take the day, I must do the things I do, I must, for example, avoid merde if possible, eat, hopefully pick up packages, and relax. Today's topic of discussion: What are your favorite films of Ryan O'Neal and your favorite historical epics and dramas? Let's have loads of lovely postings, shall we, whilst I hit the road to dreamland, happy to have rid myself of some accumulated junk on Ye Olde Computer.