Well, dear readers, my friend Harvey Schmidt has died. I've been prepared for this news for quite a long time, as he's been in very ill health for a very long time. I was very surprised he could get to New York last year for the big tribute for he and Tom Jones. I don't have to try to remember Harvey or our long relationship, it's very vivid to me.
I met Harvey back in 1991 when planning the Classical Broadway album. I was put in touch with him, we had a volley of letters (remember letters) and then finally had a wonderful chat on the phone. He was thrilled I wanted him to do something for the album and I was thrilled he was thrilled. I came to New York to meet him and did, at a dinner arranged by Walter Willison. I attended a performance of Grand Hotel, in which Walter was appearing, and then after we walked over to Lattanzi's, a wonderful Eyetalian jernt on 46th Street close to Ninth Avenue. We walked in and there was Harvey seated at a table with I don't remember who all else. He seemed shy and reserved for about a minute-and-a-half, at which point I made him laugh and we became instant friends and I knew he would be someone who would be a wonderful friend for years and he most assuredly was.
We made that recording and his piece remains the highlight of it. And from then on, we spoke regularly, I got lots of notes from him, and every time I was in New York we'd go to Lattanzi's for a meal. Then when it was time for the first two Lost in Boston albums (recorded at the same time) I called him and told him what it was and he sent me heaven knows how many cassettes of Schmidt and Jones cut songs, many from 110 in the Shade, one from The Fantasticks, and also some rarities for use on the Unsung Musicals series. In the end I did a huge number of their cut and unknown songs. Recording Just Fine and Sweet River and having him tell me it was one of the most beautiful things he'd ever heard made me very happy. Much of those were orchestrated beautifully by our very own elmore, some were done by Lanny Meyers, and Brad Ellis did a couple, I think. There was a time when I was in New York once ever two weeks or so to make a recording and there was never a time we did not get together and dine. I did a cast album for I Do! I Do!, the small production starring Karen Ziemba and David Garrison, and I also did, at their asking, Collette Collage, an album I knew would not do well given its cost, but one I insisted we do anyway – elmore orchestrated that, too. Tom Jones was always very sweet and wonderful to me, but my true loving friendship was with Harvey. He once told me I was the best late in life present he ever got. And I felt the same – he was kind of a soulmate.
I got him out to LA when we recorded The Fantasticks in Jazz and we supped then, too. By then he'd finally moved to Tomball, Texas, where he had a house. When I finished Benjamin Kritzer late in 2001 I instantly called him and asked him to do the cover art – there was no other thought in my mind. He hesitated not a second, and asked me to send him a photo of the movie theater I wanted on the cover and I did and all I said was "put a young me in front of the theater." He told me he couldn't promise me when it would come, but about a month later I got a Xerox of the marquee portion of the theater and it looked great – a tease which he took some delight in. Then about three months later the package with the painting arrived. I unwrapped it and almost literally fainted when I saw what he'd done – it literally deprived me of breath it was so stunningly beautiful. And as lovely as it is on the cover of the book, it's nothing compared to what it is in person. It's like going back in time and actually being there. I called him and told him that it was absolutely perfect and he was so pleased. It was beautifully inscribed to me – sadly, you can't really read it anymore as the ink he used faded – you can see the "To Bruce" and the "H" he signed it with, but not the actual inscription. I do think I have a photo of it taken when I got it and I'm sure it's visible in that. Here's that painting.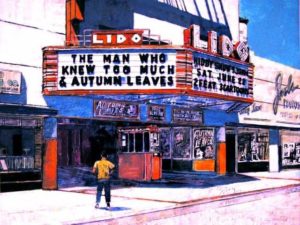 Then he did the covers for the two subsequent Kritzer books and each of those was brilliant, too. All three hang proudly on a wall in the new house. When we started Kritzerland, I believe our third album was a Harvey plays Harvey disc – it's been out of stock for years, but I'm going to press some next week. We spoke less as the years went on, but managed to connect at least three or four times a year. But his health was not good, he was in and out of the hospital, but I got reports from him and his long-time assistant John. We always laughed so much – I could literally make him scream with laughter. We'd been working on a big project for years, but one that never seemed to get done. We talked about it again last year and at Christmas time he sent me a note saying he was still working on it and would have stuff to me soon. So, I'm not sure what will happen with that now. I'll discuss it with John, his assistant, after a week or two goes by.
But my proudest moment with Harvey concerned the cut song Evening Star from 110 in the Shade. He'd sent it to me for the first Lost in Boston CD and I was mad for it because it used the tune of Gonna Be Another Hot Day, which was my favorite melody of his, and I was desperate to have Guy Haines sings it. Harvey loved Guy Haines – he frequently told me Guy was his favorite male singer and that he wanted him to sing all his songs. But I didn't record it because something about it wasn't right. It just didn't somehow feel complete to me and I didn't know what to do with it in terms of an arrangement.
When we did Lost in Boston III I looked at it again, determined to do it, but in the end I felt the same thing. Each of those times I discussed it with him and he was always disappointed we hadn't done it. When we were planning Lost in Boston IV I again took it out and looked at it, trying to figure it out, trying to figure out an arrangement that would make the song finally work for me. That night, in bed, it came to me, the reason the song hadn't worked in the show, the reason that other directors had tried to interpolate it to no success, and the reason that kept me from recording it – it simply was not a complete song. It was two verses and a coda and it needed a bridge to make it complete. With some trepidation I called Harvey that morning. He listened to my passionate reason for wanting the bridge, but he could be stubborn and he said he didn't really agree with me. I asked him to think about it.
The next day I got a Fed Ex package and in it was a cassette marked Evening Star. I played it, and there was the most glorious music for the bridge – it made the song a song and it was perfect. I called him and told him I was in tears hearing it, and he was happy but told me immediately that as much as he liked it that Tom would never write words for it. I told Harvey, "Tell you what – call Tom and remind him of how many Schmidt and Jones songs I'd recorded, not to mention I Do! I Do! and especially Collette Collage." He said he would but that it wouldn't make any difference. The next day I got a fax from Tom with the words, which were also perfect. And so Guy Haines came in to record it, with a nice orchestration by Brad Ellis. Harvey and Tom both loved it. Some years later, it was put into a production of the show and it worked like a dream because it was now a real song. And the happy ending is that it is now in the officially licensed version of the show.  Here's the song as we recorded it.
I loved and will always love Harvey Schmidt. I have tons of letters, drawings, doodles from him – there was a time when something new would arrive every week. He was a dear, sweet man, a real gentleman and gentle soul. He lived an amazing life and lived to a ripe old age.
So, that was how the first day of March began. I did get eight hours of sleep, then I just puttered around the house thinking about my long relationship with Harvey. The gal who's been organizing the garage came and spent four hours out there and you can now actually walk around and get to things. Another couple of sessions and it will all be good. I did some work at the piano and on the computer, took her to the subway, picked up a package, then went to that little Japanese jernt I'd been to a couple of weeks ago and had the box with teriyaki chicken, rice, California roll, veggies, and a bit of tempura – it was excellent. Then I came back home. I'd found a ton of sealed CDs in the garage, some really surprising things, so I spent the evening listening to music – soundtracks, classical, and two Johnny Mathis albums.
Tomorrow, we have a work session for the Kritzerland show that will probably last about two hours. Other than that, I'll hopefully pick up some mail, I'll hopefully have a miracle or three, I'll hopefully dodge some merde, I'll eat, and then I'll relax and perhaps watch a motion picture.
The weekend is fairly open for some ME days, save for a little thing that's happening Sunday at eleven or thereabouts. Then next week is our Kritzerland rehearsal week and then stumble-through, sound check, and show.
Well, dear readers, I must take the day, I must do the things I do, I must, for example, have a work session, hopefully pick up some mail and/or packages, eat something light but amusing, hopefully get some kind of miraculous miracle, dodge some merde, and relax. Today's topic of discussion: It's Friday – what is currently in your CD player and your DVD/Blu and Ray player? I'll start – CD, all these soundtracks that I've never bothered to open. Blu-ray, Barry Lyndon. Your turn. Let's have loads of lovely postings, shall we, whilst I hit the road to dreamland, already missing the wonderful Harvey – but knowing he's found his Evening Star in heaven.