Well, dear readers, Kritzerland at Sterling's 85 was a grand show and went beautifully, which was a nice way for what was a very irritating afternoon to end. The irritation, before I get to the show, all had to do with our usual maitre'd not being with us and therefore the room was not set up when I arrived and I had to stay on top of it being set up correctly, which is not in my job description, I'm afraid. Skip, who oversees everything, was out sick and whoever was covering for him wasn't on the clock until after our sound check was over. The backstage area was a pigsty due to no cleanup after a big party – it was disgusting – the little dressing room was the same. When I have to waste my time and energy on that junk it just puts me in a foul mood. I didn't get to figure out who sat where until about five-fifteen, fifteen minutes before the doors open, and I had to use my voice more than I wished. Sound check was fun and fine, though – our good sound guy was there so that part was easy. The room was finally set up and the backstage was finally cleaned. By that time I had the beginnings of a headache, but someone had Excedrin with them and I took two.
On the books we were extremely light for our shows – which also irritated me no end. We had about fifty-five reservations. But happily, and for whatever reasons, we had a ton of walk-ups and ended up with around seventy people, which was great and they were a wonderful audience. The cast was brilliant and the show went smoothly with no real lyric flubs at all. Damon Kirsche, classic leading man material and lover of all these classic songbook songs, did wonderfully. Kerry O'Malley was stunning – such a great actor/singer and interpreter of song. Jenna Lea Rosen has been doing our shows since she was twelve and her assurance, poise, and incredible voice is rather stunning at nineteen years of age. Adrienne Stiefel has a gorgeous voice and also is perfectly suited to The Great American Songbook – she also had the wordiest songs, but she was flawless. Robert Yacko, who's done so many of our shows, is such a solid pro and he did beautifully. The Swing Dolls, a trio of gals, opened the show with a great version of Boogie Woogie Bugle Boy complete with fun choreography. They were great. And I am here to tell you that little twelve-year-old Peyton Kirkner, who has never done anything like this, walked onto that stage, owned that stage, and everyone in the room fell in love with her. She doesn't have a fake kid performer bone in her body – she's real, she's got great natural comic timing, and she could not have done better and she got one of the biggest hands of the evening. She'll be back. When we did our coaching session we spent a lot of time about being real no matter what kind of number it was – she made me very proud. Guy Haines was a no-show so I sang At Last and it went well enough. There were lots o' laughs and the whole evening just flew by. Here's our merry troupe.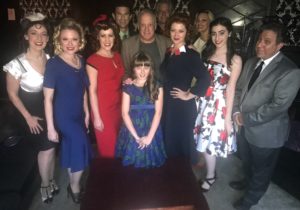 After, five of us went over to Little Toni's – I hadn't eaten anything prior to that, so I had a big chopped salad (with chicken and salami) and that was very good. I had no pizza, and that was a good thing.
Prior to all that, I'd gotten nine hours of sleep, accounting for springing ahead, not arising until after noon. I had to do a quick errand, and then I just relaxed and rested my voice, got ready, and then moseyed on over to The Federal. And that was that.
Today, I'm dreading certain aspects of this day unless a damn miracle happens early on. The day could end up feeling like a root canal, but I'm ever hopeful it won't. I'll start figuring out the cast for the April show and I'll write a new What If for it. I already have the idea so it's just a question of doing it. I'll eat, hopefully pick up packages, and then watch something, unless I've gone outside and walked in front of a large truck, just for a change of pace.
The rest of the week is meetings and meals and surviving. I really must lose some of this girth so this will be the week I start that.
Well, dear readers, I must take the day, I must do the things I do, I must, for example, hope for miracles, I must cast, choose songs, eat, hopefully pick up packages, then relax. Today's topic of discussion: As you all know, Benjamin Kritzer loved spelling backwards – what are your favorite words that, when spelled backwards, create an entirely different word? Let's have loads of lovely postings, shall we, whilst I hit the road to dreamland, happy to have had an absolutely wonderful Kritzerland at Sterling's 85.