Well, dear readers, I woke up to some sad news yesterday – Sammy Williams, the original Paul in A Chorus Line passed away at sixty-nine. No one reporting gave any indication of the cause, but I got the lowdown from Kay Cole and it was the thing that seems to be taking everyone these days, the thing that should have had a cure years ago and yet more and more people, young and old, are getting it. I first met Sammy when he was doing A Chorus Line out here at the Shubert. I can't remember how, but I'd become friendly with a few people, met mostly everyone backstage, and had become friends with Kay. In fact, we were supposed to do an evening of my songs at LACC as a fundraiser and she had to drop out at the last minute – I replaced her with Annette O'Toole, a story I've never really told before and probably never will. But when I was planning Stages I knew Sammy was here in LA and Kay got me his number and we spoke and I asked him to do the show. At the time it was for the role of the Armenian student named Achmed Raftunian III – based on a guy I'd gone to college with. He came over, read some, heard the song, and agreed to do the show. But both he and I knew it wasn't really a good fit and I called him a couple of days later and told him so and he breathed a sigh of relief. I told him that instead I'd create a character for him that was suited to his talents and gifts, which I did. He was thrilled.
He was such a pro in rehearsals – the cast was, as always there, a mix of students and pros and the students loved working with him as did I. As we rehearsed I kept adding stuff for him. He butted heads with our choreographer but eventually they got over it and created some wonderful stuff. I wrote the song Musical Comedy for him, and he had extensive solos in three other songs. In the end of act one craziness, the He Shot the Gun Victorian murder melodrama spoof I'd written, where we've seen everything go perfectly and then on opening night we see everything that can go wrong go wrong – YEARS before Noises Off and The Play That Goes Wrong (well, decades before for that one) – that sequence got some of the biggest laughs I've ever heard in a theater and Sammy got many of them playing the butler. I do remember a couple of his Chorus Line cast mates coming and being derogatory about the show, which I found very catty and disgusting (I shan't mention their names), but he loved doing the show and it was such a smash there that we moved it a few months later where we had a hugely successful run. By that time, he'd moved on to something else, but he happily did the cast recording.
I knew he struggled after that – a Tony winner that was so special and unique that no one knew how to use him. I believe he became a successful florist for a while. I'd see him every now and then, and really reconnected with him in the early 2000s. We saw each other every now and then, and when we started doing the Kritzerland shows he came to a few of the early ones. Some years later he was putting together a club act and he called and asked if I'd rewrite a few lines of the lyric to the Stages song First Apartment – in the show he sang its first verse, but then the second verse and bridge were other solos, then all the people sang the final verse. So I rewrote the second verse so it made sense for him and he loved it and apparently it went over very well in his show. The adjusted second verse was this:
My first apartment
And I won't be bored
At last I have a place to make out
Besides the backseat of my Ford
And no parents to say no here
I run the show here
I'm free
On my own
He'd ask me from time to time about doing a Kritzerland but I couldn't find the right show for him. Finally, in 2015 for our fifth anniversary show he came in and did a Stages put-together of First Apartment, Musical Comedy, and the title song. He did a great job and the audience loved him. I saw him a few times after that but not for the past year. Like all of us, he had his demons, but I always adored him and it was always fun to hang out with him. He will always be, now and forever like Cats, the best Paul there will ever be and there are very specific reasons for that, the main one of which is that he just spoke the words in a very real way. He understood, as did Michael Bennett, that that very powerful monologue did not need a bunch of actor sauce on it. And so he spoke it simply, from the heart, and at the end when he's describing the "take care of my son" moment, it was heartbreaking because of its simplicity. Every other Paul I've seen so overdo the entirety of it but especially that part – the revival Paul who everyone LOVED had tears and snot and sobbing and in the words of Diana Morales – I felt nothing. With Sammy I felt everything. And no other Paul danced like Sammy because Sammy was absolutely unique. The "ring the bell" step in the montage was his and it's one of my favorite steps in the show and I used to make him do it for me. RIP, dear gentle soul.  Here he is in the 2015 Kritzerland anniversary show.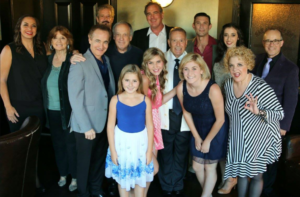 Other than that, I had some tummy problems around five in the morning so took an additional Pepcid, which helped. I was up at ten, had a telephonic conversation with my book gal – the book still hasn't gone to the printers because someone has dropped the ball on ticking off a box and until that happens the book isn't in the system – it's so stupid. But she assured me that on Monday morning that book will be at the printer, prioritized and in the front of the line and then overnighted to me so I should have it this week. Then I can place my order and that, too, will be prioritized and have expedited shipping at no cost to me. Then I went back to bed and slept until two – that was almost eight hours of sleep. Once up, I answered e-mails, got word that a female cast member we'd approached can't do the show so on to the next. Still waiting on two potential guest stars – hoping one of them can do it.
Then Grant and I went to Hamburger Hamlet where we had a nice meal. I came home, and finally sat on my couch like so much fish.
Last night, I watched a motion picture I'd never seen on a homegrown DVD (the only DVD release for this movie was in the UK and that is near impossible to find), entitled Stepping Out, starring Liza Minnelli, Julie Walters, Bill Irwin, Jane Krakowski, Shelly Winters, Carol Woods, Ellen Greene, and others. I don't know how I'd missed it really. It began life as a play in the UK, then had a very unsuccessful run on Broadway where it was directed by Tommy Tune. For the film, the writer, Richard Harris, added a boyfriend for Liza and other characters that don't exist in the play but who they talk about. It kind of dilutes things and skews the film too much in Liza's direction and I found her boyfriend subplot annoying and unnecessary. They moved the action from the UK to Buffalo, New York, which works fine. But director Lewis Gilbert (Alfie and one of the Connery Bond films – You Only Live Twice, I think) is a very good choice for it and this film kind of led the way for other stories just like it, like The Full Monty. In the UK the play was a success and they made it a full musical eventually, but I don't think that's played the US. For the movie, Kander and Ebb wrote a title song that serves as the finale of the film. It's about a woman who teaches a tap class for amateur beginners. She commits them to performing in a charity event and the fun is in the drama and trying to get ready for that. It's pretty standard stuff, but the actors mostly are wonderful. Bill Irwin's shtick gets a little old a little quickly – a bit more variety would have helped – back in the 70s that is a role I would have been perfect for.
But this is really Liza's show, rather than the play's true ensemble piece. They've added a little solo dance for her and boy is she and it terrific. Then the students deliver pretty well at the end. But that's not the end, because then we're treated to a coda where the cast actually gets to do a full out production number with Liza in it, the aforementioned title song, and they really are fantastic in it. It helps that the choreography for the film was done by Danny Daniels, who was truly one of the greats. The finale is so much fun and then they give everyone a curtain call. And I must say, Shelly Winters is laugh out loud funny as the pianist for the class. I really enjoyed it all and I am here to tell you that in this film Ms. Minnelli is at the top of her game – she is superb. She is so lovable and real and funny and charming. I don't know who was up for Best Actress that year, but she should have been. Unfortunately for her, the film was a huge flop, earning only $260,000 at the box-office – hard to imagine that any film would have had a lower gross than that. If you can find a copy I recommend it.
Then I did a quick Ralph's run and got a few needed items for today's little meal I'll be making and then I just listened to some music.
Today will be a ME day and we'll continue to attempt to cast this Kritzerland show – it's getting ridiculous. I'll make some pasta with red sauce, sautéed onions, sweet Eyetalian sausage, and mushrooms. Other than that, I'll just watch stuff and maybe finish up that Brit four episode thing I was watching.
Tomorrow I have a meeting at LACC, and that will hopefully be followed by a meal with dear reader Kevin. The rest of the week is meetings and meals, hopefully getting the books, choosing songs and gathering music and having a work session, although I'm going to try to not do so many put-togethers for this one so we can keep it pretty easy as there's no time to really work stuff out.
Well, dear readers, I must take the day, I must do the things I do, I must, for example, relax, eat, cast, and watch stuff. Today's topic of discussion: It's free-for-all day, the day in which you dear readers get to make with the topics and we all get to post about them. So, let's have loads of lovely topics and loads of lovely postings, shall we, whilst I hit the road to dreamland, wishing Sammy a safe journey into the light.