Well, dear readers, here is the most important thing I learned yesterday: do not order carbonara at Marie Callender's. First of all because even though it's called carbonara it, in fact, has nothing to do with carbonara. It's fettucine noodles in cream sauce with chicken and shrimp. It wasn't terrible, but I did end up leaving about a third of it, probably a good thing anyway. This has been a public service announcement.
Yesterday was a very busy little day. I got seven hours of sleep, raised a bit of a ruckus with the publisher and finally got someone on the phone and we'll see if I get some calls today as promised. Then I answered e-mails, did some work on the computer, did some work at the piano, then got ready for our two o'clock rehearsal. First up was Sami Staitman. We began with her three-song put-together from 42nd Street, About A Quarter To Nine, You're Getting to Be a Habit With Me, and Lullaby of Broadway. I'd already routined it, but we ended up making a few adjustments. Sami didn't know it at all well since she got it late and was doing her show until Saturday. She'll have it down for tomorrow's rehearsal. Then we ran Someday, which she knows well since she just did The Hunchback of Notre Dame and sang it in that show. Finally, it was Here I Am from Dirty Rotten Scoundrels, which will be fun.
Then came Stanton Morales, someone new to me and Kritzerland, but he's very talented and fun. First we ran the title song from She Loves Me, a role he played out at the Chance Theatre, and then it was Shiksa Goddess, which is only the second time we've done a Jason Robert Brown song. Then came Robert Yacko, who'd recommended Stanton to me. He first did a funny pastiche number called April in Fairbanks from New Faces of 1956, then it was the put-together of two songs from the legendary three-performance flop called Pousse Café. The songs, called Someone to Care For and Thank You, Ma'am, are by Duke Ellington and Marshall Barer and I rather like them. Then we ran his final song, You Must Believe in Spring.
Then came Lauren Rubin. She began with a put-together of Sweet River, a cut song from 110 In the Shade that goes with the song that replaced it, Love, Don't Turn Away. Then she ran The April Fools by Burt Bacharach and Hal David, and finally it was He Ain't Mr. Right, a song I recorded on the Sally Mayes CD, The Story Hour.
Then it was Maegan McConnell. She began with the delectable Cole Porter song, The Tale of the Oyster, then she did It Might As Well Be Spring, then So Many Empty Rooms from Levi (which I wrote with Richard Sherman). Finally, little Hadley Belle Miller arrived and ran Invocation and Instructions to the Audience by my close personal friend, Mr. Stephen Sondheim. It's a really hard and very wordy song but despite only having it for two days, she pretty much had it down. We've done this once before with some adjusted lyrics by me, but I wasn't quite satisfied with it, so I adjusted a few more lyrics (making it particular to Kritzerland and The Federal and our audience) – now it works just as it should and Hadley will do it very well.
Then Hadley, her dad, and I went to Marie Callender's. After that I came home, wrote more than half of the commentary for the Kritzerland show and got everything ready for our announcement of two new releases. They are: Pieces-Of-Eight, one of the Julius Monk Upstairs at The Downstairs revues, this one from 1959. I discovered Monk's revues in the early 1960s with Dime-A-Dozen and I just loved the whole feel of them. If this one does well, we'll be doing two or three more of them. This has a great cast, so read about it. Here's the cover.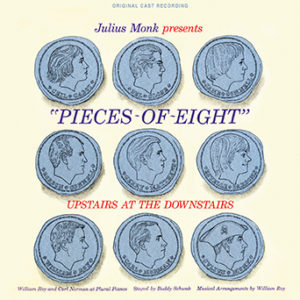 The second release is really fun, two musical TV extravaganzas – Cole Porter in Paris, a TV spectacular from the early 1970s starring Diahann Carroll, Louis Jourdan, Perry Como, Connie Stevens and special guests Charles Aznavour and Twiggy. Can you imagine? Well, you don't have to because here it is. Along with that we have an original musical written for television back in 1961 by Mary Rodgers and Martin Charnin (who is the connection between these two shows – he produced and co-directed Cole Porter in Paris), an adaptation of Nathaniel Hawthorne's Feathertop, starring Jane Powell, Hugh O'Brian, Cathleen Nesbitt, Hans Conried and more. Both of these were originally issued on promotional LPs and were never publically available, so they're quite rare. And these are limited to only 500 copies each, so don't delay in ordering them. Here's the Cole Porter cover.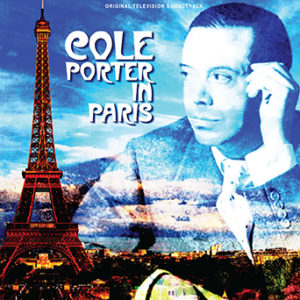 Then I listened to music and got everything ready to announce at midnight.
Today, I could sure use a major miraculous miracle or three, so do send some excellent vibes and xylophones if you would – yesterday we went without any, but today we really need them. I have to read a script today, eat, hopefully pick up packages, and do a bunch of other stuff, after which I'll try to relax a bit.
Tomorrow is our second Kritzerland rehearsal, and I'm supposed to go to a dinner downtown but I may get out of that as I just don't want to drive down there at rush hour and try to find parking, so I may just send my regrets. Thursday I have some kind of meeting here, then we have our stumble-through on Saturday, and I'm sure some of us will grab a bite to eat after that, then Sunday is our sound check and show.
Well, dear readers, I must take the day, I must do the things I do, I must, for example, hope for a major miraculous miracle or three, read a script, work at the piano, finish the commentary, eat, hopefully pick up some packages, and relax. Today's topic of discussion: What are your favorite TV spectaculars and original musicals written for TV? Let's have loads of lovely postings, shall we, whilst I hit the road to dreamland, happy to have had a good first rehearsal and happy to have given you the PSA about Marie Callender's faux carbonara.