Well, dear readers, I am finally coming up for air after a day of non-stop stuff.  From the time I got up, after seven-and-a-half hours of sleep, until just a few minutes ago, I never stopped working at the computer, save for a two-hour break because my eyeballs were no longer focusing.  So, what was all that work?  Well, I decided to switch the soundtrack we're releasing and the first four hours of the day were all about that change.  I had to write the very long liner notes, as the release involves three separate things, get all the blurbs ready, audio samples were coming in every now and then (but not for the show release – those will be up in a day or two), and then I had to approve booklets, gather credits, and do the prep for the show release.  I did no work at the piano until about thirty minutes ago.  At some point, I made some pasta with butter, onions, and cheese, and watched two episodes of The Outer Limits.  The Man With the Power was excellent, with a wonderful turn by Donald Pleasance.  The other episode wasn't very good – The Sixth Finger with David McCallum and Jill Haworth.  I'm patiently waiting for the Gerd Oswald-directed shows.
Then it was back to the bump and grind for the rest of the evening.  I did have several telephonic conversations, got lots of e-mails, which all needed answering, and it was just an exhausting day.  I finally took a hot shower and here I am listening to music and writing these here notes.  So, here are the two new releases.  The first is another Julius Monk revue, Demi-Dozen, but this one's very special to me because a majority of the songs are by the new songwriting team of Tom Jones and Harvey Schmidt.  So, this was a nice way to honor his memory and our friendship.  Audio samples won't be up for a day or two, but here's the fun cover.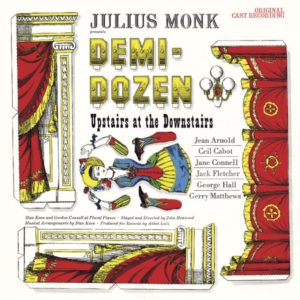 The liner notes also feature a reminiscence by my friend Sara Ballantine – her dad was the funny Carl Ballantine, and her mom was frequent Julius Monk performer, Ceil Cabot, who appeared in Pieces of Eight and Demi-Dozen and many others.  The soundtrack release is a Johnny Mandel triple-header.  First, his very short but very powerful score for The Verdict, the Paul Newman/Sidney Lumet/David Mamet film, which is one of my favorites.  It's only around fourteen minutes long but they are very potent minutes.  Second, we have Mandel's unused score to the film, The Seven-Ups, starring Roy Scheider.  The Twilight Time Blu-ray allows you to watch the movie with the Mandel score, which is illuminating and interesting.  I think it's a great score.  Both The Verdict and the unused Seven-Ups appeared on an Intrada CD a decade ago, but we've spruced up the sound a bit on The Verdict, but The Seven-Ups has been given a complete overhaul – the Intrada version contained barely half the score – nineteen minutes.  We've got the entire thing in much better sound, forty minutes all told, including some alternates and music for a scene that had been discarded.  And third, the world premiere release of six suites of Mandel music from the first season of the TV series M*A*S*H, including his famous theme from the film version.  It's really fun stuff in excellent mono sound.  It's a jam-packed CD and it's just terrific.  Here's the front cover.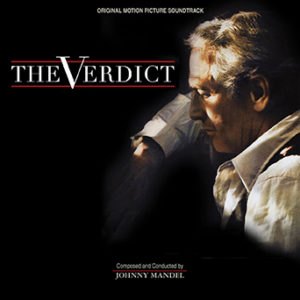 You know how to order, read more about it, and hear audio samples (the samples for the Mandel are up).  Whew!
Today, I'll be up by ten, I'll do the morning stuff, hopefully print out a LOT of orders, then Kay Cole is arriving at noon-thirty and at one we do a run-through of her act.  After, we'll have some notes, and then I'll go and eat something and pick up packages – have no idea if any arrived yesterday, but I know the fixed books are arriving today at some point.  After that, I am RELAXING.  I'll probably make a show order now that all songs are finalized.
Tomorrow is more of the same, and I'll write commentary, I have a lunch meeting at noon, and then I'll work at the piano and try to finish the two things I'm working on so I can move along to whatever the next song is.  Saturday I hope will be a day of rest, and I think something is happening on Sunday – oh, yeah, Kay's show.
Well, dear readers, I must take the day, I must do the things I do, I must, for example, do morning stuff, hopefully print out a LOT of orders, have a run-through, give whatever notes I have, eat, hopefully pick up packages, and then relax.  Today's topic of discussion: What are your favorite sauces – for pasta and for other things?  Let's have loads of lovely postings, shall we, whilst I hit the road to dreamland, happy to have finally come up for air.